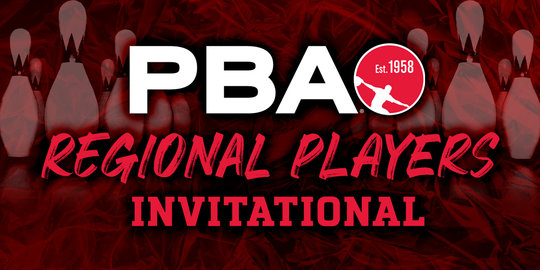 Roster Set for 2022 PBA Regional Players Invitational
December 2, 2022
Nolan Hughes
With the 2022 PBA Regional Players Invitational just one month away, the field has taken shape.
South Point Bowling Plaza in Las Vegas will host the 84 PBA and 48 PBA50 athletes competing for the Walter Ray Williams Jr. Championship Trophies, named in honor of the PBA's all-time winningest player.
Each of the PBA and PBA50's seven regions held an RPI qualifier tournament, awarding four RPI berths per region in the Regular Division and three in the PBA50 Division. The PBA50 Northwest Region awarded two RPI berths.
Through the season-long points list, an additional eight PBA players and four PBA50 players per region qualified for the RPI.
Players who finished among the top 50 on the PBA National Tour points list and the top 10 on the PBA50 National Tour points list were not eligible for the RPI. However, a top-10 finishing PBA50 player would be eligible in the Regular Division.
PBA Regular Division
Headlining the PBA field are Graham Fach, the 2016 PBA Players Championship winner who captured five regional titles this season, and Benjamin Martinez, the rising Mexican star who won four times on the 2022 regional circuit.
Carlos Granados, who won the 2021 PBA Regional Players Invitational, did not qualify.
East Region
Points Leaders: Jason Cornog, Cherry Hill, N.J.; Todd Sigeti, Lancaster, Pa.; Mike Ruben, Selden, N.Y.; Tim Foy Jr., Seaford, Del.; Tom Sorce, Blasdell, N.Y.; Paul Smith, Madison, Conn.; Joe Paluszek, Bensalem, Pa. and Alex Cavagnaro, Massapequa, N.Y.
RPI Qualifier: Jake Rollins, Glen Rock, N.J.; Cody Shoemaker, Hanover, Pa.; Ryan Galli, Johnson City, N.Y. and John Furey, Howell, N.J.
Shoemaker paced the East Region in points, while Galli's two titles led the way. They'll be the East's top contenders in Vegas, along with Foy and Paluszek, who have each made PBA Tour telecasts.
Central Region
Points Leaders: Graham Fach, Urbana, Ohio; Patrick Dombrowski, Parma, Ohio; Justin Knowles, Okemos, Mich.; Jeffery Mann, West Lafayette, Ind.; Jean Perez, Puerto Rico; Mike Eaton Jr., Byron Center, Mich.; Matt Sanders, Evansville, Ind. and JR Raymond, Clinton Township, Mich.
RPI Qualifier: Bailey Mavrick, Peru, Ind.; Brian Robinson, Morgantown, W.Va.; Zac Tackett, Huntington, Ind. and Michael Schlabach, Goshen, Ind.
After leading the 2021 RPI, Fach obliterated the Central Region in 2022; he racked up five titles and earned twice as many points as the next-best player. The left-handed Canadian native is the favorite from the Central Region, but fellow southpaws Knowles, Perez and Sanders can't be counted out, nor can veterans like Dombrowski and up-and-comers Mann, Mavrick and Schlabach.
Midwest Region
Points Leaders: Nathan Michalowski, Mount Pleasant, Wis.; Brenden Sramek, Bettendorf, Iowa; Tim Gruendler, St. Louis, Mo.; Nick Kruml, Downers Grove, Ill.; Zach Wilkins, Canada; Tim Curran, St. Louis, Mo.; Eugene McCune, Munster, Ind. and Nathan Rayborn, St. Louis, Mo.
RPI Qualifier: Benjamin Martinez, Guadalajara, Mexico; Chris Hill, Franklin, Wis.; Russ Oviatt, Sioux Falls, S.D. and Tom Hess, Granger, Iowa
While this region's college football teams struggle to score points, its bowlers do not. It's feasible someone could average higher than Iowa's 255 offensive yards per game this season. The safest bet is Martinez, who won four titles and cashed in all nine of his events, but Wilkins and McCune have set scoring record books ablaze during their careers.
South Region
Points Leaders: Trevor Roberts, Crystal River, Fla.; Colin Champion, Spring Hill, Fla.; Matt Taylor, Zebulon, N.C.; Ryan Ciminelli, Monroe, N.C.; Mathew Woodall, Norfolk, Va.; Dwight Adams, Greensboro, N.C.; Nick Christy, Lugoff, S.C.; Kennon McFalls, Cayce, S.C.
RPI Qualifier: Chris Polizzi, Spring Hill, Fla.; Michael Patterson, Canton, Ga.; Nate Garcia, Port St. Lucia, Fla.; Ryan Lane, Powder Springs, Ga.
Ciminelli, who came up clutch for the PBR Milwaukee Pounders at the PBA League, headlines the stellar South Region field. Roberts and Polizzi each captured a pair of titles this season, while Lane, Taylor and Adams snagged one win apiece.
Southwest Region
Points Leaders: Ildemaro Ruiz Jr., Venezuela; Nathan Bohr, Austin, Texas; Deo Benard, Roanoke, Texas; David Krol, Nixa, Mo.; Johnathan Norman, Houston; Cody Meiers, Lubbock, Texas; Mykel Holliman, Collierville, Tenn.; Deeronn Booker, Anaheim, Calif.
RPI Qualifier: Sean Lavery-Spahr, Pasadena, Texas; Dylan Macon, Lubbock, Texas; Trey Ford III, Bartlesville, Okla.; Fero Wlliams, Norman, Okla.
The Southwest is loaded with dominant regional players on the precipice of national success. Lavery-Spahr snuck into the RPI after finishing 51st on the PBA Tour points list; Bohr wasn't far behind in 58th and owns 25 career PBA Regional Tour titles.
Holliman, the 2019 PBA Rookie of the Year, will be a top contender at South Point. Benard, who averaged nearly 250 en route to winning the PBA South Point Open in November, should be a factor as well.
West Region
Points Leaders: PJ Haggerty, Roseville, Calif.; Chad Lusche, Henderson, Nev.; Cortez Schenck, Phoenix; Ramsey Basurto, Rancho Palos Verdes, Calif.; Scott Boyle, Salida, Calif.; Anthony Schanen, Glendale, Calif.; Matt Murtishaw, Menifee, Calif.; Michael Fitzgerald, Phoenix
RPI Qualifier: Kyle King, Glendale, Ariz.; Kyle Duster, Scottsdale, Ariz.; Lanndyn Carnate, Redding, Calif.; David Haynes, Las Vegas
With the RPI taking place on the West Region's home turf, these players could have a leg up on competitors. King, Duster, Carnate and Haynes are all names to watch based on their success at the RPI qualifier, which was also held at South Point.
Two of the region's best this season were Haggerty, who won three titles and earned a region-best 14,030 points, and Schenck, who earned a pair of titles in just seven events. In 2021, Fitzgerald reached the semifinals of the RPI before falling to runner-up Joe Bailey.
Northwest Region
Points Leaders: Payden Stumpf, Puyallup, Wash.; Tyler Cruz, Tacoma, Wash.; Craig Tuholski, Gresham, Ore.; Bill Machin, Stayton, Ore.; Joe Lipan, Bend, Ore.; Nick Borgaro, Coeur d'Alene, Idaho; Giorgio Clinaz, Brigham City, Utah; Nick Amrein, Hillsboro, Ore.
RPI Qualifier: Cameron Weier, Seattle; Gary Lenox, Hillsboro, Ore.; Evan Nash, Kennewick, Wash.; Tim Cagle II, Hercules, Calif.
Stumpf, despite not claiming a title, led all Northwest RPI representatives in points, while Cruz, Lipan, Nash and Clinaz each earned a title. Weier, a former First Team All-American at Robert Morris-Illinois, averaged over 223 in his four events and finished among the top 10 in each. Borgaro finished 11th in points this season, but was the Northwest Player and Rookie of the Year in 2021.
PBA50 Division
For the first time, the RPI will feature a division exclusive to PBA50 players. The senior field includes 10 former PBA Tour champions, most notably Pete Weber, Ryan Shafer and Eugene McCune.
East Region
Points Leaders: Troy Lint, Blandon, Pa.; David Handlowich Jr., Ancram, N.Y.; Rick Graham, Elizabethtown, Pa. and Sammy Ventura, Syracuse, N.Y.
RPI Qualifier: Ryan Shafer, Horseheads, N.Y.; Ray Edwards; Middle Island, N.Y. and Dan Babcock, Endicott, N.Y.
Shafer, the latest recipient of the Tony Reyes Community Service award, highlights the region's crop of players. He led the region in points and earnings this season. With players like Ventura, the East will bring the good stuff.
Central Region
Points Leaders: Michael Haggitt, Springfield, Ohio; Bill Watson, Maineville, Ohio; Danny Clark, New Palestine, Ind.; and Mark Sullivan, Indianapolis
RPI Qualifier: Andy Rettig, Hamburg, N.Y.; Brian Kretzer, Dayton, Ohio and Larry Verble, Mason, Mich.
Three southpaws, Haggitt, Clark and Rettig, will represent the Central region in Las Vegas. The former topped all Central players in points, earnings and cashes in 2022.
Midwest Region
Points Leaders: Jeff Johnson, Freeport, Ill.; Tony Jovanovich, Dekalb, Ill.; Mitch Beasley, Clarksville, Tenn and Scott Merritt, Iowa City, Iowa
RPI Qualifier: Pete Weber, St. Ann, Mo.; Eugene McCune, Munster, Ind. and Steve Jaros, Yorkville, Ill.
On paper, it's hard to argue any PBA50 region is sending more talent than the Midwest. McCune earned a near-3,000 point lead over Johnson this season, while Weber secured the win at the region's RPI qualifier — not to mention Jaros and Beasley, both PBA Tour champions.
South Region
Points Leaders: Terry Wiley, Vienna, Va.; James Winterfeld, Fort Mill, S.C.; Victor Florie Jr., Richmond, Va. and Gary Faulkner, The Villages, Fla.
RPI Qualifier: Mac Sanders, Roebuck, S.C.; Darryl Bower, Middletown, Pa. and Lee Robison, Lancaster, S.C.
The super-senior Bower led the South with 11,150 points this season, cashing in all 10 of his events. With players like Wiley, Winterfeld, Florie Jr. and Faulkner, the depth of the South is apparent.
Southwest Region
Points Leaders: Glenn Smith, New York; Kenneth Harlan, Lubbock, Texas; Lee Lorts, Katy, Texas; Mark Williams, Beaumont, Texas
RPI Qualifier: Rick Minier, Houston; Jeff Atkins, Hot Springs Village, Ark.; and Mike Bailey, Carrollton, Texas
New York's Smith made the most of his three trips to the Southwest though Nov. 14, as he secured a spot in the RPI off the points list. Smith won twice this year, while Minier and Lorts also earned titles.
West Region
Points Leaders: Ron Mohr, Las Vegas; Rick Meneley, Santa Maria, Calif; Warren Eales, Chandler, Ariz. and Eric Adolphson, Concord, Calif.
RPI Qualifier: David Leverage, Peoria, Ariz.; Dan Sasaki, Rodeo, Calif. and Dan Long, Visalia, Calif.
You could say Leverage leveraged his eight events in 2022, cashing in all eight while earning six top-10 finishes and one title. Meneley won twice and cashed in all six of his events and Mohr, the region's 2021 Senior Bowler of the Year, is never to be counted out.
Northwest Region
Points Leaders: Rich Corwin, Portland, Ore.; Robert Reed Sr., Weed, Calif.; Michael Kennedy, Bonney Lake, Wash. and Kevin Croucher, Grants Pass, Ore.
RPI Qualifier: Shawn Horenberger, Boise, Idaho and Darron Peters, Temecula, Calif.
Corwin's two-title season led the way in the Northwest, while Horenberger's splendid season peaked with a win at the RPI qualifier.
---
The 2022 RPI commences with PBA50 qualifying on Jan. 2, 2023. Qualifying for PBA athletes will begin on Jan. 3.
More information on the RPI is available here.
For press inquiries, contact [email protected].