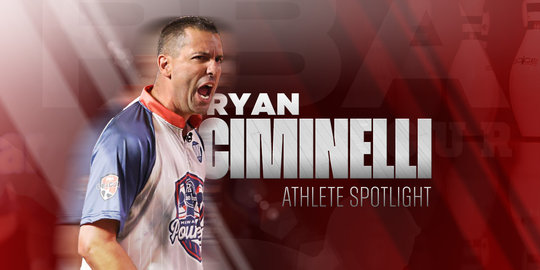 How One Shot Helped Get the Ryan Express Back on Track
August 30, 2022
Nolan Hughes
You might remember when Ryan Ciminelli left the 7-10 in the 10th frame to lose the 2013 PBA Viper Championship. You probably remember his cathartic roar, "Redemption, baby!" after he climbed the ladder to win the 2013 PBA Chameleon Championship.
Though the latter aired a week later, the real time between Ciminelli leaving (and almost making) the 7-10 and starting his first match on the Chameleon show was about 45 minutes. In fact, he wore the same gray pants on both telecasts. He said he had a different pair; he just didn't bother to change.
"I was still bitter, and I was still angry," Ciminelli said. "To be able to run that ladder after handing a title away and not being able to go through all the emotional processes that need to be done… you give yourself a chance to redeem yourself.
"It's more for you than anybody else. When you're in that moment, you're not proving it to nobody. You just want to prove it to yourself."
---
A few weeks ago at the PBA League, Ciminelli found himself in an eerily similar position. All he needed was a mark in his final frame of qualifying, and his PBR Milwaukee Pounders would be the No. 1 seed for the Anthony Division Finals.
Instead, he missed a 6-9 spare.
The errant shot didn't give away a title, but it awarded the top seed to the Portland Lumberjacks and doubled his team's workload. They now had to win an extra match before taking on the two-time reigning Elias Cup champions.
Ciminelli said missing that spare bothered the hell out of him. This time, he had more time to process the mistake.
Later that afternoon, the team had a short practice session on the TV pair. These lanes, located on the opposite end of Portland, Maine's Bayside Bowl, played completely different.
Ciminelli, who led the Pounders in scoring, couldn't find anything. He expected the lanes to play different, but perhaps not to this degree; he said he didn't have time to run to the ball truck and get different equipment, either.
"We had our 20 minutes of practice and my look was terrible," Ciminelli said. "All the balls that looked good in the other bay, they all looked terrible."
Before the Pounders first match, players received two shots on each lane. Ciminelli opted to throw one with urethane and one with reactive, which he found time to grab off the truck after the initial practice session.
Then, he said, the team asked him if he felt confident.
"I mean, not really," he responded. "I've seen the ball that I think I'm gonna throw one shot on each lane."
Milwaukee's belief in Ciminelli never wavered. During pre-show interviews, Sean Rash and manager Marshall Holman emphasized how many big shots Ciminelli had thrown in the building.
Despite Ciminelli's lack of confidence, they tasked him with anchoring the team.
On Ciminelli's shot in the fifth frame, he spared a 10-pin. That conversion put the Pounders up 25 pins over the Motown Muscle. A win would put them in the Anthony Division Finals — where they would have been if Ciminelli had converted that 6-9 earlier in the day.
The Muscle wouldn't go away easily. After winning their first two matches, they climbed out of an early hole against Milwaukee. Anthony Simonsen struck and spared in Motown's 10th frame, giving them a final score of 185.
Ciminelli needed a mark to clinch the win and, perhaps more importantly, avenge his earlier mistake. He would need to do so on the left lane, which he said was the tighter lane, and where he had thrown just a single shot with his desired ball.
You probably remember what happened next.
Watch the full Anthony Division Finals telecast.
"Redemption!" yelled Ciminelli, turning back the clock almost a decade. "That's why! That's why! That's why!"
In 2013, Ciminelli's PBA Chameleon Championship win marked his second career title, proving to himself that he belonged among the tour's best.
This strike proved to Ciminelli, now 36, he still belonged.
"That reminded me that I'm still me," Ciminelli said. "(When) you lose that confidence and that belief, it's hard to get it back. A shot like that, in a moment like that, under those circumstances, that can spark it back real fast.
"That's why they put you there. Because they know. Remind yourself that you know, too. That's you. That's what you do. You're one of the guys that can throw the shot in the clutch."
The Pounders ultimately fell to the Lumberjacks in the next match. Certain moments, even in a loss, can rejuvenate a career.
"I needed that," he said. "I needed that for me more than anybody."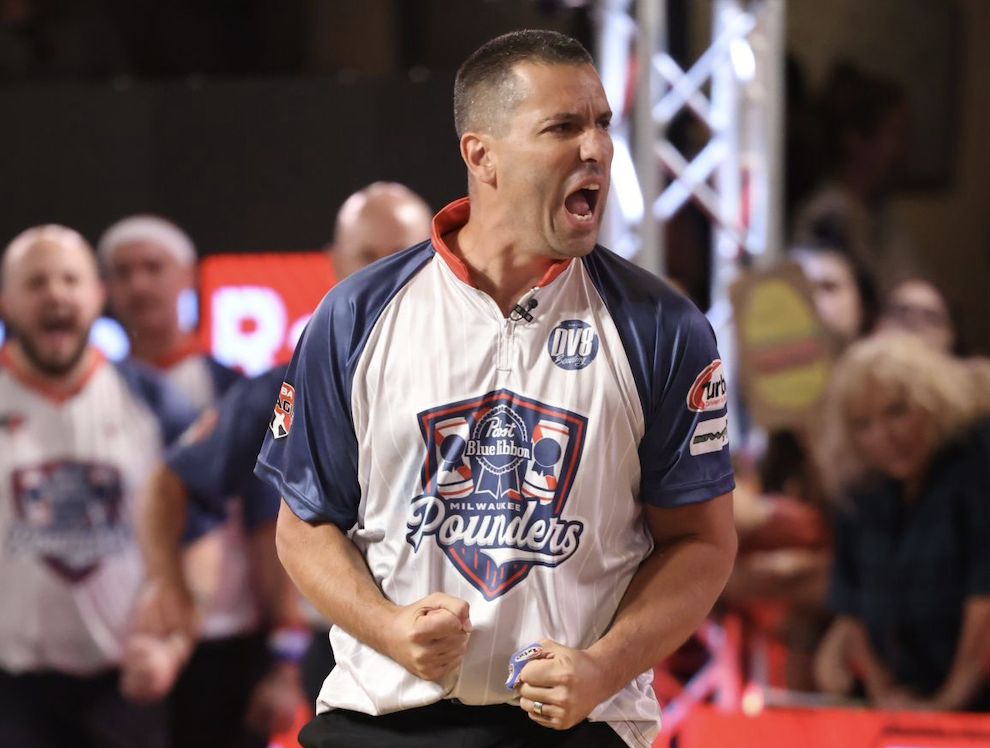 Ciminelli's visceral reaction embodied his journey back to PBA stardom.
Ryan Ciminelli was so close to the PBA Hall of Fame. He could almost taste it. 
With eight PBA titles and a US Open green jacket to his name, two more titles or one more major victory would secure his eligibility for enshrinement in bowling immortality.
Chasing that dream fueled a life on the road. But over time, the stresses of bowling full-time on tour became overwhelming. 
A string of missed cuts is one thing when you're on your own; it's another when you've got a family back home missing you and counting on you to help pay the bills.
Ciminelli couldn't take the physical and mental strain any longer. He stepped away from full-time competition on the PBA Tour in July 2020, derailing his pursuit of the Hall of Fame.
When he announced his retirement, he didn't know if he'd ever return. He said he would be content either way: "If that happens, if it doesn't happen, so be it."
It's never quite that simple. Athletes are wired to reach the finish line. They keep pushing until they can't push anymore, rarely walking away from the game until they're truly satisfied or the game forces them to.
Ciminelli, at the time, felt like the latter drove him away. If an opportunity arose that would allow him to return solely out of love for the game, he'd do it in a heartbeat.
"I didn't really want to retire," Ciminelli said. "That was never my intention. I'm too close to the Hall of Fame to just let it go."
In the meantime, he took a job with Exterior Expressions, a family-owned construction management company based near his home in North Carolina. His role allowed him to stay close to home and earn a steady income. He still bowled the occasional PBA tournament, now on his own terms.
Before Ciminelli could find a birdwatching club to join, his wife, Chelsie, made a career move of her own. Chelsie works as a psychotherapist and switched practices not long after his retirement. That transition reopened a door that had never really closed for Ciminelli.
"It couldn't have been six-eight weeks after that her career blew up," Ciminelli said. "Frankly, I could have come back then."
Instead of pulling a Tom Brady — though I suppose we would have called it a Brett Favre back then — he chose to fulfill his commitments to his new job. Once those work obligations were taken care of, however, Ciminelli knew he would be back on the PBA Tour.
"This is all I've ever known," Ciminelli said. "Until I can't do it anymore, I like to think that I'm just gonna keep plugging along."
Ciminelli returned from what he now calls his hiatus for the 2021 PBA Summer Tour. He eked out a pair of top-50 finishes in Lubbock and Jonesboro, where all four finalists were left-handed.
In Coldwater, he climbed into the top 15. He returned to the show in Chesapeake, finishing in fourth place and setting up a massive 2022 campaign.
Well, that was the plan.
The lefty logged just one top-20 finish during the regular season and finished 65th on the tour in points.
With three southpaws in the PBA Playoffs (Jakob Butturff, Packy Hanrahan and Jesper Svensson) and another winning a title (Keven Williams), Ciminelli's struggles can't be attributed to his left-handedness.
It can be explained, in part, by the difference in ball roll between Ciminelli and the aforementioned lefties.
"I struggle to see what these other lefties see with urethane," Ciminelli said. "They can get steep enough to where they can create shim, but they have high enough rev rates and throw it slow enough, with the right ball roll so it doesn't hook early, and then they can get it back from the left."
The Ryan Express isn't just a nickname; he enjoys throwing fastballs almost as much as Nolan Ryan himself. If you're thinking that's part of the problem, you wouldn't be the first.
"Everyone's like, 'You just throw it too hard. You can't shape urethane like those guys because your ball speed is too high.' Well, that's all fine and dandy, but when I throw it 14 miles an hour, it hooks at the dots," he said.
"I've always been able to throw it relatively slow," he added. "It's just trying to figure out how I can throw it slow and not have the ball early has been the real problem.
A few weeks following his resurgent moment at the PBA League, Ciminelli found the answer. By lofting his ball, he created the coveted ball motion and discovered a comfort on the lanes he hadn't felt in a long time.
He does it again! Ryan Ciminelli closes qualifying at the SABC Mixed Doubles with his second 300 of the day https://t.co/UDhy3igVar pic.twitter.com/GBGv5W0bNZ

— Nolan Hughes (@nolan_hughes24) July 30, 2022
At the Luci, he fired two 300 games in the same block for the first time in his professional career. Ciminelli's seven-game total of 1,753 tied for second among all players.
"I saw what they saw for once," Ciminelli said. "I could get (the ball) left and as long as it was over the front, it retained enough to come off of it. And then I could get far enough away from (the friction) to create hold."
His confidence had returned, and the results followed. He and partner Dasha Kovalova finished in fourth place, just 35 pins behind the champions.
Of course, what worked on one weekend in Houston won't work everywhere else. Ciminelli said he has been working on replicating that ball motion without lofting, but isn't going to sacrifice his strengths to resolve a weakness.
"The bottom line is I'm unique," he said. "I don't want to lose my uniqueness. Because when it does work, I don't have to beat many people."
Ciminelli may not be able to replicate the ball roll of Butturff or Svensson, but he feels unbeatable when his A-game is in play.
That's exactly what happened at the 2015 US Open. After 32 games, Ciminelli sat in third place; the next-highest lefty, Patrick Allen, sat in 59th place.
After match play, Ciminelli led all competitors by 461 pins. He went on to win the lone major title of his career thus far, defeating Dom Barrett in the title match.
No southpaw finished within 500 pins of Ciminelli at the 2015 US Open.
Ciminelli said he's never been in the spotlight, nor one of the tour's golden boys, but has "made a pretty damn good career" for himself.
His peak from 2015-16, where he captured five titles and narrowly finished behind Jason Belmonte as the runner-up for 2015 Player of the Year, briefly put him among the tour's best.
He likened his career to that of a journeyman, fighting every week for a shot at the prize, and compared himself to Tom Smallwood.
"We're just pit bulls," he said. "We grind and we grind and we grind. When we get our chance, we take advantage of it, but our chances don't seem to come around as often as some of these guys.
"It's more about patience, waiting and being able to mentally get through all of the downs and being sharp enough and still have enough fire inside that when it is there, that you can sack up, more or less, and perform."
The exterior looks a tad rusty and the wheels could use some grease, but the engine is stronger than ever. The Ryan Express is back, and it's not stopping until it reaches its final destination: the PBA Hall of Fame.
"I know I can still strike," he said. "I know it's in there."
---