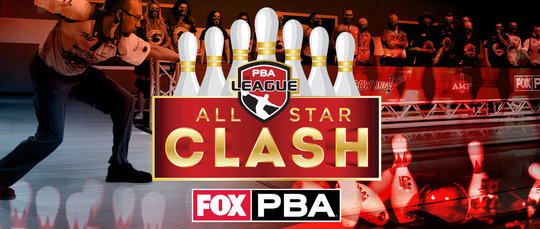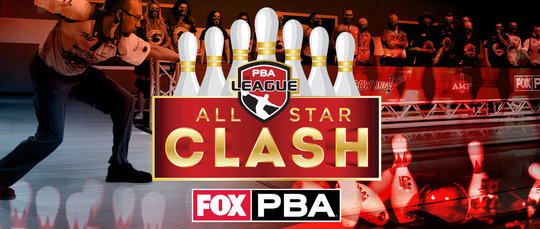 Date: Sunday, November 29
Time: 2:30 PM ET or 4:30 PM ET (varies per local market)
Network: FOX
Viewers can live stream the PBA on the FOX Sports and FOX NOW apps or at FOXSports.com. Select highlights will also be available on @FOXSports social handles across Twitter, Facebook, Instagram, and YouTube. International fans can watch live on FloBowling.com.
The stakes for the PBA League All Star Clash are high as the 12 players were selected to represent their PBA League franchise. The players will not only compete for themselves, but for the entire team. The winning team will walk away with $50K and the first-ever PBA League All Star Clash title.
Of the 12 competitors, PBA League Elias Cup MVP Wes Malott will look to take home another win for his back-to-back champion team, but will have stiff competition from not one, but four PBA Hall of Famers – Dallas Strikers' Norm Duke, Brooklyn Styles' Walter Ray Williams Jr., Silver Lake Atom Splitters' Chris Barnes, and NYC KingPins' Pete Weber. This seasoned crew will be joined by Brew City Ballers' Sean Rash, who won the PBA Summer Clash in June, Miami Waves' top draft pick Danielle McEwan, and some of the Tour's top-performing stars (see complete lineup below).
The PBA League All Star Clash features the PBA's drama-filled one-ball elimination format that has twice garnered the highest bowling TV ratings in more than a decade on FOX. The players begin round one rolling one-ball, with the lowest score eliminated and ties determined by another one-ball roll-off. The high-intensity competition continues for the survivors in each round until one player is left standing as the champion. In this ever-unpredictable format, anything can happen!
The PBA League All Star Clash will air on Sunday, Nov. 29 on FOX at 2:30 p.m. ET or 4:30 p.m. ET, varying by local market. Viewers are encouraged to confirm per their local listing.
The 12 All Star players were selected to represent their teams by having the highest number of PBA or PWBA titles on each team, with an impressive combined total of 248 Tour titles. The players competing in the PBA League All Star Clash, in the order they will bowl each round are as follows:
Norm Duke, Dallas Strikers, 40 PBA titles
Dom Barrett, Philadelphia Hitmen, 8 PBA titles
Walter Ray Williams Jr., Brooklyn Styles, 47 PBA titles
Chris Barnes, Silver Lake Atom Splitters, 19 PBA titles
Francois Lavoie, Las Vegas High Rollers, 4 PBA titles
Liz Johnson, Phoenix Fury, 24 PWBA titles
Pete Weber, NYC KingPins, 37 PBA titles
EJ Tackett, Motown Muscle, 13 PBA titles
Wes Malott, Portland Lumberjacks, 10 PBA titles
Jason Belmonte, L.A.X, 25 PBA titles
Sean Rash, Brew City Ballers, 16 PBA titles
Danielle McEwan, Miami Waves, 5 PWBA titles