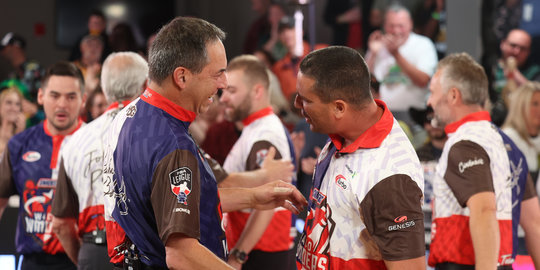 Three-time Champion Lumberjacks, Underdog Wonders to Meet in 2023 Elias Cup Finals
September 26, 2023
Nolan Hughes
The Portland Lumberjacks' latest triumph, a two-game trouncing of the Las Vegas High Rollers in the semifinals, places the them in position to bowl for a fourth straight PBA League Elias Cup presented by Pabst Blue Ribbon title.
"What an opportunity, with the talent level in this league to be in the final now five of the last six years, that's mind blowing," Portland manager Tim Mack said. "Obviously we're going for a four-peat, but really we're just going for one in a row if you think about it, because it's a new team and new format this year."
Portland will meet the Snickers Waco Wonders, who are making their first Elias Cup Finals appearance, Wednesday night at 8 p.m. Eastern on FS1 at Portland, Maine's Bayside Bowl.
The Wonders advanced to the championship by defeating the Go Bowling! Dallas Strikers. PBA Hall of Famer Parker Bohn III sent this team to the finals with a strike in the roll-off.
"We've been underdogs the whole tournament, but guess what? We're bowling in the final match," Bohn said.
Wes Malott sends the Portland Lumberjacks to the Elias Cup Finals 🪓

The Lumberjacks make their fifth finals appearance in six years and will bowl tomorrow night for a FOURTH STRAIGHT ELIAS CUP TITLE 🏆

📺: FS1 | FOX Sports app pic.twitter.com/CHqMnvHJFb

— PBA Tour (@PBATour) September 27, 2023
The Lumberjacks' latest addition to the team, PBA major champion Graham Fach, proved to be a seamless fit. In fact, the moment Fach was selected by Portland in July's draft, he ordered a pair of green and black Air Jordan shoes.
"This team is so good that when I was picked, I was over-the-moon excited," Fach said. "You can trust every single one of them to throw a shot when they need it. I'm glad that they believed in me, too."
"Graham was phenomenal," Mack said. "That's why we chose him. Because we believed that he was going to help us and that he was the right guy for our team. He's proved that."
"That's when the crowd is the loudest and are the most into it," Fach said of the leadoff spot. "I get to feed off their energy and I get to give it to my team. It's an important spot to be in and it's a fun one to be in."
Fach and Arturo Quintero, who joined the Lumberjacks in 2022 and whose family moved to Portland following last year's Elias Cup, fired strikes in seven of their eight combined shots.
The Lumberjacks are back — but Arturo Quintero never left 🪓

📺: FS1 | FOX Sports app pic.twitter.com/BdK26g2RnN

— PBA Tour (@PBATour) September 27, 2023
With those two at the top of the Portland lineup and Las Vegas' Ildemaro Ruiz Jr. having open second frames in both games, the High Rollers kept falling into early deficits.
"Momentum is everything in this building and at the beginning of both of those games, we lost it all," High Rollers' anchor Andrew Anderson said.
Fach and Quintero got the Lumberjacks in gear, then their core of Kyle Troup, Prather and two-time Mark Roth PBA League MVP Wes Malott carried them home.
The Lumberjacks swept the High Rollers with wins of 232-170 and 257-223 to advance to their fifth finals in six years.
"We've got an opportunity to do something that's very rare in sports," Mack said after their match. "We know we'll have our hands full with whoever we're bowling, but we're looking forward to it. We'll be ready."
The High Rollers' core of Anderson, AJ Johnson, François Lavoie have now made at least the semifinal round in each of their three seasons, including a runner-up finish in 2020, but have yet to bring home the title.
"We keep proving every year that we're a great team," Anderson said. "We just need to get over the hump one of these times and, you know, we're getting sick of it. I'm getting sick of it. We have to sack up. Yesterday, we sacked up. Today, we went up against a hometown crowd. I felt like we did not enjoy it as much as we should have. I go to a lot of sporting events and the way the road team wins is to absorb that energy and use it. We kind of got sucked into it.
"At some point in time, we have to say, 'I have to live in this moment rather than be consumed by the moment' and we did not do that this year," Anderson continued. "We will be back. And I promise you, we will get over the hump."
🗣️ "WE'RE NOT DONE YET!"@AAnderson300 and the High Rollers are fired up 😤

📺: FS1 | FOX Sports app pic.twitter.com/6LWfgbUvsw

— PBA Tour (@PBATour) September 27, 2023
In previous years, the Wonders haven't made much noise at Bayside Bowl. But with the additions of Elias Cup champion Ryan Ciminelli and rookie Frank Snodgrass, Waco has built a new culture based around chemistry and self-belief.
"We're already getting counted out," Snodgrass said before Saturday's seeding round. "We've got nothing to lose, might as well leave it all out there."
"There's one thing people are forgetting and that's our heart and that's our chemistry," Ciminelli said. "It's just something that you cannot fabricate — and we've got it."
This identity shift was evident in the Wonders' decision to swap Bohn and BJ Moore in their semifinal lineup.
"The biggest thing is there's not one guy out here that doesn't have a problem going, 'You throw it,'" Bohn said.
"Exactly," Ciminelli continued. "As good as my look was the first two days — and (Bohn's) look was really good, too — I told Johnny (Petraglia) that if something crazy happens, do not hesitate (to put someone else at anchor). Do not think that you're going to hurt my feelings or anything."
Waco won the opening game, 234-206. DJ Archer, who filled in for an injured Bill O'Neill, split in the second frame and Dallas never recovered.
The Strikers flipped the script in the second game, firing a hambone and a five-bagger to send the match to a roll-off with a 250-199 win.
🔔 RING THE BELL 🔔

Tommy Jones sends Dallas to a roll-off with Waco!

📺: FS1 | FOX Sports app pic.twitter.com/ufYXqv0J3U

— PBA Tour (@PBATour) September 27, 2023
Norm Duke, the now-full-time Strikers manager, tabbed Tommy Jones and Shawn Maldonado to bowl the ninth and 10th frame roll-off, while Waco went back to their left-handed duo.
Bohn converted the bucket, then Jones struck to set Maldonado up with a chance to win the match with a strike. The two-handed Texan instead made the baby split and struck again to send the match into a second round, which was a one-ball roll-off.
Maldonado stepped up first, striking to force Waco's Ciminelli to answer. The left-hander with an enormous heart and an even bigger forearm answered to extend the roll-off yet again.
Moore and Jason Sterner said their nerves were higher watching their teammates bowl in the roll-off than if they had to bowl themselves. But knowing the 60-year-old southpaw would toe the line next, the Wonders' anxiety melted after Jones' fidgeted with his tape to no avail, leaving the 3-6-10.
"There's way less pressure when you have to throw the shot," Moore said laughing. "When you've gotta sit back and watch it, you don't have control of it. But when you got a Hall of Famer up there, he's just got to do his thing."
Bohn aced a perfect strike, sending the Wonders to their first-ever Elias Cup finals appearance. They'll face off against the hometown, three-time defending champs.
"We're still the underdogs," Ciminelli said. "We know that. We have been the whole tournament and we've got no problem with that.
"You really never know. We might finish this thing off."
The Lumberjacks will take on the Strikers live at 8 p.m. Eastern on FS1.
Semifinal Scores
Portland Lumberjacks def. Las Vegas High Rollers, 2-0
Game 1: Lumberjacks def. High Rollers, 232-170
Game 2: High Rollers def. Lumberjacks, 257-223
Snickers Waco Wonders def. Go Bowling! Dallas Strikers, 2-1
Game 1: Wonders def. Strikers, 234-206
Game 2: Strikers def. Wonders, 250-199
Roll-off: Wonders def. Strikers, 40-40 (X-X, X-7)
PBA League Elias Cup Schedule
Finals | Wednesday, Sept. 27 at 8 p.m ET on FS1
Portland Lumberjacks vs. Snickers Waco Wonders
More information on the PBA League Elias Cup is available here.