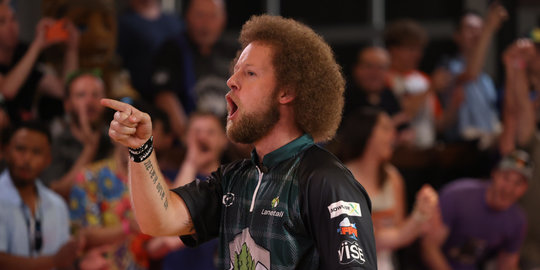 Portland Clinches Top Seed in Pursuit of Fourth Consecutive Elias Cup Title
September 23, 2023
Nolan Hughes
Championship hangovers? Not for the Portland Lumberjacks.
The three-time defending Elias Cup champions picked up right where they left off, earning the No. 1 seed in the 2023 PBA League Elias Cup presented by Pabst Blue Ribbon.
Anchored by Wes Malott, a two-time Mark Roth PBA League MVP, Portland averaged more than 222 across 10 games of round-robin match play to clinch the top seed.
The Lumberjacks retained Malott, Kyle Troup, Kris Prather and Arturo Quintero from their 2022 championship roster, while adding Graham Fach in July's draft to replace the departing Packy Hanrahan.
"The biggest thing for us is always communication," last year's MVP Troup said. "We have great communication in keeping the core together with Timmy (Mack) as the manager."
Troup added that Quintero's experience at Bayside Bowl played a large role in the Lumberjacks' dominance on Saturday afternoon. Quintero, who became so infatuated with the Portland and Bayside Bowl community last year, moved his family to Portland following last year's PBA League.
The Lumberjacks averaged more than 10 pins per game more than the No. 2 qualifier, the Go Bowling! Dallas Strikers.
"We filled a lot of frames," added Prather, who has been a member of all three of Portland's championship squads. "We weren't really striking a whole lot, but we would save games later on. We wouldn't shoot ourselves in the foot early, and could still get to 190-220 so we didn't lose ground at any point."
The Lumberjacks defeated the Strikers in the position round — a rematch of last year's Elias Cup Finals — to clinch the top seed. Portland compiled an 8-2 record on the day to finish at +463.
The Strikers (+380) earned the No. 2 seed on the 42-foot Mark Roth oil pattern, also netting them a two-round bye in the televised finals. The Lumberjacks and Strikers will compete next in Tuesday's semifinals.
"I think getting (the two-round bye) is huge," Prather said. "We get to see how the lanes will play over there, how the other teams attack it, and gameplan for what we want to do."
The NYC KingPins (+273), Las Vegas High Rollers (+270), and Silver Lake Atom Splitters (+244) round out the top five qualifiers. Those three teams earn a one-round bye to Monday's quarterfinals.
EJ Tackett and Anthony Simonsen's Motown Muscle slipped from fifth to sixth place during the position round, which means they'll be the top seed in Sunday's play-in stepladder.
The Snickers Waco Wonders took the No. 7 seed, while Jason Belmonte's Bowlero L.A. X qualified in eighth.
The Pabst Blue Ribbon Milwaukee Pounders and Guaranteed Rate Chicago Breeze will meet in the opening match. The play-in stepladder begins at 5 p.m. Eastern Sunday on FS1.
Seeding Round Standings
Portland Lumberjacks, 2,463 (+463)
Go Bowling! Dallas Strikers, 2,380 (+380)
NYC KingPins, 2,273 (+273)
Las Vegas High Rollers, 2,270 (+270)
Silver Lake Atom Splitters, 2,244 (+244)
Motown Muscle, 2,180 (+180)
Snickers Waco Wonders, 2,176 (+176)
Bowlero L.A. X, 2,057 (+57)
Pabst Blue Ribbon Milwaukee Pounders, 2,056 (+56)
Guaranteed Rate Chicago Breeze, 2,051 (+51)
Full standings are available here.
2023 PBA LEAGUE ELIAS CUP PRESENTED BY PABST BLUE RIBBON SCHEDULE
Bayside Bowl | Portland, Maine
All times listed in Eastern.
Sunday, Sept. 24 | FS1
5 p.m. — PBA League Play-in Stepladder
Monday, Sept. 25 | FS1
7 p.m. — PBA League Quarterfinals presented by Pabst Blue Ribbon
Tuesday, Sept. 26 | FS1
8 p.m. | PBA League Semifinals presented by Pabst Blue Ribbon
Wednesday, Sept. 27 | FS1
8 p.m. | PBA League Elias Cup Finals presented by Pabst Blue Ribbon
More information and team rosters are available here.