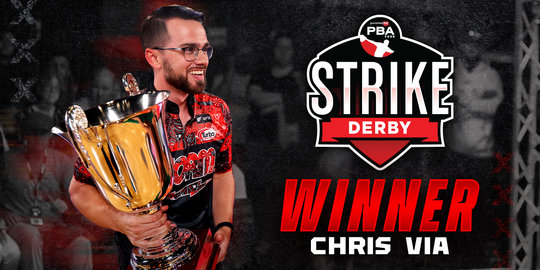 Chris Via Overpowers Belmonte, Troup, Tackett to win 2023 PBA Strike Derby
October 22, 2023
Nolan Hughes
Chris Via ended his 2023 PBA Tour season on a high note, marching through three PBA superstars to win the PBA Strike Derby.
Via defeated Jason Belmonte, defending champion Kyle Troup, and EJ Tackett in successive rounds to claim the exhibition win and the $20,000 top prize.
@ChrisVia_ wins the 2023 PBA Strike Derby and delivers the @Snickers Satisfying Moment of the Match! pic.twitter.com/CWTLIFtyqX

— PBA Tour (@PBATour) October 22, 2023
Each player had two minutes to throw as many strikes as possible on the 42-foot Mark Roth oil pattern. Any ties would be decided by a one-ball roll-off, where a strike was needed to advance.
The two-handed Ohio native was able to cruise through the first round, as Belmonte posted just seven strikes. Via surpassed the 15-time major champion with plenty of time to spare, finishing the opening round with 11 strikes.
"I got into a pretty good rhythm after like the first 20 or 30 seconds of the first round," Via said. "And from then on, I felt like I had a really good chance to win it all."
Via poured it on in the semifinal against the top-seeded Troup, who won the event in 2022 also at Bayside Bowl in Portland, Maine. Via tallied 15 strikes while Troup could muster just nine.
Via met the 2023 PBA Chris Schenkel Player of the Year favorite Tackett in the finals. Unfortunately for Tackett, he had emptied his figurative gas tank in a thrilling 16-14 semifinal victory over the 2022 runner-up Matt Ogle.
"I definitely didn't throw as good of shots as I did the match before. I'm gassed," Tackett said. "It seemed like every good shot I threw that time was either a ring-10 or stone-9. I tried to dig down deep and throw some good shots and I did, but it was Chris' day."
Tackett doubled to win two majors this season, but said this is a whole different beast.
"My heart rate was probably about the same, though," he added.
Via, on the contrary, seemed to finish each round with energy to spare (pun intended). He said he practiced a modified version of the Strike Derby at home, though noted his makeshift speed rounds were nothing like the real thing.
"I was just trying to find that happy medium of going insanely quick and making terrible shots, but also trying to get a good amount of shots off," Via said. "Because I felt like the lanes weren't terribly difficult, so if I can get more shots off I feel like my strike percentage is going to be in that 50-60% range more often than not."
The rapid pace rendered typical adjustments moot. Players rotated through an assortment of equipment and barely spent any time setting their feet.
Instead of moving left, Via said he would try to throw the ball harder as each round progressed. He said that helped combat any lane transition and helped balance out any lost ball speed caused by tired legs.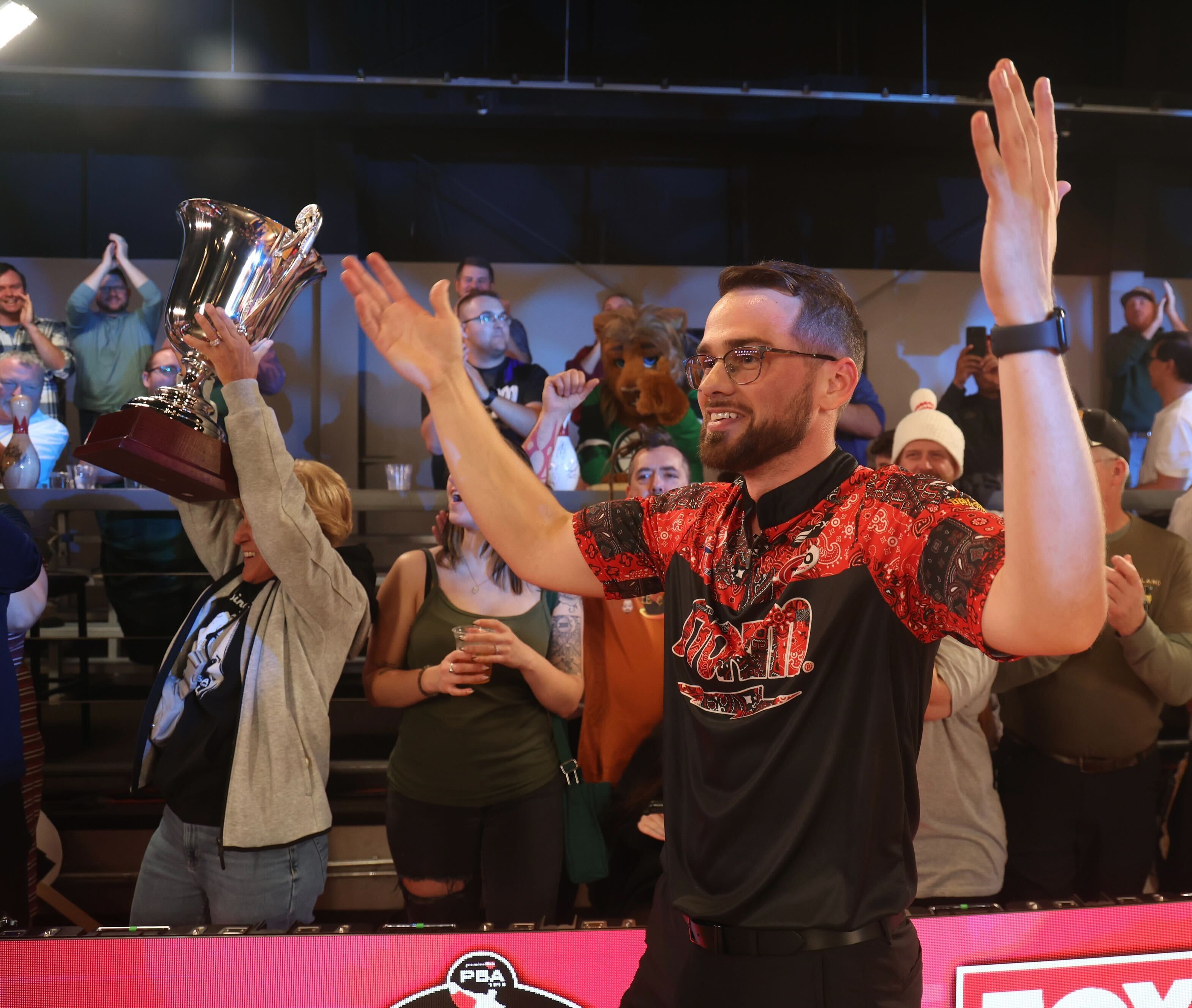 After clinching the win, Via hoisted the massive trophy then passed it to his mom, Angie.
"The only other (PBA) trophy I have is the U.S. Open, and unfortunately it was during COVID time so no one was able to be there," Via said. "Obviously this isn't a title, but still it's fun to win and it was pretty cool that she was able to come in for it and be here."
Players were invited based on their 2023 season strike totals, provided by Lanetalk. Troup was awarded the top seed as the defending champion and Marshall Kent replaced an injured Jakob Butturff.
Anthony Simonsen, who led the PBA Tour with 2,799 strikes this season, fired 13 strikes in his opening round, but was eliminated by Ogle.
PBA Strike Derby Scores
Quarterfinals
No. 1 Kyle Troup def. No. 8 Marshall Kent 11-11 (X-X, X-9)
No. 5 Chris Via def. No. 4 Jason Belmonte, 11-7
No. 3 EJ Tackett def. No. 6 Jesper Svensson, 12-12 (X-X, X-8)
No. 7 Matt Ogle def. No. 2 Anthony Simonsen, 15-13
Semifinals
No. 5 Chris Via def. No. 1 Kyle Troup, 15-9
No. 3 EJ Tackett def. No. 7 Matt Ogle, 16-14
Finals
No. 5 Chris Via def. No. 3 EJ Tackett, 15-7
Final Standings
Chris Via, $20,000
EJ Tackett, $12,000
Kyle Troup, $7,000
Matt Ogle, $7,000
Anthony Simonsen, $4,000
Jason Belmonte, $4,000
Jesper Svensson, $4,000
Marshall Kent, $4,000