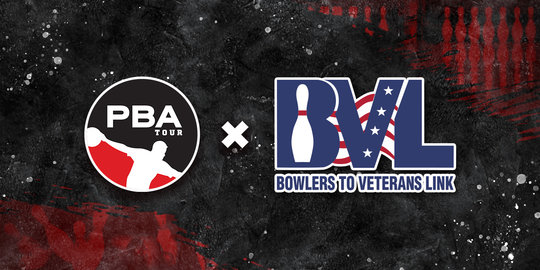 BVL Named Official Charity of PBA Tour
October 23, 2023
Professional Bowlers Association
RICHMOND, VA. — The Professional Bowlers Association (PBA) and Bowlers to Veterans Link (BVL) announced today that BVL, a 501c3 charity dedicated to funding recreation therapy programs for veterans, has been named the official charity of the PBA Tour beginning with the 2024 PBA season.
The PBA Tour and BVL will partner to highlight the significance of BVL's efforts in supporting recreation therapy programs for veterans and active-duty military. The PBA Tour's upcoming season will see BVL integrated into telecasts with on-air features and brand exposure to raise awareness among the bowling community. The full 2024 PBA Tour schedule and additional activation plans will be announced at a later date.
"The good work the BVL does for our veterans is a great source of pride for bowling", says PBA Commissioner Tom Clark. "The PBA is pleased to amplify those efforts across our platforms, including on FOX Sports."
"The PBA Tour has tremendous reach which makes them the perfect partner to help amplify BVL's voice on behalf of veterans," said BVL Board Chair John LaSpina, who recently hosted a PBA50 event as a BVL fundraiser. "So many of our bowlers are veterans and it's an honor to work with the PBA Tour to bring awareness to their important stories and raise much-needed dollars to brighten the lives of those who have served our country."
BVL was formed in 1942 when the bowling community came together to provide medical transport planes to bring wounded service personnel back home from World War II. Over the past eight decades, BVL has raised more than $56 million to fund recreation therapy programs and services. PBA Hall of Famer and Vietnam Veteran Johnny Petraglia celebrates his 50th year as a BVL Ambassador this November during BVL Month in America.
About the PBA
The Professional Bowlers Association (PBA) is the world's preeminent organization dedicated to the sport of bowling and its professional competition, with thousands of members and millions of fans throughout the world. The PBA plays host to bowling's biggest tournaments, including the PBA Tour, PBA Regional Tour and PBA50 Tour. The PBA has launched a certification program titled, The PBA League Bowler Certification program. This program provides league bowlers access to statistics, digital awards, rules and regulations, and new tournaments, including The PBA LBC National Championships. Other PBA membership programs include PBA Pinsiders, a membership program for the sport's most enthusiastic fans and PBA Jr., a club for elite youth bowlers under the age of 17 that has grown exponentially in the past two years. For more information, please visit PBA.com.
About BVL
Bowlers To Veterans Link (BVL) is bowling's own and oldest charity, raising more than $56 million since 1942 to fund recreation therapy programs that address the emotional and physical needs of veterans and active-duty military. BVL provides funds for dozens of diverse recreation therapy programs including outdoor sports, music, arts & crafts, bowling, adaptive equipment, virtual reality therapy, and so much more, at veterans' hospitals, clinics and community-based counseling centers. BVL is a national nonprofit 501 (c) (3) charity that is consistently acknowledged for efficient and effective programming delivered with extremely low overhead. BVL has been recognized as one of "America's Best Charities" by Independent Charities of America, earned a "Top-Rated" Nonprofit distinction from GreatNonprofits, and is also a member of the Combined Federal Campaign (#93325). For more information on BVL, visit BVL.org.
Media Contacts
For PBA
PBA, [email protected]
For BVL
Rosie Crews ([email protected]) – PH: 817.691.5424