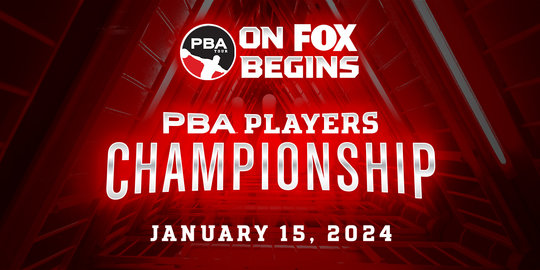 2024 PBA Tour To Begin in January With Players Championship
October 19, 2023
Professional Bowlers Association
PBA's 66th season to begin with a major in Wichita
For the fourth consecutive season, the PBA Tour will begin with a major in 2024.
The PBA's 66th season commences in January with the PBA Players Championship at Bowlero Northrock, formerly Northrock Lanes, in Wichita, Kan.
The stepladder finals will air Monday, Jan. 15, 2024 at 5 p.m. ET live on FOX. The champion will receive $100,000.
The 2024 PBA Players Championship will include 24 games of qualifying and 24 games of round-robin match play to determine the five stepladder finalists.
The main field for the Players Championship will be limited to a maximum of 88 players. Entries for the Players Championship and additional 2024 PBA Tour events, including pre-tournament qualifiers (PTQ), will open on Nov. 20, 2023.
Priority entry for the Players Championship will be given in the following order: top 60 players on the 2023 PBA Tour points list, PBA Tour champions from 2014 to 2023 (not among the top 60 players from the 2023 points list), and up to four (4) commissioner exemptions.
All PBA members who are not currently classified as priority entrants will need to enter the PTQ for the Players Championship. An estimated 20-25 players from the PTQ will advance to the main field.
The schedule will be as follows:
Tuesday, Jan. 9: PTQ and official practice session
Wednesday, Jan. 10: Qualifying Rounds 1-2
Thursday, Jan. 11: Qualifying Rounds 3-4
Friday, Jan. 12: Match Play Rounds 1-2
Saturday, Jan. 13: Match Play Round 3
Monday, Jan. 15: Stepladder finals
This marks the third time in the past four seasons that the PBA Tour season will begin with the Players Championship.
Kyle Troup won his first career major title at the season-opener in 2021, then Jason Belmonte captured his third Players Championship and 14th career major, both PBA records, in 2022.
Following their respective wins, Troup and Belmonte each went on to earn Chris Schenkel PBA Player of the Year honors that same season.
In last season's PBA Players Championship presented by Snickers, Kevin McCune defeated Jakob Butturff in the best-of-five finals to win his first career title.
Kevin's win solidified the McCunes as the first three-generation family of PBA Tour champions, following his father, Eugene, and grandfather, Don.
---
The history of the PBA and Wichita are inextricably linked. The city has hosted PBA Tour stops dating back more than 50 years, and dozens of past, present and future PBA stars harnessed their skills at Wichita State University.
Fifteen years ago this month, the PBA Tour's 50th season also began in Wichita. Norm Duke won the 2008 PBA World Championship, which marked his PBA-record third consecutive major championship victory.
The 2024 PBA Players Championship will etch a new chapter to bowling's rich history in Wichita.
More information on the 2024 PBA Tour season will be announced soon.