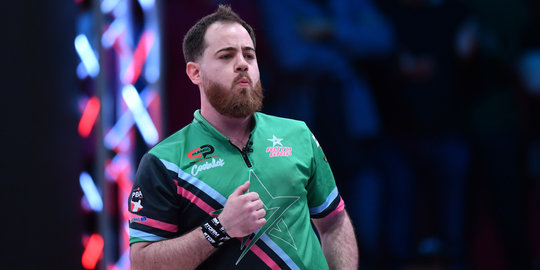 Simonsen's Clutch Victory Headlines PBA Players Championship presented by Snickers Round of 12
Six titleholders, including five major champions, and two newcomers were represented in the Round of 12 of the PBA Players Championship presented by Snickers on Saturday night.
The four matches kicked off the bracket finals of the season's final major as the top four seeds earned a bye.
Kevin McCune and Zac Tackett, who competed against each other on the Indiana high school circuit, made their PBA Tour television debuts in the evening's opening match. The young right-handers sought to advance and face Indiana's finest in top seeded EJ Tackett, Zac's older brother.
Zac's two errors in the seventh and eighth frames resulted in splits and open frames, which gave McCune a sizable advantage. But the younger Tackett stayed patient, heeding advice from his older brother and calculating how he could reinsert himself into the match.
"I knew if I struck out that he would at least have the spare to beat me," Zac said. "I put myself in a really good state of mind. I told myself, 'If you want to move on, you have to strike out.'"
Zac delivered all four strikes in his first televised opportunity to write his own legacy.
The images of a disheveled Mika Koivuniemi crept into the collective mind of the New Jersey fans as McCune left a flat 10-pin. Before the thought could funnel into McCune's brain, he converted the spare and clinched the win.
One brother down; one more to go. McCune will face the elder Tackett in the opening match of Sunday's Round of Eight at noon ET on FS1.
Zac Tackett finished strong, but Kevin McCune wins the battle of the rising Indiana stars. McCune advances to face the top seed EJ Tackett tomorrow.

Chris Via and Anthony Simonsen are up next in the Round of 12 👀

📺 FS1 | FOX app pic.twitter.com/WZi9fhX62x

— PBA Tour (@PBATour) May 7, 2023
After 48 games of qualifying, Chris Via nearly secured a top four seed and a bye; instead, the No. 5 seed received a date with the winner of an Anthony Simonsen and Jason Belmonte roll-off. Simonsen routed Belmonte's in the one-game on Friday night to earn the No. 12 seed.
On Saturday, Via started off with the first five strikes but the strike train derailed with a pocket 7-10 in the sixth frame. He left two more splits out of the commercial break, converting the 3-6-7-10 in the seventh frame.
As Simonsen recovered from a slow start, Via reapplied pressure late in the match with strikes in the ninth through 11th frames.
Simonsen countered with the double he needed to win the match, 237-231.
"You can't give that guy a chance," Via said. "I bowled a great game and I forced him to double in the 10th, but he's one of the best bowlers of all time. He stepped up and got the job done."
Via's 7-10 splits were reminiscent of the 2019 Players Championship title match: Belmonte left the devastating split in the 10th frame, then Simonsen struck to win his then-second career major title.
With a guaranteed top-eight finish this week, Simonsen notches his 13th top-10 finish in 13 events this season.
Simonsen's quest for a second major this season — and sixth of his young career — continues on Sunday with a quarterfinal match against Tomas Käyhkö. Simonsen also seeks to become the first player to make all five major championship final rounds in a single season.
Built. For. This.

Anthony Simonsen takes down Chris Via and advances to bowl Tomas Käyhkö tomorrow in the Round of Eight.

The left-handed battle between Jesper Svensson and Keven Williams is coming up next 💪

📺 FS1 | FOX app pic.twitter.com/dUleB4F30P

— PBA Tour (@PBATour) May 7, 2023
After a quick re-oil of the lanes, the all-lefty portion of the bracket began with Keven Williams knocking off Jesper Svensson.
Williams enjoyed a stress-free victory as poor carry plagued Svensson; the Swede left four 7-pins and a pocket 7-10 in the first seven frames.
But Williams said win or lose, he was going to enjoy the moment.
"I look at this a lot differently than some guys might when it comes to TV," Williams said. "I like to be an entertainer, and it's a perfect platform when you're on TV to show who you are as a person. I think the sport needs more of that."
The Springfield native's career-best season continues with another all-southpaw match against Jakob Butturff at 9:30 p.m. ET Sunday night on FS1.
"I'm finally to the point in my career where I'm understanding the game out here on Tour," Williams said. "This is the first year where even when I'm not feeling great, I feel I'm closer. I'm learning and I understand the mindset a lot better."
"I really do this!"

Keven Williams jumps all over Jesper Svensson — can The Iceman mount a comeback?

📺 FS1 | FOX app pic.twitter.com/LxyrXOPhtL

— PBA Tour (@PBATour) May 7, 2023
With his wife and two children in the crowd, Bill O'Neill, an eastern Pennsylvania native and a local favorite, rode the front-seven strikes to victory over Dom Barrett.
"It's hard to describe (what it means) to have my family here. They don't get a chance to watch me bowl too often," O'Neill said.
O'Neill closed out the Round of 12 with a resounding 253-208 win, setting up a battle with the New Jersey-born Matt Russo.
The quarterfinal and semifinal matches will be Race-To-Two format. If a player wins both games, they will clinch the match; if they split the two games, a roll-off will determine the advancer.
The victors of Sunday's quarterfinal matches will advance to the semifinals, which will take place next Saturday May 13. The best-of-five championship match will be Sunday, May 14 on FOX.
Bill O'Neill takes down Dom Barrett, setting up the battle between PA and NJ with Matt Russo on Sunday night!

📺 Round of Eight | May 7 at noon and 9:30 p.m. ET on FS1 pic.twitter.com/n9WtrJJCkB

— PBA Tour (@PBATour) May 7, 2023
Round of 12 Scores
Match One: No. 9 Kevin McCune def. No. 8 Zac Tackett, 200-189
Match Two: No. 12 Anthony Simonsen def. No. 5 Chris Via, 237-231
Match Three: No. 10 Keven Williams def. No. 7 Jesper Svensson, 232-167
Match Four: No. 6 Bill O'Neill def. No. 11 Dom Barrett, 253-208
The 9th-12th finishers each earn $8,000.
Round of Eight Matches
Sunday, May 7 at noon ET
No. 1 EJ Tackett vs. No. 9 Kevin McCune
No. 4 Tomas Käyhkö vs. No. 12 Anthony Simonsen
Sunday, May 7 at 9:30 p.m. ET
No. 2 Jakob Butturff vs. No. 10 Keven Williams
No. 3 Matt Russo vs. No. 6 Bill O'Neill
Tournament Schedule
All times are listed in Eastern.
Sunday, May 7 | FS1
Noon — Round of Eight (Race-to-Two matches)
9:30 p.m. — Round of Eight (Race-to-Two matches)
Tickets for the shows are available here. Note: The second show will be taped at 4 p.m. ET.
Saturday, May 13 | FS1
12:30 p.m. — Round of Four (Race-to-Two matches)
Sold out.
Sunday, May 14 | FOX
1 p.m. — Championship Round (Best-of-Five match)
Sold out.
More information on the PBA Players Championship presented by Snickers is available here.