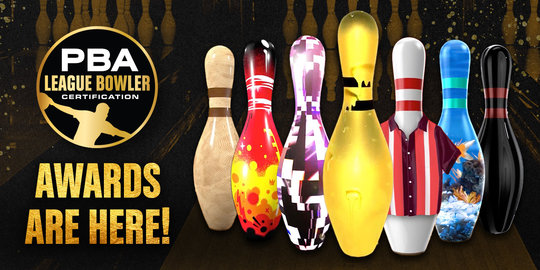 The PBA Launches the LBC Awards Program with Digital Features Powered by Avalanche
May 22, 2023
Professional Bowlers Association
An innovative program awarding bowlers for achievements on the lanes
RICHMOND, VA – The Professional Bowlers Association (PBA), announced today the launch of PBA LBC Awards, the fourth pillar of their new PBA League Bowler Certification program. PBA LBC Awards are designed to recognize and celebrate league bowlers' achievements on the lanes. The PBA worked in tandem with Layer 3 Labs, a software company specializing in the creation of digital marketplaces through Web3 applications, LeaguePals, a cloud-based league management platform, and AVA Labs, the leading developer of the Avalanche blockchain, on the execution of the program. Built on Avalanche, the innovative program will offer modern rewards and features, including blockchain-backed bowler certification and a marketplace for digital collectibles.
"We are pleased to announce the launch of PBA LBC Awards," stated Lev Ekster, Chief Strategy Officer of Bowlero Corp. "This awards program is revolutionary for the hundreds of thousands of league bowlers around the country, utilizing technology to award bowlers for their achievements. With this launch, we are demonstrating our commitment to optimizing the league bowler experience through innovative technology."
The first phase of PBA LBC Awards includes the ability for bowlers to earn digital awards for achieving certain defined milestones. To earn these digital awards, bowlers must be an active PBA LBC member with a LeaguePals account and achieve one of the following: bowl your first 200 game, bowl a 300 game, 700 series, 800 series, 50 pins over average, and 100 pins over average. For each achievement unlocked, bowlers will earn a digital award that can be viewed and shared on their social channels through the new digital marketplace, which will be built with the speed and power of Avalanche. In fact, the PBA LBC Award program will be powered by an Avalanche Subnet – a custom, application-specific blockchain tailored to the program's needs.
"The digital marketplace we developed features blockchain based digital awards, elevating the program with an interactive marketing tool that offers a unique and unprecedented opportunity for bowlers to record moments in their scoring history," stated Jonathan Teplitsky, CEO of Layer 3 Labs. "It is exciting to be at the starting line of an industry that has untapped potential, and even more inspiring to have partners that share in our vision for the future."
In the second phase of PBA LBC Awards, the PBA will introduce a new points-based system, where in addition to earning digital awards, bowlers will earn points for each of their achievements. The points will be redeemable for exclusive offers and prizes. League bowlers will once again realize exciting tangible benefits to commemorate their achievements on the lanes.
"We're excited for Avalanche to power the new certification and digital collectibles rewards programs being pioneered by the PBA LBC Awards," said John Nahas, Vice President of Business Development at Ava Labs. "Our collaboration brings a new dimension to bowling, and we look forward to seeing how Avalanche-supported digital rewards help to keep the competition between league bowlers great."
Avalanche launched in September 2020, ushering in a new era for blockchains with near-instant transaction finality. Today, Avalanche supports 500+ applications and secures billions of dollars in value, all while having minimal climate impact.
In closing, Bill Savastano, Co-Founder and CEO of LeaguePals stated, "the integration we have developed with the PBA and Layer 3 Labs is a transformative step in the right direction for bowlers. We are thrilled to be part of this launch and look forward to future success with the PBA."
Learn more about how to earn PBA LBC Awards here.
The PBA League Bowler Certification program launched in 2022, with over 200,000 league bowlers in Bowlero Corp. owned centers automatically enrolled. As part of the ground-breaking program, bowlers of all skill levels were invited to participate in the inaugural 2023 PBA LBC National Championships. This tournament will take place at Bowlero Wauwatosa in Wisconsin from June 3rd to July 16. Learn more about how you can participate and stay informed about the PBA League Bowler Certification by visiting pbalbc.com or following @PBATour.
About the Professional Bowlers Association
The Professional Bowlers Association (PBA) is the world's preeminent organization dedicated to the sport of bowling and its professional competition, with thousands of members and millions of fans throughout the world. The PBA plays host to bowling's biggest tournaments, including the PBA Tour, PBA Regional Tour and PBA50 Tour. The PBA has launched a certification program titled, The PBA League Bowler Certification program. This program provides league bowlers access to statistics, digital awards, rules and regulations, and new tournaments, including The PBA LBC National Championships. Other PBA membership programs include PBA Pinsiders, a membership program for the sport's most enthusiastic fans and PBA Jr., a club for elite youth bowlers under the age of 17 that has grown exponentially in the past two years. For more information, please visit PBA.com.
About Avalanche
Avalanche is a smart contracts platform that scales infinitely and regularly finalizes transactions in less than one second. Its novel consensus protocol, Subnet infrastructure, and HyperSDK toolkit enable Web3 developers to easily launch powerful, custom blockchain solutions. Build anything you want, any way you want, on the eco-friendly blockchain designed for Web3 devs.
About Layer 3 Labs
Layer 3 Labs is a software development and advisory firm that helps progressive brands integrate Web3 into their business models. The firm specializes in building NFT marketplaces, loyalty programs, play-to-earn games, and trading platforms. For more information, please visit: www.Layer3Labs.io
About LeaguePals
LeaguePals is the first and only cloud-based bowling league management platform that integrates directly with center's scoring systems to save time, grow revenue, and increase league signups. LeaguePals streamlines leagues to save time while providing a modern league experience to attract new customers and engage returning bowlers. For more information, please visit: https://www.leaguepals.com