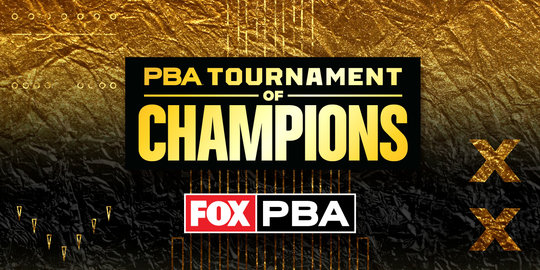 Tackett Stays Red Hot, Leads After Two Rounds at TOC
March 14, 2023
Nolan Hughes
EJ Tackett, already with three titles under his belt this season, remains red hot at the PBA Tournament of Champions. He led the field through the first two rounds of qualifying, shooting 2,828 across 12 games on the 40-foot Don Johnson oil pattern.
The TOC, contested at the legendary AMF Riviera Lanes, is the second major of the 2023 Guaranteed Rate PBA Tour season. Tackett won the first at the U.S. Open.
"Typically in this building, [playing] the slow loop has been good," Tackett said. "It's touchy. You've got to make some good shots. But if you get your ball to do the right thing, I feel they're very scorable."
Jesper Svensson, Stu Williams, Dick Allen and Frank Snodgrass round out the top five. Allen and Svensson finished second and third, respectively, after the first round.
Snodgrass averaged over 247 during the second round to climb from 43rd to fifth. His 300 in Game 10 propelled him from outside the cut into the top five.
Competition resumes on Wednesday at 11 a.m. ET. A final six-game block will determine the 24 advancers to match play.
Denmark's Carsten Hansen currently occupies 24th place at +204.
Andrew Anderson, Jakob Butturff and 2021 TOC champion François Lavoie are each less than 50 pins outside the cut.
Leaders Through 12 Games
EJ Tackett, +428
Jesper Svensson, +396
Stu Williams, +351
Dick Allen, +345
Frank Snodgrass, +325
Jake Peters, +322
Packy Hanrahan, +289
Osku Palermaa, +289
Kyle Troup, +273
Marshall Kent, +273
Full standings are available here.
Tournament Schedule
All times are listed in Eastern time
Wednesday, March 15 | BowlTV
11 a.m. — Qualifying Round 3 (six games) — top 24 players advance
5 p.m. — Match Play Round 1 (eight games)
Thursday, March 16 | BowlTV
10 a.m. — Match Play Round 2 (eight games)
5 p.m. — Match Play Round 3 (eight games) — top 17 players advance
Friday, March 17 | FS1
10 p.m. — Stepladder Round 1 (seeds No. 13-17)
Tickets for the 6 p.m. taping are available here
Saturday, March 18 | FS1
7:30 p.m. LIVE — Stepladder Round 2 (advancer and seeds No. 9-12)
9:30 p.m. LIVE — Stepladder Round 3 (advancer and seeds No. 5-8)
Tickets for the Stepladder Rounds 2-3 shows are available here
Sunday, March 19 | FOX
12 p.m. LIVE — Stepladder Finals (advancer and seeds No. 1-4)
Tickets for the Stepladder Finals are sold out
More information on the tournament is available here.