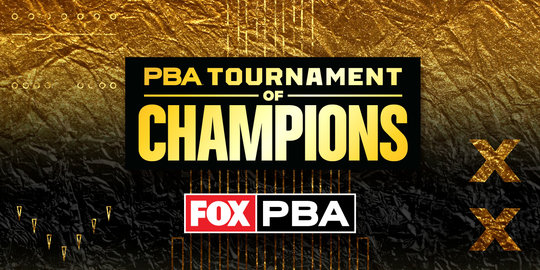 Tackett, Simonsen Lead TOC Through First Round of Match Play
March 15, 2023
Nolan Hughes
The cream often rises to the top at Tournament of Champions. This year's event, thus far, is no exception.
EJ Tackett continues to lead the field through 26 games, while Anthony Simonsen, surged into second place after the first round of match play. The two met in the PBA Jackson Classic title match last week — won by Tackett — and have combined for four of the season's five titles.
Entering the final round of qualifying at the famed AMF Riviera Lanes, Jason Belmonte sat in 51st place and 154 pins out of the cut. He said he wanted to have a good day, adding that he knew there were other things, like points, to fight for.
"I also knew mathematically I could still get there," he said.
The 39-year-old fired a field-high 1,446 series (+246), climbing into 20th place and inside the cut. The three-time TOC champion, currently in 21st place, seeks to become the first player with four TOC and 15 major titles.
François Lavoie, the 2021 TOC champion, wasn't far behind. He shot 1,441 to move into the cut as well, and he tied Belmonte with a strike percentage of 71%. He sits in eighth place.
Stu Williams and Dick Allen continue to hover within striking distance of Tackett, while Andrew Anderson moved into the top five on Wednesday evening.
Anderson said he has never missed the match play round at the TOC in his career. Despite a rough season so far, he said, a return to Riviera helped boost his confidence.
"This is a really good place to have a good track record," he said.
The final two rounds will take place on Thursday, March 16 at 10 a.m. and 5 p.m. ET. After the evening's round, the top 17 players will advance to the four-part stepladder finals, airing Friday through Sunday on FS1 and FOX.
Tickets are available for TV shows on Friday and Saturday, including the finals of the PBA Jr. National Championship on Friday afternoon.
Standings Through 26 Games
EJ Tackett +912
Anthony Simonsen +858
Stu Williams +785
Dick Allen +785
Andrew Anderson +749
Marshall Kent +742
Kris Prather +679
François Lavoie +657
Jake Peters +657
Matt Ogle +656
Jesper Svensson +628
Jason Sterner +626
Graham Fach +622
Tim Gruendler +611
Wes Malott +596
Shawn Maldonado +592
Kyle Troup +589
Tom Daugherty +561
Packy Hanrahan +550
Richie Teece +493
Tom Smallwood +475
Jason Belmonte +469
Frank Snodgrass +433
Chris Via +415
Full standings are available here.
Tournament Schedule
All times are listed in Eastern time
Thursday, March 16 | BowlTV
10 a.m. — Match Play Round 2 (eight games)
5 p.m. — Match Play Round 3 (eight games) — top 17 players advance
Friday, March 17 | FS1
10 p.m. — Stepladder Round 1 (seeds No. 13-17)
Tickets for the 6 p.m. taping are available here
Saturday, March 18 | FS1
7:30 p.m. LIVE — Stepladder Round 2 (advancer and seeds No. 9-12)
9:30 p.m. LIVE — Stepladder Round 3 (advancer and seeds No. 5-8)
Tickets for the Stepladder Rounds 2-3 shows are available here
Sunday, March 19 | FOX
12 p.m. LIVE — Stepladder Finals (advancer and seeds No. 1-4)
Tickets for the Stepladder Finals are sold out
More information is available here.