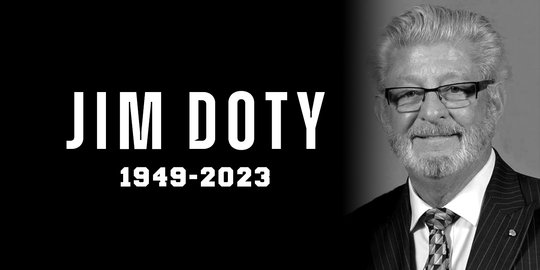 PBA Hall of Famer Jim Doty Dies at 73
March 11, 2023
Johnny Campos
Jim Doty, the general manager of Indianapolis' Royal Pin Entertainment and one of the most iconic venues in professional bowling, leaves behind a tremendous legacy.
For more than 40 years, Jim Doty set the gold standard for how to host a bowling tournament, especially for the Professional Bowlers Association Tour.
As the general manager of Royal Pin Entertainment, which includes Royal Pin Woodland (formerly known as Woodland Bowl), Doty was host to all five PBA major tournaments, as well as standard PBA events and a few other non-standard events since 1981. No other venue has hosted all five PBA major championships.
He was there for the first tournament, the 1981 Kessler Classic, all the way up to the U.S. Open earlier this year.
Doty died of a heart attack on Saturday, March 4, at the age of 73, leaving a strong legacy and a long list of friends in the bowling industry.
"The response has been unbelievable from the locals and from the bowling world," said Doty's son Jeremy. "It's been pretty overwhelming."
Jim Doty and his wife Mary were in New Smyrna Beach, Fla., at the time of his death.
"My mom and dad 'snowbird,' and they were down there when it happened," Jeremy said. "My wife and I had just gotten off a cruise ship, so we were in the area and were able to hang out with mom and dad for a couple of hours. We were getting ready to get on a plane when mom called and said dad had passed. We left the airport and got back to her.
"It was sad and upsetting, but somebody was looking out for us, making sure she wasn't alone when it happened."
Jim Doty was inducted into the PBA Hall of Fame in 2019 for meritorious service. But he was very unassuming about his contributions to the organization.  
"Jim was a serious businessman, but could be wickedly funny," said award-winning bowling writer Bob Johnson, who also was in the 2019 PBA Hall of Fame class. "He was highly accomplished but extremely humble. He was genuinely bewildered when elected to the PBA Hall of Fame. I remember spending 10 minutes on the evening of our induction convincing him that he was deserving.
"It was an honor knowing him."
Doty gave a speech at his PBA Hall of Fame induction in 2019.
Hosting PBA events was one of the highlights every year for Doty, who spent most of the tournament weeks at the center.
"Dad always loved having the PBA there," Jeremy said. "The one year he didn't have it he was so bummed out. Every year he had them he wanted to go above and beyond to make those guys happy.
"He was so proud to have the U.S. Open last year, this year and next year at Woodland. He would be there in the morning and stay usually until they were done at night. He was a very passionate advocate for the sport."
That was not lost on many of the players, who made some fond memories at the center over the years.
"I won three major titles and two regionals there, so Woodland Bowl will always have a special place in my heart," said Pete Weber. "Jim knew everybody and went out of his way to make sure that everything was going to run smoothly.
"It was always a pleasure to go there and see Mr. Doty and be in Indianapolis."
Woodland was also the site of one of Weber's most memorable moments – dropping and breaking the eagle trophy after winning the 1991 U.S. Open.
"I think Jim probably has a piece of the trophy somewhere," Weber said. "I'm pretty sure I gave him one or he picked one up from the approach. It's hard to not remember that. One of my great moments in bowling, along with saying, 'Who do you think you are? I am!' They come back around again and again."
Weber won the 2013 PBA Tournament of Champions at Woodland.
What makes the center (which will always be Woodland Bowl to many of the long-time pros) even more special to Weber is the display of trophies and memorabilia from his father, Dick Weber, who was originally from Indianapolis.
"Jim called me right after Dad died and asked me if there was anything he could have to put on display there," Pete said. "I dropped off some trophies, and the next time I was there they were on display. What a great honor for my dad!"
Also on display at the Beer Thirty bar and other areas of the bowl are championship banners of bowlers who have won titles at Woodland.
"When we walk into Woodland Bowl and see our banner, it might seem like a small thing, but it means the world to us," said Norm Duke, who has won four titles there. "This place will go down as one of the most iconic and one of my favorite places to compete.
"It has become like a second home, partly because of the way they welcomed us – the way they have respected us over the years. Jim was so loved by the players not only because of his commitment to us, but also the genuine respect and love that he had for us."
"Woodland is a part of the fabric of the PBA," said PBA Commissioner Tom Clark. "For most of us, it simply feels like home. This is largely because of Jim Doty, the perfect host. He loved the sport, treated our professionals with the utmost respect, and his business acumen and negotiations were always fair and accommodating. We are very proud Jim is forever in the PBA Hall of Fame."
The first of Duke's back-to-back titles in 2019 came at Woodland.
Duke won his first title at Woodland in 2007, but capped his Hall of Fame career 12 years later when he claimed the 2019 Go Bowling! PBA Indianapolis Open – his 39th title – a month before turning 55.
"You're talking about 42 years of history in that building, and some pro bowlers' lives have changed there," he said. "Jim knew that he was facilitating some things we wanted more than anything. He gave us a chance to complete careers in some cases, and to start careers for others. In my case, he gave me a chance to end it."
One of the bowlers who started their careers there is Sean Rash, who has been friends with the Doty family for more than 20 years.
"I bowled my very first college event at Woodland Bowl when I bowled for Wichita State," Rash said. "I have some great memories there, including the 300 game I shot in the Tournament of Champions and multiple shows there."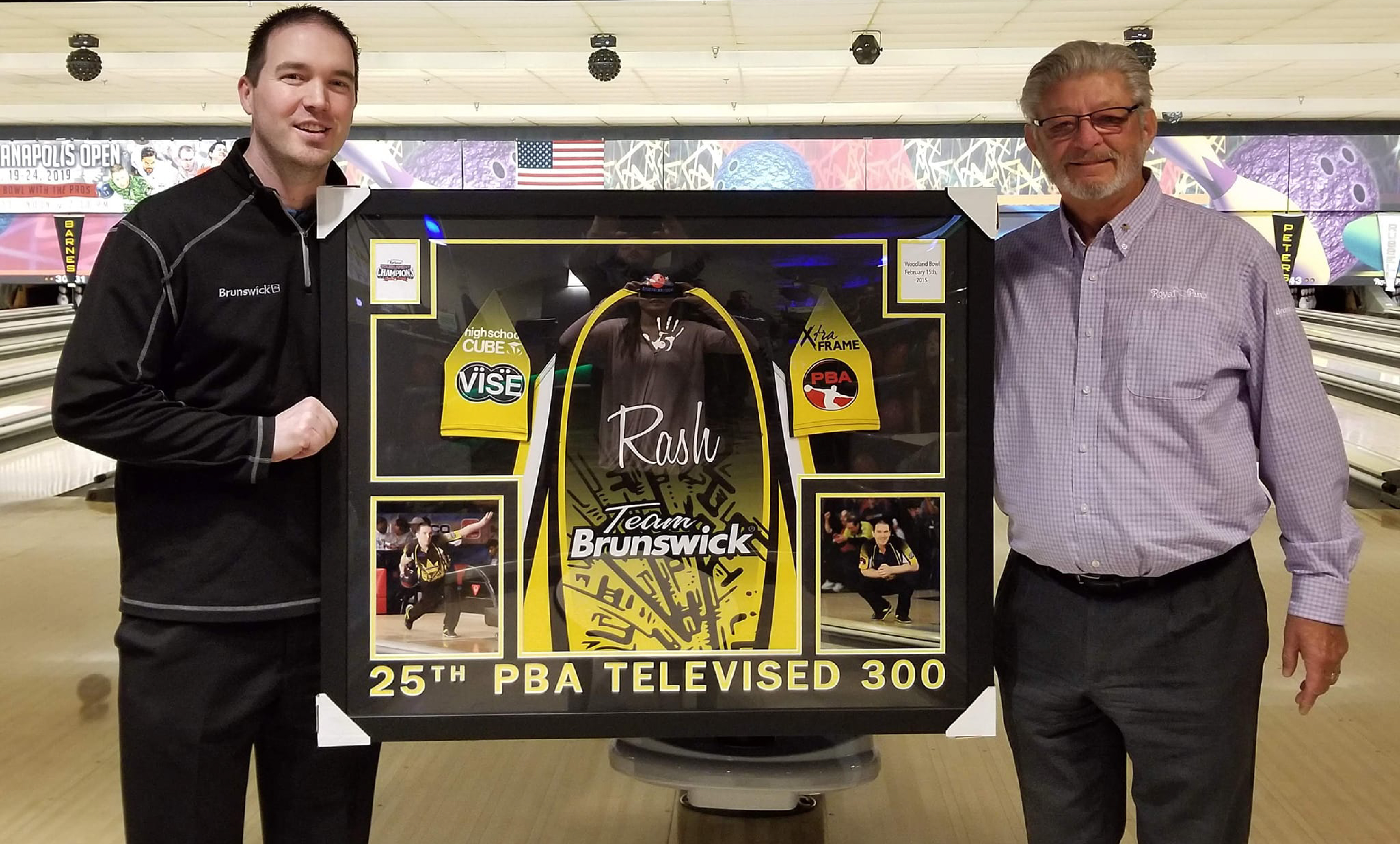 Rash gifted Doty the jersey he wore when he shot a televised 300 game during the 2015 PBA Tournament of Champions finals.
The one thing that Rash has not done yet is win at Woodland, which would earn him a championship banner at the bowl. Doty took care of that, too.
"He did a banner for me and Ryan Shafer, the two guys who shot televised 300s in the building," Rash said. "Jim was just an unbelievable human being. He was a mentor to so many people in the industry, on how to run a bowling center and be successful. He was a friend to so many people in the industry – from the USBC to the BPAA, the PBA and all the manufacturers."
Another player who got his career kick-started with success at Woodland is Ron Palombi Jr., who won two of his six career titles there, including the 1990 U.S. Open.
"I did get to spend some time with Jim every year that we were there," he said. "I made it a point to find him right away or he would come find me.
"It all goes back to my rookie season. I had my best finish (ninth) of my rookie year there and was pretty much an unknown. He went out of his way to say he had watched me bowl and enjoyed my game and wished me luck. Every year we went back, the friendship was there. He was just such a down-to-earth, genuine guy."
Doty's death left a void at Royal Pin Entertainment, where he worked in management for 45 years.
"Jim lived and loved the sport of bowling," said Craig May, the chief executive officer at Royal Pin Leisure Centers.  "I personally met daily with Jim for over 20 years, and the friendship that we developed was priceless. He will be truly missed both personally and professionally. Jim has made countless friends and touched so many lives in the bowling community."
There will be a visitation for Doty on Sunday from 2-7 p.m. at the Randall and Roberts Funeral Home, located at 1685 Westfield Road, Noblesville, Ind. The funeral mass will be at 11 a.m. on Tuesday at Our Lady of Grace Church, also in Noblesville. More information is available here.
"We're expecting quite a few people to drop in, but we really don't know what to expect," said Jeremy Doty, who works for Brunswick. "But we hope we don't stop hearing those stories about him. Every time I walk into a bowling center that I'm traveling to, I love when they hear my last name and say, 'Are you Jim's son?' Then they will go on for half an hour with stories about him. 
"I always joked with him that I'm glad he had a good legacy, because it would be very hard for me to walk into bowling centers if people didn't love him."
Based on the response from the bowling world about Doty's death, there's not much chance of that.