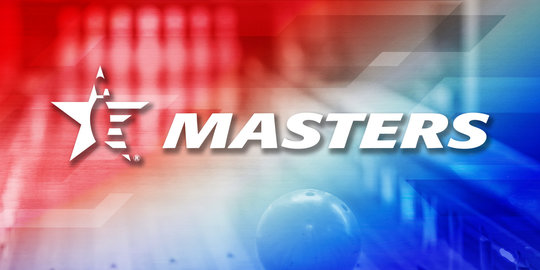 Match Play Field Trimmed to 32 Players at USBC Masters
March 30, 2023
Nolan Hughes
Thirty-two players remain in contention for the 2023 USBC Masters title at Thunderbowl Lanes in Allen Park, Mich.
Defending champion Anthony Simonsen and major champions Kris Prather, Sean Rash and Chris Via are among the 16 players who won both three-game, total pinfall matches on Thursday to remain in the winners bracket.
On Friday, the field will be whittled down to four players. The two finalists in the winners bracket will advance to Sunday afternoon's championship round on FOX, while six contenders will square off at 7 p.m. ET on FS1.
The two victors tomorrow night will join the finalists on Sunday to compete for a major title and the $100,000 top prize. Tickets are available for Friday's show here.
Thursday's highlight came from Keven Williams, who defeated Wesley Low 763-752 in the opening round.
Williams trailed by 53 pins entering Game 3 and responded by throwing the front-nine. However, Low's 236 game still forced Williams to double for the win. He delivered all three to seal an 11-pin win, then defeated Chris Loschetter to advance in the winners bracket.
AJ Johnson, a usual staple in the match play field, defeated EJ Tackett in an opening-round barnburner. Johnson, who also defeated Tackett in the Round of 8 last year, took down the Player of the Year front-runner, 769-731.
"You know what, someone's got to beat him," Johnson said of the first-round matchup. "If you want to be the best, you've got to beat the best and right now EJ is having the best year."
Johnson fell to Russ Oviatt in the next round, but defeated Perry Crowell IV in the contenders bracket to reach Friday's competition.
"There's a lot of games left and the more games I bowl, the better I get because I'm built last," Johnson said.
Another player making consecutive runs at the Masters is Parker Bohn III. The 35-time PBA Tour champion and his son, Brandon, are both in contention in the contenders bracket.
"I'm always a firm believer that when it comes down to it and you make the cut, regardless of what your score is, it's you, your opponent, and one pair of lanes. Forget about everybody else," Bohn III said. "I don't have the big stellar games sets like some of the boys do, but I'm going to tell you right now: I'm gonna go out there and give it my all for every set I got tomorrow and God only knows where I might end up when it's all said and done."
The elder Bohn advanced in the contenders bracket after No. 3 seed Marshall Kent, needing a mark, left a 2-8-10 in the 10th frame. The 59-year-old finished in a tie for ninth place last year.
Match play competition resumes at 8 a.m. ET on Friday morning. Both the winners and contenders brackets will be in action.
Kim Bolleby's reward after taking down No. 1 overall seed Jason Belmonte is a date with Sean Rash, while the next obstacle in Simonsen's bid to repeat is the left-handed Williams. In the contenders bracket, Tackett will face Tom Smallwood, while Johnson meets Jason Sterner.
The full bracket and schedule is available here.
Winners Bracket Matchups
No. 33 Kim Bolleby vs. No. 48 Sean Rash
No. 8 Deo Benard vs. No. 9 Chris Via
No. 5 Russ Oviatt vs. No. 21 Kyle Sherman
No. 29 Anthony Simonsen vs. No. 45 Keven Williams
No. 35 Sam Cooley vs. No. 51 Tom Daugherty
No. 22 Kris Prather vs. No. 27 Patrick Dombrowski
No. 10 Tom Hess vs. No. 26 Brandon Bonta
No. 18 Michael Martell vs. No. Zach Wilkins
Contenders Bracket Matchups
No. 32 Dom Barrett vs. No. 54 Brandon Bohn
No. 41 Graham Fach vs. No. 62 Matt Ogle
No. 4 Tom Smallwood vs. No. 28 EJ Tackett
No. 2 Jakob Butturff vs. No. 58 Sean Lavery-Spahr
No. 37 Parker Bohn III vs. No. 59 Jesse Kallio
No. 1 Jason Belmonte vs. No. 40 Justin Knowles
No. 7 John Janawicz vs. No. 31 Kyle Troup
No. 15 Jason Sterner vs. No. 37 AJ Johnson
Tournament Schedule
All times are listed in Eastern time. The full schedule is available here.
Friday, March 31 | BowlTV and FS1
8 a.m. — Match play cont.
2 p.m. — Match play cont.
7 p.m. — Match play Contenders on FS1
Tickets are available for Friday night's show here.
Sunday, April 2 | FOX
1 p.m. — Stepladder finals
More information on the tournament is available here.
---