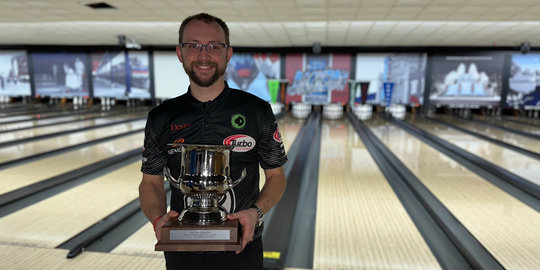 EJ Tackett Wins Third Title of Season at PBA Jackson Classic
March 9, 2023
Nolan Hughes
The story of the 2023 Guaranteed Rate PBA Tour has been the unrivaled brilliance of EJ Tackett and Anthony Simonsen. The story of the PBA Jackson Classic was no different.
Simonsen, who has finished in the top 10 in every 2023 event, prevailed late in the final round of qualifying to earn the No. 1 seed — but Tackett, already a two-time champion this season, got his revenge in the title match.
Tackett defeated Simonsen 277-199 for his third title of the season and the 19th of his career.
"This is maybe the best title match I've bowled this year," Tackett said. "I hope I can keep bowling well, putting myself in position to win. Hopefully this train keeps rolling."
This week on dual patterns at JAX 60 in Jackson, Mich., Tackett and Simonsen battled for supremacy every step of the way.
They were separated by just a handful of pins as the conclusion of the final game of qualifying drew near. Simonsen's key ball change on the left lane — which featured the 44-foot Hardwick oil pattern — proved to be the difference, bringing an end to Tackett's bid for a third No. 1 seed this season.
Tackett's win over the No. 3 seed, Shawn Maldonado, in the semifinal set up the championship match that almost everyone at JAX 60 wanted to see.
Early in the championship match, Tackett appeared to display a heightened level of focus compared to his title in Shawnee a few weeks ago. Why?
"I was bowling Anthony Simonsen, probably the most talented player any of us have ever seen," Tackett said. "There are some players that you know can pop off a great game at any time. But you assume that Simo is going to be one that is going to bowl good every time he steps on the lanes.
"The last time I bowled him in a title match, it was a 267-tie and I lost in the roll-off."
In the title match, the same pattern that Simonsen solved to earn the top seed came back to bite him. A split in the third frame put him in an early deficit, then a super-washout in the ninth frame all but ended the match.
Tackett threw an emphatic strike in the ninth frame to seal the victory. He closed the game on the left lane, throwing the very same Venom Shock that he used to win the U.S. Open earlier this year.
"I used that ball a lot to make the show in Shawnee as well," he said. "That ball has a ton of games on it this year — a ton of really good games. Sometimes balls get retired, but that thing is going to stay around until it stops striking."
Tackett switched to that ball following a clean 247 in the semifinal against Maldonado. A trio of 10-pins were the lone blemishes on his scoresheet.
The first two frames of a match don't decide the outcome, but in the opening match between Maldonado and Tommy Jones, it felt that way. Jones left a pair of brutal splits — a 4-8-10 on the left lane and a 4-9 on the right lane — while Maldonado carried all 10 pins on both.
Maldonado took advantage of the opportunity and fired the first 11 strikes. However, he missed right and came up just shy of 300, shooting 298.
With a 19th career title, Tackett tied Chris Barnes on the PBA's all-time list.
"Chris is one that I grew up watching and definitely one of the greatest players that's ever played this game," Tackett said. "To be able to share history with him, forever at this point, is pretty cool."
Tackett will look for title No. 20 and to carry over his dominance for the first time this season as the Tournament of Champions, the second major of the season, is set to begin this weekend.
Championship Round Scores
EJ Tackett def. Anthony Simonsen, 277-199
EJ Tackett def. Shawn Maldonado, 247-190
Shawn Maldonado def. Tommy Jones, 298-192
Final Standings
EJ Tackett, $25,000
Anthony Simonsen, $15,000
Shawn Maldonado, $10,000
Tommy Jones, $7,500
Cody Shoemaker, $6,000
Santtu Tahvanainen, $5,300
Matt Russo, $4,900
AJ Johnson, $4,650
Tom Smallwood, $4,400
Jason Belmonte, $4,200
Marshall Kent, $3,900
Kevin McCune, $3,900
More information on the PBA Jackson Classic is available here.