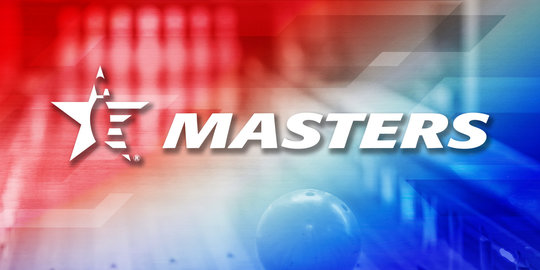 Belmonte Earns No. 1 Seed as Match Play Field Finalized at USBC Masters
March 30, 2023
Nolan Hughes
After 15 games of qualifying, the 64-player match play field is set at the 2023 USBC Masters.
Jason Belmonte, a four-time Masters champion, earned the No. 1 seed. He averaged more than 236 to accumulate a total pinfall of 3,552 (+552) at Thunderbowl Lanes in Allen Park, Mich. He has yet to bowl a game below 200 and has just two games below 220.
"I've bowled really well, but on top of that, the ball seems to be going through the pins considerably better than it has been through most of the season," Belmonte said. "Leading into match play means whoever I'm bowling against is going to know my ball is doing the right thing. So long as I repeat my shot like I have all week, I'll definitely make it tricky for that No. 64 seed."
Jakob Butturff, the 2019 champion, made a run at the lead by starting his final round with games of 257, 254, 257 and 276. He came up just shy of the top seed with a 196 finale, but he comfortably earned the No. 2 seed. Marshall Kent, Tom Smallwood and Russ Oviatt close out the top five.
Santtu Tahvanainen held onto the No. 64 seed after finishing qualifying early Wednesday afternoon with a 175, commencing a six-hour wait on the bubble. His reward: a first-round matchup with Belmonte, setting up a battle between last season's PBA Tour Player and Rookie of the Year.
Ryan Ciminelli entered his final round, the last round on Wednesday night, in 93rd place at +107. He said his goal was to shoot +100 for his final five games.
Ciminelli took care of that in Game 1 alone with a 300. He fired the front-10 again three games later, shooting 287, and catapulted all the way to the No. 6 seed.
The left-hander said he migrated towards the gutter during his second round; that's when he started to find consistent ball motion. Ciminelli said he was committed to playing that part of the lane during the final round, no matter what.
"I was fortunate enough that it was better than I even hoped," Ciminelli said.
His 300 game caught the eye of two nearby southpaws fighting to make the cut. Brandon Bohn and Anthony Neuer began the day behind Ciminelli, and after slow starts, they knew they had to take a chance.
"I bowled 180 and 202 the first two games trying to do my original gameplan, and it wasn't working great," Neuer said. "I looked down to my left, Ciminelli bowled 300 the first game and Brandon Bohn moved out there, too. It's something I'm good at — throwing it hard off the gutter — I don't know why I didn't try it earlier."
Neuer shot 290, 280 and 245 (an 815 three-game total) to surge from nearly 100 pins outside of the cut to the No. 19 seed.
Bohn shot a pair of 250s to climb to +199 and 54th place. But there was one player he couldn't catch: his dad, Parker Bohn III, who finished in 49th at +211.
Sean Rash saved his dramatic leap into the cut for the last five frames. After starting the round 82 pins behind the eventual cut number, he sat in 63rd place with one game to go.
His back was against the wall after a slow start and a split in the fifth frame. And, as a player who likes to watch the scoreboard, he knew it. But the future Hall of Famer dug deep, firing the back-seven strikes to secure a spot in the match play field.
Rash said the pair hooked three or four boards more than the previous pair and credited figuring it out to communication with his ball reps and competitor Dwight Adams.
Match play begins at 10 a.m. ET on Thursday morning with first-round matchups on the left-side of the bracket, which includes Belmonte vs. Tahvanainen and EJ Tackett vs. AJ Johnson.
The full bracket and schedule is available here.
Qualifying Leaders
Jason Belmonte, 3,552 (+552)
Jakob Butturff, 3,531 (+531)
Marshall Kent, 3,414 (+414)
Tom Smallwood, 3,366 (+366)
Russ Oviatt, 3,349 (+349)
Ryan Ciminelli, 3,335 (+335)
John Janawicz, 3,329 (+329)
Deo Benard, 3,328, (+328)
Chris Via, 3,326 (+326)
Tom Hess, 3,325 (+325)
Full standings are available here.
Tournament Schedule
All times are listed in Eastern time. The full schedule is available here.
Thursday, March 30 | BowlTV
10 a.m. — Match play Round 1 (left side of bracket)
12:30 p.m. — Match play Round 1 (right side of bracket)
2:30 p.m. — Match play (all winners)
5 p.m. — Match Play (two contenders rounds)
Friday, March 31 | BowlTV and FS1
8 a.m. — Match play cont.
2 p.m. — Match play cont.
7 p.m. — Match play Contenders on FS1
Tickets are available for Friday night's show here.
Sunday, April 2 | FOX
1 p.m. — Stepladder finals
More information on the tournament is available here.