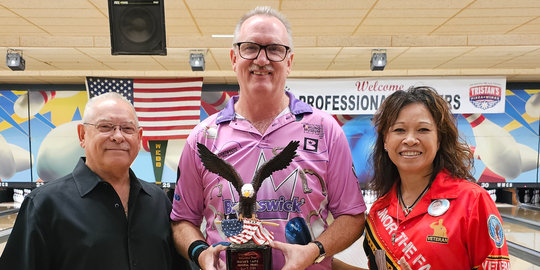 Walter Ray Williams Jr. Wins First PBA60 Title At Tristan's T.A.P.S. Memorial Tournament
July 5, 2023
Jill Winters
Columbus, Ohio – The all-time winningest bowler in the history of the PBA just did something he had yet to accomplish, he won his first PBA60 title at the PBA60 Tristan's T.A.P.S. Memorial Tournament.
The Oxford, Florida resident was the No. 5 seed to begin the stepladder finals Wednesday night and all he did was strike 68 percent of the time over four games to win the tournament throwing the new Brunswick Teal Rhino Pro.
Before his first match play round of the day, Williams Jr. told Tom Carter, who owns Tom Carter's Pro Shop inside Wayne Webb's Columbus Bowl, that he had a few new bowling balls from Brunswick, so he decided to drill the Teal Rhino Pro. That ball was used in the first game of his three-game match against Ron Mohr leading to a 257. Since Williams Jr. was already down 49 pins early, he decided to try something different, which didn't work. He lost that match which resulted in the No. 5 seed. After that, Carter made a key adjustment to Williams Jr.'s ball that turned out to be a winning combination.
"Tom put some surface on it and when I saw it hook, I liked that," Williams Jr. said. "It turned out to be a nice move. I also threw some decent shots, and my opponents didn't strike as much as I did, which made it better for me."
In Williams Jr.'s title match against Lennie Boresch Jr., he decided to slow down and moved in several boards on the lanes.
"I managed to strike the first shot of the left lane and that was a total guess," he admits. "Next shot on the right lane, I left a weak 10 then managed to get some strikes after that."
Boresch Jr. started with a double before converting the 2-8 sleeper and then he left the Greek church for an open frame in the fourth. Williams Jr. capitalized throwing five straight strikes in frames three thru seven for a 21-pin lead. Boresch Jr. struck four straight times after the open frame before opening again in the ninth with a 4-6-7 split. Williams Jr. struck seven times out of his 11 shots in the match for the 238-206 win.
"Unfortunately, my PBA60 career has been less than super stellar, so it was nice to get that good finish there," Williams Jr. said.
He celebrated the win with his daughter who was in the crowd all week.
In the opening match, Williams Jr. threw his ball hard and direct as he cruised past John DiSantis, who was making his first stepladder finals appearance, 254-196. DiSantis was the final player to make it into the round of 24. Williams Jr. continued to stay clean and strike in match two, defeating Bo Goergen, 246-193.
And then in the semifinal match, Williams Jr. found himself behind early to Ron Mohr. Mohr started off with five out of six strikes before a 3-6-7-10 split led to an open frame. Williams Jr. doubled and converted the 4-9 split in the third frame, before reeling off four straight strikes to take the lead in the seventh frame. Williams Jr. went on to win 242-217.
View the full PBA60 Tristan's T.A.P.S. Memorial results at PBA60 Tristan's T.A.P.S. Memorial | PBA
2023 PBA60 TRISTAN'S T.A.P.S. MEMORIAL FINAL STANDINGS:
1. Walter Ray Williams Jr. $7,500
2. Lennie Boresch Jr. $4,000
3. Ron Mohr $3,000
4. Bo Goergen $2,500
5. John DiSantis $2,000
MATCH SCORES
Match 1 – Williams Jr. def. DiSantis 254-196
Match 2 – Williams Jr. def. Goergen 246-193
Match 3 – Williams Jr. def. Mohr 242-217
Championship match – Williams Jr. def. Boresch Jr. 238-206