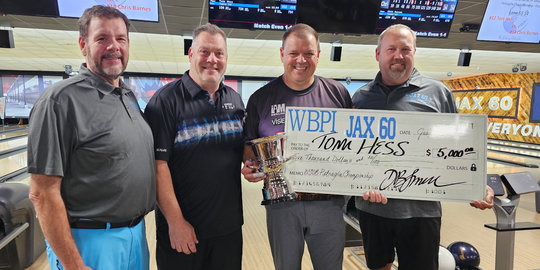 Tom Hess Wins Fourth Career Title At PBA50 Petraglia Championship
July 21, 2023
Jill Winters
Jackson, Michigan — Tom Hess is a bit tired after completing 57 games over six days at the inaugural PBA50 World Series of Bowling, and he is ready for even more.
He tied for third place at the Ballard Championship, took second at the Monacelli Championship, and then on Friday, he won the Petraglia Championship for his fourth career PBA50 title.
"I am one win away from being Hall of Fame eligible," the Iowa native said. "That was my goal. To now finally be out here, this is all I am focusing on, and the results are showing."
His path to the championship match against Chris Barnes began with wins against John Janawicz, Dino Castillo, and William Gates, who was the No. 1 seed.
"Today was probably the toughest day that a guy could have out here just the way my bracket broke down," he said.
His match with Janawicz went the full five games and he just told himself to "keep digging." Against Castillo, he lost the first game before he admits he got really focused and battled his way back. Gates presented a different challenge as the surface on his equipment affected Hess's game, but his ball rep Jim Callahan got him lined up after a 163 game, rebounding with a 259 to take the match.
"I really stayed in the process," the 53-year-old said. "I really wish I could do that more often. A couple of years ago, when I went on the run (in 2021 winning PBA50 Player of the Year and PBA50 Rookie of the Year), I was able to stay in the process, but it's hard to stay there. This week, what a week to get in it."
In the best-of-three championship match, Hess started the first game with a strike then a washout for an open frame. After that, he struck nine straight times finishing with a 263. Barnes started with a four-bagger, converted the 2-10 in the seventh and stayed clean for 248.
Game 2 saw Hess open in the third frame and strike only five times, while Barnes was once again clean and finished with seven strikes for the 258-203 win to even the match.
In the final game, Hess closed the door early on Barnes starting with seven strikes as Barnes opened three times. Hess took the victory lap with a 268-164 win.
"It has been a really good week making the semifinals and bowling for a title last night," Hess said. "I was able to be patient, stay focused and get it done today."
After three titles have already been awarded at the WSOB, it all comes down to the PBA50 World Championship. Barnes is in first through 24 games of qualifying, followed by Pete Weber, John Janawicz, Brad Angelo and Hess.
"The guys in front of me are not going to lay down," Hess said. "I am going to have to run down, chase them and catch them. Hopefully, I can stay in the same momentum and get things done."
There is still a lot of bowling left for the remaining 64 bowlers. The top 64 will bowl six games in the advancers round on the 45-foot Dick Weber oil pattern starting at 9 a.m. ET Saturday. The top 18 will move on to the first of three rounds of match play starting at 2 p.m.
They will return to JAX 60 at 9 a.m. on Sunday for the final 12 games of match play. The top five players will be in the stepladder finals set to start at 6 p.m. You can watch all of the action on BowlTV.
PETRAGLIA CHAMPIONSHIP SCORES
Game 1: Hess def. Barnes, 263-248
Game 2: Barnes def. Hess, 258-203
Game 3: Hess def. Barnes, 268-164
FINAL STANDINGS
Tom Hess, $5,000
Chris Barnes, $3,000
William Gates, $2,500
Jon Rakoski, $2,500
Full standings – PBA50 Petraglia Championship
Follow the PBA50 World Championship here.
More information on the PBA50 WSOB is available here.