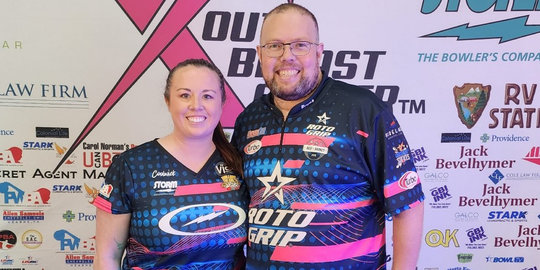 Stu Williams and Josie Barnes Lead First Day of Storm PBA/PWBA SABC Mixed Doubles Tournament
July 28, 2023
Nolan Hughes
Stars from the PBA and PWBA Tours have teamed up in Houston for the Storm PBA/PWBA SABC Mixed Doubles tournament.
On Friday, Stu Williams and Josie Barnes' steadiness propelled them to the pole position through two of four squads. Williams shot 1,581 for his seven games on the 41-foot oil pattern, while Barnes added 1,496 to bring their total to a field-high 3,077.
Of the duo's 14 combined games, they bowled just one below 200 — a 197 from Williams.
"We weren't trying to have home-run ball reaction," Williams said.
"At least for me, my game plan ended up being a little bit different than I anticipated," Barnes said. "We stayed in strong balls the entire time and I expected to have to ball down more than I did. The strong stuff just blended (the pattern) well for us and didn't get us into trouble."
Barnes, who bowled with Chris Barnes last year, joked she's coming for the PBA Hall of Famer's gig as co-host of the Beef and Barnzy Show.
"I've already texted Chris and asked if I could have his half of the website," she said.
Sitting just two pins behind Williams and Barnes are Sean Rash and Stephanie Zavala, who said the continuity and trust they developed bowling together last year and running clinics overseas helped them bowl well today.
"We really know each other's dynamics — when we can joke, when we need to be serious — and I think we just build off of that established friendship," Zavala said.
With Rash liking to play straighter and Zavala preferring to play steeper angles, Rash said their team dynamic can create a lethal combination at this event.
"In this format with how the lanes transition, you have to have a female who is not afraid to move their feet and open the lanes up," Rash said. "That's why if you look at the history of this tournament, anybody with a rev rate over about 350 has won. There are a few exceptions, but you better be able to move left and not be afraid of throwing it to the right."
Zavala is among the best on the PWBA Tour at opening the lanes. The 27-year-old owns five PWBA titles, including a three-title Rookie of the Year campaign in 2021.
Though Rash would love to add an 18th career title to his résumé, he said this event is about more than a trophy or a check.
"We're here for the cause more than anything," Rash said. "We bowl this tournament to support Donna Conners and the fight against breast cancer."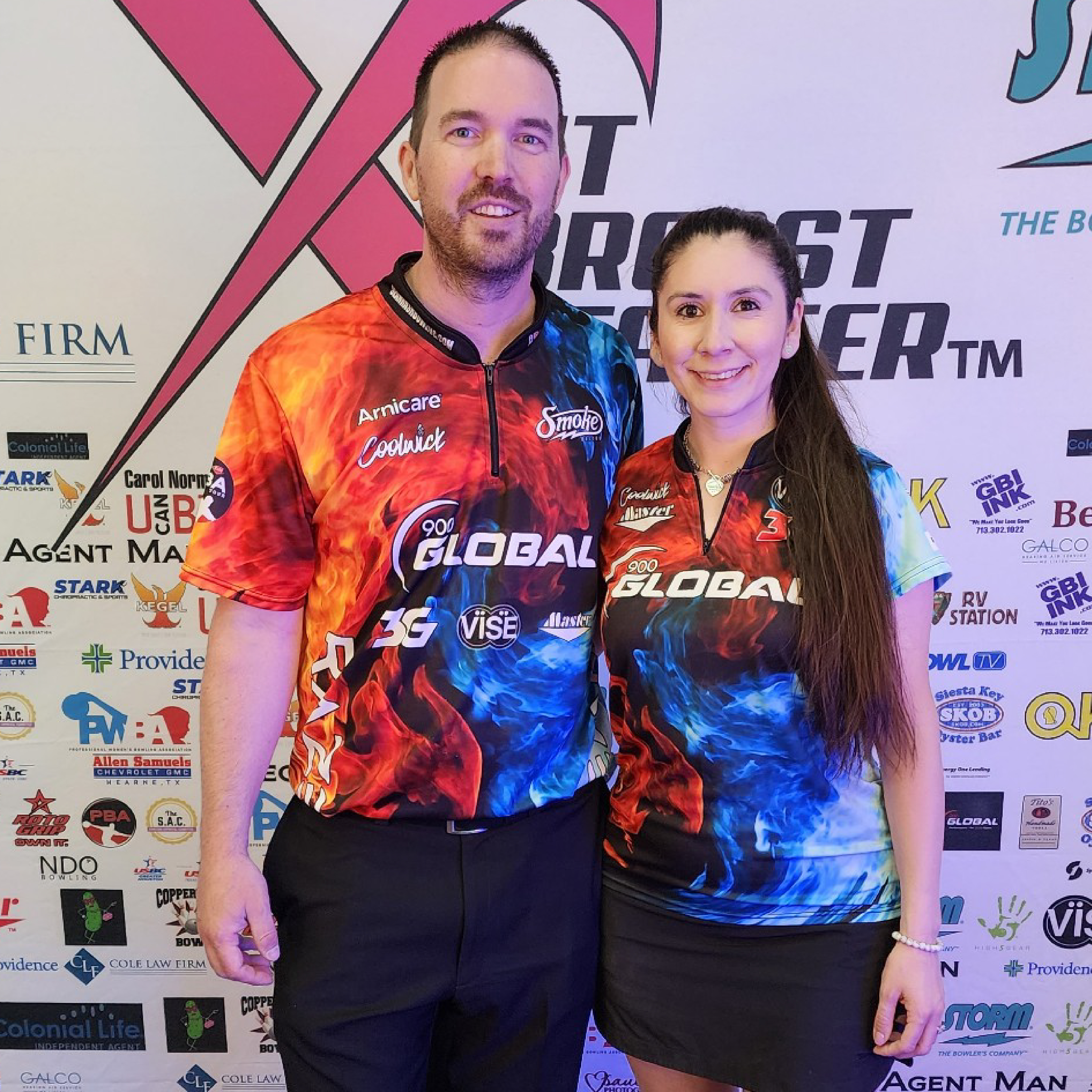 Another team building off their 2022 performance is Ryan Ciminelli and Dasha Kovalova, who currently sit in third place after finishing fourth a year ago.
Tommy Jones and Shannon Pluhowsky are in fourth, while PBA50 Rookie of the Year front-runner John Janawicz and Missy Parkin round out the top five from A- and B-squads.
The cut to Sunday's semifinals will be made following C- and D-squad competition on Saturday. C-squad begins at 9 a.m. ET, then D-squad takes the lanes at 3 p.m. ET.
The semifinals, a five-game block featuring the top fourth of the qualifying field, will take place Sunday at 9:30 a.m. ET. Following that round, the top eight teams will compete in round-robin match play to determine the champion.
All rounds will be livestreamed on BowlTV.
A- and B-squad Leaders
Stu Williams and Josie Barnes, 3,077 (+277)
Sean Rash and Stephanie Zavala, 3,075 (+275)
Ryan Ciminelli and Dasha Kovalova, 3,060 (+260)
Tommy Jones and Shannon Pluhowsky, 3,060 (+260)
John Janawicz and Missy Parkin, 3,019 (+219)
Chris Via and Bryanna Coté, 2,989 (+189)
Nathan Bohr and Maria José Rodriguez, 2,976 (+176)
Nick Pate and Lauren Pate, 2,953 (+153)
Matt Kuba and Ashly Galante, 2,953 (+153)
Matt Russo and Sydney Brummett, 2,926 (+126)
Full standings are available here.
Tournament Schedule
Copperfield Bowl | Houston, Texas
All times listed in Eastern.
Saturday, July 29
9 a.m. — C-squad qualifying (seven games)
3 p.m. — D-squad qualifying (seven games)
Top fourth of field advances
Sunday, July 30
9:30 a.m. — Semifinals (five games)
1:30 p.m. — Finals (eight games of round-robin match play)
More information on the tournament is available here.