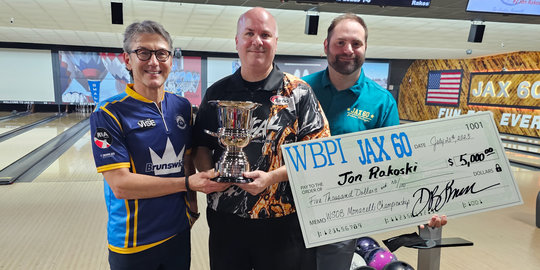 Jon Rakoski Wins First Career PBA50 Title at PBA50 Monacelli Championship
July 20, 2023
Jill Winters
Jackson, Michigan – After a fifth-place finish at his first PBA50 tournament last year, Jon Rakoski decided he would bowl full-time on tour in 2023. On Thursday night, he became a PBA50 champion.
The always-focused-looking right-hander flashed one of the biggest grins of his life after delivering his fifth straight strike in the ninth frame to win the PBA50 Monacelli Championship over Tom Hess.
"I'm not a very emotional person," he said smiling. "This is pretty amazing."
In the opening game of the best-of-three title match, the two players matched each other strike-for-strike until Hess got a spare in the sixth frame. Rakoski kept striking until the ninth when he converted back-to-back spares followed by a strike for the 265-218 win.
In Game 2, Rakoski kept striking with eight strikes through the first nine frames on the way to a 256-215 victory and championship trophy presentation.
"When I committed myself to bowling on tour full-time, I practiced a lot and it's paying off," the Florida native said. "My friend, Donnie Schwartz, flew in today to surprise me. It was great to have him here. My wife gets in tomorrow."
The Florida native has cashed in four of his five tournaments this season and sits in the top 10 on the points list. He has rolled two perfect games so far this week, and he will be back on the lanes at JAX 60 on Friday. He will face Kevin Duncan in best-of-five bracket match play at the PBA50 Petraglia Championship.
And then on Saturday, he is seeded sixth for the start of the advancers round at the PBA50 World Championships.
"It's been an amazing season and there is still a lot more to go," he said.
Rakoski is the fifth overall and third straight first-time winner on the PBA50 Tour in 2023.
The PBA50 Petraglia Championship Round of 16, starting at Noon ET on Friday, will feature best-of-five matches, followed by the Round of 8 and best-of-three game matches at 3 p.m. ET. The two semifinals are scheduled to start at 5 p.m. with the championship to follow at 6 p.m.
You can watch all of the action on BowlTV.com.
MONACELLI CHAMPIONSHIP SCORES
Game 1: Rakoski def. Hess 265-218
Game 2: Rakoski def. Hess 256-215
FINAL STANDINGS
Jon Rakoski $5,000
Tom Hess $3,000
Tom Adcock $2,500
Brad Angelo $2,500
Full standings – PBA50 Monacelli Championship
Follow the PBA50 Petraglia Championship here.
More information on the PBA50 WSOB is available here.