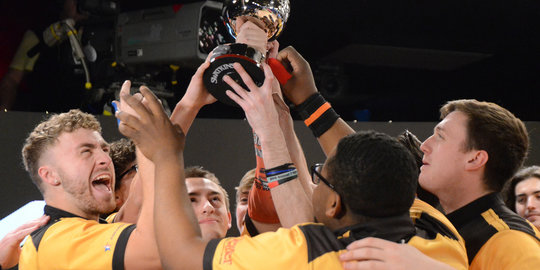 Expanded PBA Collegiate Championships Coming in 2023
January 12, 2023
Nolan Hughes
The Wichita State men, champions of last season's first ever PBA Collegiate Invitational, will look to defend their title in 2023. This year's tournament includes more competition, an expanded field and a women's division.
The 2023 PBA Collegiate Championships will take place Feb. 2-3 in Indianapolis. The field will expand to 12 teams, including six men's and six women's teams. The teams were invited and will be seeded based on their ranking in USBC Collegiate's Online Team Ranking System as of Dec. 26, 2022.
The two finalists in the men's and women's fields will compete in championship matches that will air Feb. 19 on FS1. Preliminary matches will be livestreamed on BowlTV.
The new 42' PBA Steelsmith pattern will be used for this event, recognizing one of the greatest collegiate bowlers of all time in Rick Steelsmith. He won the 1987 Masters, while bowling for Wichita State, and the 1988 PBA Rookie of the Year award. Steelsmith is now the head coach of the Wichita State men's program.
Here are the teams competing in the 2023 PBA Collegiate Championships:
Men's Field
University of Pikeville
Wichita State University
Lawrence Tech University
Indiana Institute of Technology
Tennessee Southern University
Calumet College of St. Joseph
With six victories in nine tournaments under their belts thus far, the Pikeville Bears closed the 2022 calendar year as the top-ranked team in the nation. Indiana Tech's squad oozes young talent; they started four freshmen en route to a third place finish at the 2022 Intercollegiate Team Championships.
The second-ranked Shockers return almost every player from last year's rotation, including first team All-Americans Alec Keplinger and Ryan Barnes (the son of Chris Barnes), plus 2021 Masters finalist Spencer Robarge.
Women's Field
Wichita State University
University of Pikeville
Mount Mercy University
University of St. Francis (IL)
Tennessee Southern University
Trine University
The Shocker women, who finished runners-up at the 2022 Intercollegiate Team Championships, are the top-ranked team in the women's field. Former National Player of the Year Madison Janack and Team USA's Mary Orf headline this year's Wichita State team.
Both Tennessee Southern squads, with Bob Learn Jr. coaching the men and Bill Holbrook coaching the women, will be competing in Indianapolis, as will Kyle Wilson and Bobby Brown's Bears. The Mount Mercy women, spearheaded by Team USA assistant coach Andy Diercks, have been ranked first or second in each of the past three seasons.
Qualifying
All qualifying will take place at Royal Pin Expo Bowl in Beach Grove, Ind. on Thursday, Feb. 2 starting at 5:15 p.m ET. All rounds are best-of-seven baker matches and will be streamed live on BowlTV.
Men's Quarterfinals: 5:15 p.m. ET
No. 4 Indiana Tech vs. No. 5 Tennessee Southern
No. 3 Lawrence Tech vs. No. 6 Calumet
Men's Semifinals: 7:15 p.m. ET
Winner of 4/5 vs. No. 1 Pikeville
Winner of 3/6 vs. No. 2 Wichita State
Women's Quarterfinals: 5:15 p.m.
No. 4 St. Francis (IL) vs. No. 5 Tennessee Southern
No. 3 Mount Mercy vs. No. 6 Trine
Women's Semifinals: 7:15 p.m.
Winner of 4/5 vs. No. 1 Wichita State
Winner of 3/6 vs. No. 2 Pikeville
Winners of the semifinal matches advance to the PBA Collegiate Championships TV show.
Finals
The championship rounds move over to Royal Pin Woodland, home of the 2023 U.S. Open presented by Go Bowling!, on Friday, Feb. 3. The TV finals will air Sunday, Feb. 19 on FS1.
Tickets to all rounds of the PBA Collegiate Championships, including the TV finals, are free.