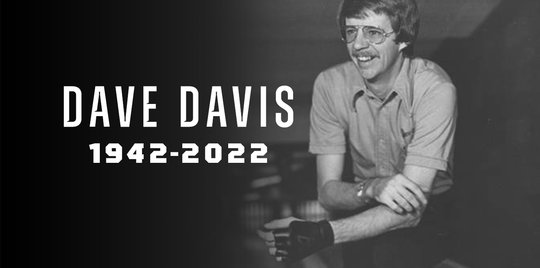 Dave Davis, PBA Hall of Famer, Dies at 80
January 1, 2023
Johnny Campos
The PBA mourns the loss of Davis, the trailblazing left-hander who established numerous PBA records during his Hall of Fame career.
Before Earl Anthony, Parker Bohn III, Mike Aulby or Johnny Petraglia became stars on the lanes, Dave Davis was the premier left-hander on the Professional Bowlers Association Tour.
Using a silky smooth delivery, Davis won 18 titles on the PBA Tour and five more on the senior tour.
He died early Thursday morning, December 29, at his home in Lake Placid, Fla., at the age of 80.
Davis had a history of heart problems, having undergone open heart surgery in February of 2021. His wife Joann said that his heart was OK after the surgery, but his kidneys started to fail as well. Davis had been under hospice care for a couple of weeks prior to his death.
"I told the hospice nurse that his mind was starting to go and he was starting to decline," Joann said. "I expected her to say he had a couple of months left. But she looked at me and said, 'Joann, he's got a couple of weeks.'"
Joann Davis spent the two days after her husband's death talking to many of his lifelong friends, including bowling greats Dave and Judy Soutar, Johnny Petraglia, long-time PBA Director of Player Services Larry Lichstein and long-time PBA lane maintenance consultant Lenny Nicholson.
Dave Soutar and Petraglia roomed with Davis for many years.
"The main reason we got together was that I signed with Brunswick in '71," Petraglia recalled. "There were only two staffers then, Davis and Soutar, and Judy was the lady on the staff.
"When I first joined we had to go to Europe together and stayed for about a month, doing exhibitions. The more you get to know them, we just started rooming together and it just never changed."
Not all of their travels went smoothly, however.
"We tried one year to travel together in a motorhome," Petraglia said. "That was an experience! We weren't very good at it. Or at least I wasn't very good at it.
"But there were a lot of fun times. And everybody was in their prime and bowling pretty well, so that helped a lot, too."
What was unusual about the trio was that Davis and Petraglia were both left-handed, while Soutar was a righty.
"We were all with Brunswick, but the connection was that we all liked each other," Soutar said. "We always had a good time together. Dave and I got together first, then we got Johnny in. And I felt like a left-hander!
"In those days, all the right-handers were against left-handers. But I never was mad because they were left-handed. That's probably why we could all room together. We were very good friends and had no problems with each other."
Davis beat Petraglia for the 1975 Brunswick World Open title and beat Soutar for the title of the 1969 Canadian Open. But in 1970, Soutar turned the tables, beating Davis twice in a month for titles.
Davis went out on the PBA Tour in 1964, and won his first two titles, including the first of his two PBA National Championships, the following year. He had his breakout season in 1967 when he won six times, including his second PBA National Championship, and was the PBA Player of the Year.
Davis went on to win the Firestone Tournament of Champions twice, and won the USBC Senior Masters in 1995 and 1996.
"Dave was so elegant and wonderful to watch that even right-handers couldn't knock him," said Lichstein, who beat Davis for his only PBA title in 1971. "Keep in mind the righties did not like the lefties, especially lefties who could beat them.
"And when Dave started beating them, he was beating the legends. But they couldn't knock him. The game was too pure. It was too good."
Davis also broke a few barriers from the left side on the PBA Tour.
"He had a lot of firsts that I don't think people will remember unless you bring it up," Lichstein said. "The new bowlers of today have no idea of who he was.
"He was the first left-hander to win a major, the first left-hander to win two majors, and the first left-hander to win Player of the Year in 1967."
Davis also was the youngest player to win three majors when he claimed the 1968 Tournament of Champions. He was 25 years and 343 days old. That record lasted until February of 2022 when Anthony Simonsen won his third major at the age of 25 years and 31 days.
Davis was inducted into the PBA Hall of Fame in 1978 and to the United States Bowling Congress Hall of Fame in 1990. In 2009, he was voted No. 19 on the list of 50 greatest players in PBA history.
"Davis had a beautiful arm swing," said Nicholson, who was friends with Davis for almost 60 years. "When I gave lessons, the first thing I would do is get a video tape of Dave Davis and Brian Voss. I'd show them to the new students and tell them to memorize what those guys looked like. That's what I wanted them to look like.
"Bill Allen was the first good lefty on tour when he came out in '61, and Jerry McCoy won a couple of times. But when Davis came out in '64, he won a couple of Firestones and a couple of PBA Nationals. He was a superstar."
Davis, who was born in Kingston, Pa., moved to New Jersey after getting married to Joann. There, he passed on his knowledge to another bowling great from the Garden State, Parker Bohn III, who has many of the similar traits that Davis had in his game.
"Dave was an extreme influence on me," Bohn said. "He and his wife took me under their arm and tried to show me the difference between right and wrong on the lanes. Back then they formulated my game to what it has become. Dave was very, very instrumental in building my game to what it has become today And that style has been with me ever since."
At the time, Bohn was a rising star in the junior ranks in New Jersey, but needed more help than the junior coaches in his center could offer.
"My mom realized that she could no longer help me anymore through the local coaches we had," he said. "So, she reached out to Dave and Joann and asked them to lend a helping hand and try to teach me a better way and how to become a better bowler.
"The best part about it was that Davis owned a bowling center 30 minutes from where I grew up. I was 16 turning 17 when I met him – way before my pro career. It was a dream to bowl on the PBA Tour."
Bohn went on to win 35 PBA titles on the PBA Tour and 10 more on the senior tour – so far.
Bohn said he talked to Davis a couple of times a year, but had an opportunity to visit with him and his wife in 2021 during the COVID-19 pandemic.
"I caught COVID, but was going to be in the Sebring area to drop some stuff off," Bohn said. "Dave had just had heart surgery, but I wanted to see him. I told him I was stopping by, but was not getting any closer than the corner of where they lived.
"He and Joann sat on the back porch and I sat on the hood of my car and we talked for an hour. It was great conversation, but we would have loved nothing better than to embrace each other and get closer. But at that moment in time, that was the safest thing to do."
Dave and Judy Soutar, who live about 90 minutes from Lake Placid, were able to meet with the Davises a couple of days before Dave's death.
"When we were there, he was very alert," Judy said. "We talked and laughed with them, and then Lenny Nicholson called to talk with Dave. After he saw us, maybe he just said it was time to go. It's a shame. But you know what? He's in a better place. He had no quality of life."
Davis was using a walker and a wheelchair to get around his house in his final few weeks at home.
"He was down to about 120 pounds (on his 6-foot-3 body), and kept falling down even with the walker," Dave Soutar said. "For a while he was getting stronger, got to walk from bedroom to kitchen and not fall over. He was always so cold and was very thin."
That's a far cry from the first time Joann Davis met Dave, just hoping to get his autograph.
"It was in Garden City (New York) in 1975," she recalled. "He called me the next week and I hung up because I didn't believe it was him. Then it went on from there. We got married in 1977.
"We were married 45 years this year, technically (they were divorced and then got remarried a few years ago). He has two daughters in Georgia, and they're coming down next week. He will be cremated, and no service is planned. All of his friends are all over the United States, so it just wouldn't work."
But Davis will be remembered by many lifelong friends from his time on tour and beyond, especially by Bohn, his prized student.
"It truly hurts, because bowling truly lost a living legend, a gentleman," Bohn said. "He was one of the kindest individuals that you could ever meet, on and off the lanes."