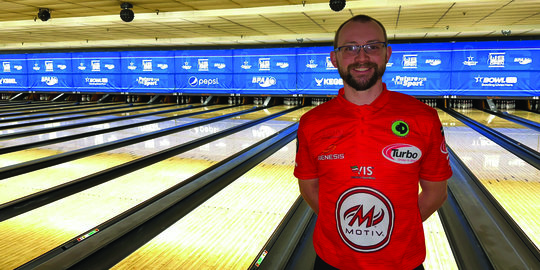 Tackett Retains Lead; Simonsen, Troup Rise During First Rounds of U.S. Open Match Play
February 4, 2023
Nolan Hughes
Through 40 games of competition at the U.S. Open presented by Go Bowling, EJ Tackett continues to lead the field.
He has averaged over 218 across four of the toughest lane conditions in bowling — more than five pins per game better than the next-best player — accumulating a total pinfall of 8,963, including bonus pins.
For a moment during the Round 2 of match play at Indianapolis' Royal Pin Woodland, Tackett relinquished first place. It didn't last long.
The 30-year-old said he got lost in transition during Game 3 and 4, losing both matches with scores of 171 and 189. But once he found a look to strike in Game 5, he never looked back.
He closed the block with four straight games over 223, surging back into the pole position despite an 8-8 record in match play.
"We've still got eight more games to bowl, so we aren't even close to done with this thing yet," Tackett said. "As you saw today, even if you've got a hundred-pin lead, it can go away in a game or two. There's a lot of other really great bowlers right behind me that are itching for me to bowl another 190 with a loss."
Tackett seeks to earn his third career major title, and his first PBA Tour victory in his home state. With previous major wins at the 2016 World Championship and 2017 Tournament of Champions, a U.S. Open title would make him the ninth player to complete the Triple Crown.
Defending champion Anthony Simonsen sits in second place, followed by Tomas Käyhkö and Kyle Troup. Käyhkö and Troup began the day in the bottom third of the field, but climbed into the top five during Round 1 of match play.
The top-four seeds following match play will earn berths in the championship round on Sunday, while seeds No. 5-9 will in the first part of the televised stepladder finals on Saturday.
Currently occupying those positions are Frank Snodgrass, Thomas Larsen, Jesper Svensson, Kris Prather and Marshall Kent.
Snodgrass posted the highest series of match play thus far in Round 2 with 1,851, helping him return to the top five after falling to 19th after Round 1. He said he committed to playing farther right with urethane in Round 2, and the adjustment paid dividends.
Richie Teece, Kevin McCune and Matt Ogle each sit less than 100 pins from a berth in Saturday's show.
Match play resumes at 9 a.m. ET on Saturday, Feb. 4, streaming on BowlTV. Then the first televised round, featuring the No. 5-9 seeds, will air live at 4 p.m. ET on FS1.
The championship round will air on Sunday, Feb. 5 at 2 p.m. ET on FOX.
U.S. Open Standings through Round 2 of Match Play
EJ Tackett 8,963 (+963)
Anthony Simonsen, 8,829 (+829)
Tomas Käyhkö, 8,811 (+811)
Kyle Troup, 8,754 (+754)
Frank Snodgrass, 8,730 (+730)
Thomas Larsen, 8,694 (+694)
Jesper Svensson, 8,620 (+620)
Kris Prather, 8,616 (+616)
Marshall Kent, 8,615 (+615)
Richie Teece, 8,609 (+609)
Kevin McCune, 8,541 (+541)
Matt Ogle, 8,539 (+539)
Matt Sanders, 8,506 (+506)
Jake Peters, 8,506 (+506)
Justin Knowles, 8,450 (+450)
Stu Williams, 8,414 (+414)
Michael Martell, 8,392 (+392)
Tom Daugherty, 8,364 (+364)
AJ Chapman, 8,343 (+343)
Bryan Hahlen, 8,328 (+328)
François Lavoie, 8,328 (+328)
Dallas Leong, 8,319 (+319)
Tom Hess, 8,306 (+306)
Alec Keplinger, 8,201 (+201)
Full standings are available here.