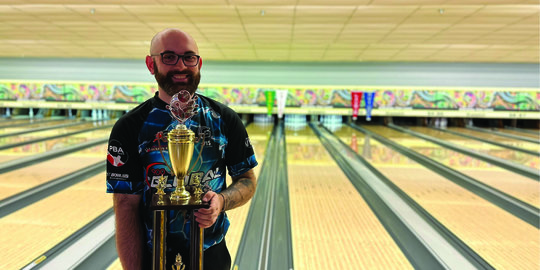 Sam Cooley Defeats Keven Williams to Win PBA Springfield Classic
February 11, 2023
Nolan Hughes
To win the PBA Springfield Classic, Sam Cooley needed a mark in the 10th frame.
He left a 10-pin on the first shot, one he felt he could have thrown better. The 31-year-old took his time, a few deep breaths and converted the spare — and he knew exactly what he wanted to say:
"This is my house now!"
Cooley defeated Springfield's own Keven Williams, competing in his home bowling center at Enterprise Park Lanes in Springfield, Mo., 223-217 to claim his second career PBA Tour title. 
Despite a rough third day at the U.S. Open, the Australian felt very confident after the practice session on the 34-foot Wolf oil pattern. 
"I do like bowling on shorter patterns," Cooley said. "I can use my uniqueness, creating steeper angles and throwing it at the gutter as a benefit. My ball roll helps me do that, too.
"In any event that we bowl, if you can use uniqueness to your advantage, if you can do something that no one else can and do it well, then it's a benefit to do that."
Cooley earned the No. 2 seed for the stepladder finals after losing the top seed to Williams in the position round. But throughout the title match, Williams struggled on the left lane. He left a 7-pin in the fourth frame and a 6-pin in the sixth, before leaving and missing the 3-5-6 in the eighth.
The 30-year-old southpaw said he needed to slow his ball speed down on that lane, and didn't trust the adjustment until the 10th frame. In that frame, Williams delivered all three strikes on that lane to force Cooley to mark.
"He proved why he has a win," Cooley said.
"Anytime you're bowling for a title in any tournament in any building, it's got to be success," Williams said. "Am I frustrated? Yes. But it's a good start to the year and we got a long ways to go. And this just gains confidence, so we'll get back there."
Both players sought their second career PBA Tour titles, and the Springfield faithful wanted the trophy to stay in town with Williams. Everyone, especially Cooley, knew it.
"It's a weird feeling," Cooley said of the environment during the title match. "It's not really a feeling of defeat; it's like the odds are stacked against you. I've been on that side a few times where I bowled against the local favorite, and I've always been on the losing side of that, whether that's mental mistakes, nerves, or a combination of both of those things.
"When he gets up and strikes, all you hear is noise," Cooley said. "And when I get up and strike, you hear like one or two (people clapping)."
Cooley knew he was in a hostile environment and he remembered what Williams said when he locked up the top seed during the position round.
However, Cooley said he prefers to save his grand reactions for when it's officially over.
"I could hear the people behind me saying, 'This is your house' and things like that," he said. "I was like, 'Okay, well, if I get this chance, you're going to hear about it.' Once I spared the 10-pin, I yelled 'This is my house now!'
"There was not a sound in the building," he said. "That's kind of the reaction I was going for. I wanted them to know that's why you don't poke the bear."
In the semifinal, Cooley defeated Jakob Butturff in another close match. Through eight frames, Butturff had seven strikes and one spare, while Cooley couldn't buy a strike on the left lane.
However, the left-hander left a devastating split in the ninth frame, which opened the door for Cooley. He struck in the ninth, then doubled in the 10th to force Butturff to double, which he was unable to do.
"For the first half of the game, he hit me dead in the water," Cooley said. "And he let me back in."
With two games left of match play, Butturff sat 168 pins behind Chris Via for the last spot in the stepladder. But he rallied with games of 255 and 237 and won both matches to usurp Via for the No. 4 seed.
Butturff then defeated François Lavoie in the opening match. Both players struggled early — in fact, Butturff switched from plastic to urethane in the third frame — but a late split from Lavoie ended his tournament.
The PBA returns to action with the PBA Shawnee Classic on Tuesday. The pre-tournament qualifier will be held on Feb. 14 in Shawnee, Okla., while qualifying for the main field begins on Feb. 15.
Final Scores
Match 1: No. 4 Jakob Butturff def. No. 3 François Lavoie, 223-192
Match 2: No. 2 Sam Cooley def. No. 4 Jakob Butturff, 237-229
Championship: No. 2 Sam Cooley def. No. 1 Keven Williams, 223-217
Final Standings
Sam Cooley, $25,000
Keven Williams, $16,000
Jakob Butturff, $12,000
François Lavoie, $10,000
Chris Via, $8,000
Anthony Neuer, $7,500
Jason Belmonte, $7,000
Nick Pate, $6,500
Ildemaro Ruiz Jr., $5,500
Anthony Simonsen, $5,100
Bill O'Neill, $4,800
Kevin McCune, $4,500
More information on the PBA Springfield Classic is available here.