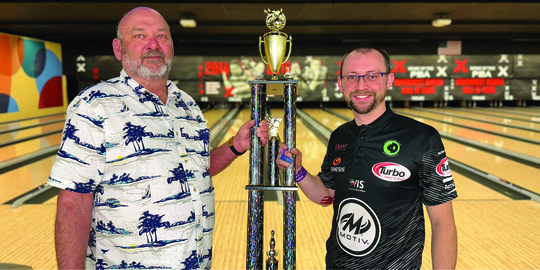 EJ Tackett Wins Second Title of Season at PBA Shawnee Classic
February 17, 2023
Nolan Hughes
For the second time this season, EJ Tackett earned the No. 1 seed. For the second time this year, Tackett needed a strike in the 10th frame to win the title, this time at Firelake Bowling Center during the PBA Shawnee Classic.
And for the second time this year, Tackett delivered in the clutch. In a battle between the two most recent Triple Crown winners, he defeated Dom Barrett, 231-226, to win the PBA Shawnee Classic and claim his 18th career PBA Tour title.
TITLE NUMBER TWO OF 2023!

EJ Tackett defeats Dom Barrett to win the PBA Shawnee Classic! pic.twitter.com/XynLFMAB68

— PBA Tour (@PBATour) February 18, 2023
"I've been there so many times over the years and either thrown bad shots or thrown good shots and got nine," Tackett said. "I feel like I'm on the roller coaster. You just have to take the good and the bad, continue to put yourself in position, do the best that you can and let the pins fall where they may."
The 30-year-old led the field by 545 pins, a margin of more than 15 pins per game, to earn the top seed.
"This pattern developed and ended up playing, to me, very similar to the fourth pattern at the U.S. Open," he said. "I've always bowled well here (at Firelake). A lot of things gave me confidence, so when I saw my ball start striking, it really loosened up my swing."
Despite two low-scoring matches on the championship pair, Tackett knew that wouldn't hold true for long against Barrett.
"Dom Barrett is obviously one of the greatest players of the time, so I fully anticipated him to bowl a good game," Tackett said. "I never expected it to be easy. I would've liked it to be a little easier, had I not thrown two bad shots in the middle of the game. But I put myself in the position to be able to get it done again."
Tackett seized the lead during the fourth game of match play and never looked back. He won his final nine matches to, in Barrett's words, lap the field a few times.
Barrett said he was a bit frustrated with his performance in the championship round. A missed 10-pin almost cost him in the semifinal against DJ Archer, then failed to get count after leaving a pocket 7-10 against Tackett.
But after the 7-10 gaffe, Barrett spared a 7-pin leave then struck on his final six shots to put pressure back on Tackett.
"I'm a guy who always digs really deep, finds a bit of heart no matter what and finds a way to push the other guy," Barrett said. "EJ's a fully deserving winner. He lapped the field a few times so he absolutely deserved to win."
Barrett defeated Archer 174-170 in the semifinal. Archer needed a double in the 10th frame to win the match, but a devastating 7-pin leave after the first strike ended his run.
The veteran Archer took down Joseph Grondin, who was making his championship-round debut on the PBA Tour, in the first match.
Archer said he wanted to get off to a hot start to put pressure on the 24-year-old. Strikes in the second and third frame appeared to do the trick. Grondin threw four different balls, but failed to double until the ninth frame, when Archer had taken an insurmountable lead.
Tackett, who has won two titles in three events this season, said he has not yet won back-to-back titles in his career. He'll begin his quest for consecutive titles next week in Kansas at the PBA Wichita Classic.
Championship Round Scores
Match 1: No. 4 DJ Archer def. No. 3 Joseph Grondin, 225-165
Match 2: No. 2 Dom Barrett def. No. 4 DJ Archer, 174-170
Championship: No. 1 EJ Tackett def. Dom Barrett, 231-226
Final Standings
EJ Tackett, $25,100
Dom Barrett, $16,000
DJ Archer, $12,000
Joseph Grondin, $10,000
Sean Lavery-Spahr, $8,000
Zac Tackett, $7,5000
Anthony Simonsen, $7,000
Dick Allen, $6,500
Stu Williams, $6,100
Sam Cooley, $5,500
Tomas Käyhkö, $5,100
Matt Ogle, $4,800
More information on the PBA Shawnee Classic is available here.