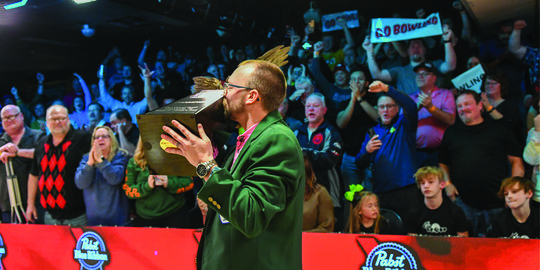 EJ Tackett Wins 2023 U.S. Open
February 5, 2023
Nolan Hughes
After 48 games and nine frames, the 2023 U.S. Open presented by Go Bowling! title came down to a single frame.
EJ Tackett needed a strike and eight pins to win the title he so desperately coveted. In perhaps the biggest moment of his bowling career, he delivered a pair of strikes to claim the green jacket and $100,000 top prize.
Tackett defeated Kyle Troup in the title match 221-208, for his 17th career PBA Tour title and third career major. After winning the 2016 World Championship and 2017 Tournament of Champions, the U.S. Open title made Tackett the ninth player in PBA history to win the Triple Crown.
More than that, Tackett, at long last, picked up a PBA Tour victory in his home state of Indiana.
"This is just absolutely incredible," Tackett said. "I have so many people here supporting me. What this tournament means is a whole mountain of things. The Triple Crown. The U.S. Open. Winning here at Woodland. Winning in the state of Indiana. Getting my flag down there in the Beer Thirty bar along with everyone else. Another major. The list just compiles what this tournament means."
EJ Tackett becomes the 9th Triple Crown winner in PBA Tour history, as he wins the 2023 U.S. Open presented by Go Bowling. pic.twitter.com/OxXLZ3nknw

— PBA Tour (@PBATour) February 5, 2023
The match was tied through nine frames as Troup stepped up to finish the match. Troup, looking to win his 10th career PBA Tour title and achieve Hall of Fame eligibility, struck on his first shot in the 10th.
But on the second shot, he missed left and left the big-four on the second shot.
"It's probably the only frame I broke my process mentally," Troup said. "I should have stepped off. I don't know why I didn't but that's something I'll never get back, so I've just got to learn from that."
After losing in last last year's U.S. Open title match, Tackett had an opportunity to complete the fairytale ending.
"I never looked at the score to know exactly what I needed," Tackett said. "I felt like I just needed to keep on my process and throw the best shot that I can.
"I knew if I got up there and threw a really good shot like I had been, the tournament would be mine."
He said he thought he left a wrap-10 on the first shot, but the pin fell late. He needed eight pins on the second shot to claim the title, but before the ball reached the pins, Tackett had already begun his celebration.
The 30-year-old unleashed a flurry of Tiger Woods-esque fist pumps as he hurried to where his parents, wife and brother waited with tears of joy. In a moment reminscient of his 2016 World Championship, Tackett hugged his father, who he said has been his coach his entire life.
"We don't really need to share words," Tackett said. "We both know what it means."
---
Troup, who advanced to this afternoon's championship round after defeating Justin Knowles in the No. 5-9 seed stepladder on Saturday afternoon.
In the semifinal, Troup took down Tomas Käyhkö, who was making his television debut on the PBA Tour. Käyhkö made excellent shots throughout, but struggled to carry late in the match. He wrapped a 10-pin in the eighth frame, followed by a devastating stone-9 in the ninth and another wrap-10 in the 10th frame.
Troup then converted a 10-pin to shut out the Finnish two-hander and advance to the title match.
The long-awaited match between PBA superstars Troup and No. 3 seed Anthony Simonsen lived up to the hype. Troup opened with a hambone, but allowed Simonsen back into the match by leaving the big-four in the fifth frame.
Troup again opened the door for the defending champion after failing to convert a washout in the 10th frame. Simonsen needed all three strikes to win the match by a single pin, but left a game-ending 3-4-6-7 split — the inverse of the split Justin Knowles left in his loss to Troup last night.
Troup defeated Richie Teece in the opening match of the day. He had a chance to take a commanding lead with a strike in the eighth frame, but just as he began his celebration, he noticed the 8-pin still standing.
Teece could not capitalize on the opportunity, missing a washout in the eighth frame, then throwing another errant shot in the ninth. Troup converted a 2-4-5 spare in the 10th frame to secure the match.
Final Scores
Match 1: No. 5 Kyle Troup def. No. 4 Richie Teece, 207-192
Match 2: No. 5 Kyle Troup def. No. 3 Anthony Simonsen, 203-177
Match 3: No. 5 Kyle Troup def. No. 2 Tomas Käyhkö, 219-215
Championship: No. 1 EJ Tackett def. No. 5 Kyle Troup, 221-208
Final Standings
EJ Tackett, $100,000
Kyle Troup, $50,000
Tomas Käyhkö, $25,000
Anthony Simonsen, $16,000
Richie Teece, $10,000
More information on the 2023 U.S. Open presented by Go Bowling! is available here.