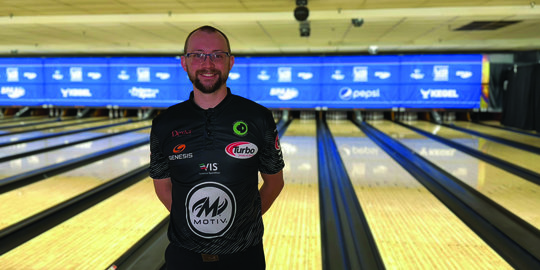 EJ Tackett in Familiar Spot Atop U.S. Open Standings
February 2, 2023
Nolan Hughes
The scene at Indianapolis' Royal Pin Woodland for the 2023 U.S. Open presented by Go Bowling! is starting to look familiar. A year ago, EJ Tackett led this tournament by 502 pins and after 24 games of qualifying, he again stands alone atop the leaderboard.
A field-high 1,753 eight-game series powered Tackett to the pole position entering match play. He did the bulk of his damage during the opening five games, using urethane with a bit of loft to overwhelm the flat, 39-foot pattern.
"I got into a good groove there and was really feeling the lanes," Tackett said. "I kept up with the moves really well. It's so important to be able to see the lanes like that and be able to anticipate the next move. I was able to do that for five games and got a bunch of score comparative to the field today."
Frank Snodgrass, Michael Martell, defending champion Anthony Simonsen and Thomas Larsen round out the top five of 24 advancers. Snodgrass sits 138 pins behind Tackett, but the latter knows all too well the tournament is still less than halfway from deciding a champion.
"There's so many pins in match play, we know that anything can happen with 24 games and 720 (bonus) pins," Tackett said. "I've got to come in, focus and keep striking."
B-squad concluded the final day of qualifying, and Justin Knowles was the last player to punch his ticket to Friday's competition.
Knowles' road to match play began in the pre-tournament qualifier, and came down to the 10th frame. After he opened in the fourth frame of the final game, the Michigan native's hopes looked futile.
But Knowles followed his week's mantra and struck on his next six shots to sneak into the cut by five pins.
"I just believed in myself," Knowles said. "I had a mantra all week of not being scared of the moment and tried to execute everything I could. You bowl for these moments, where you have the ball in hand to make a cut or win a title. Sometimes you're good enough to do it, and today was my day."
The round-robin match play of the U.S. Open will begin at 10 a.m. on Friday, Feb. 3. All match play rounds will be streamed on BowlTV.
Full standings through all 24 games of qualifying at the 2023 U.S. Open are available here.
Match Play Advancers
EJ Tackett 5,226 (+426)
Frank Snodgrass, 5,088 (+288)
Michael Martell, 5,074 (+274)
Anthony Simonsen, 5,062 (+262)
Thomas Larsen, 5,057 (+257)
Jesper Svensson, 5,048 (+248)
AJ Chapman, 5,039 (+239)
Kris Prather, 5,028 (+228)
Dallas Leong, 5,028 (+228)
Richie Teece, 5,026 (+226)
Matt Ogle, 5,024 (+224)
Matt Sanders, 4,992 (+192)
Kevin McCune, 4,980 (+180)
Jake Peters, 4,977 (+177)
Alec Keplinger, 4,971 (+171)
Marshall Kent, 4,963 (+163)
Kyle Troup, 4,957 (+157)
Tomas Käyhkö, 4,939 (+139)
Tom Daugherty, 4,931 (+131)
Bryan Hahlen, 4,918 (+118)
Stu Williams, 4,913 (+113)
François Lavoie, 4,912 (+112)
Justin Knowles, 4,912 (+112)
Tom Hess, 4,907 (+107)
2023 U.S. Open presented by Go Bowling! Schedule
Friday, Feb. 3 | Round-robin match play | BowlTV
10 a.m. — Match play (eight games)
5 p.m. — Match play (eight games)
Saturday, Feb. 4 | Match play and TV finals
9 a.m. — Match play (eight games) - field cut to top nine | BowlTV
4 p.m. — TV finals, seeds 5-9 | FS1
Sunday, Feb. 5
2 p.m. — TV finals | FOX