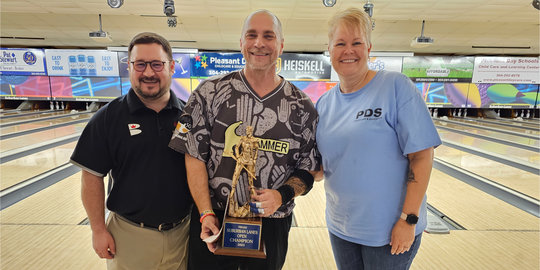 Troy Lint Stays Hot, Wins PBA50 Morgantown Classic
August 3, 2023
Jill Winters
Morgantown, West Virginia – Troy Lint is betting on himself this year for the first time and his commitment to the PBA50 Tour is clearly paying off.
After quitting his job to pursue his dream, the lefty with the unbelievable backswing, averaged 246 over four games in the stepladder finals at the PBA50 Morgantown Classic on Thursday, to win his second title of the year. And to do so, he had to defeat two other first-time PBA50 Tour winners this season, a PBA Hall of Famer and one of the other hottest senior bowlers right now, Tom Hess.
"You always hear the value of putting skin in the game," he said. "I never really invested the time because I had a full-time job. These guys are so good and if you are not invested, you can't really compete."
Since dedicating himself completely to being on tour full-time, the Pennsylvania native has shined. He leads the way in points having made five shows. He has done it all despite dealing with a knee injury that he believes will likely result in surgery. He recently received a cortisone shot with hopes he can make it through the rest of the season.
"I was in so much pain," he said. "They were screaming my name and I was doubled over in pain. I couldn't even look up."
"As soon as I get my knee healthy, I am going to be better next year," Lint said confidently.
During the title match, Lint threw one of his worst shots in the first frame leaving the 3-5-6 and covered it. He made a move off of that shot and never looked back. He responded with a double falling behind Hess by 10 pins early.
Both players had single-pin spares in the fourth frame before Lint went off the sheet with eight straight strikes for 269. It was heartbreak for Hess, working on a double in the seventh, he had a pocket 7-9 for a few seconds before the 7-pin went down. Hess's next shot on the right lane was a brutal stone-8 as Hess went down on all fours in disbelief. Those inside Suburban Lanes were shocked. He gathered himself and got the spare in the foundation frame.
"I put a lot of pressure on him by striking (in the eighth)," Lint said. "He threw the ball great. He stoned a 9 then an 8 (on the right lane)."
Lint got the win 269-227 and the two players shared a friendly embrace. Lint earned a unique Mountaineer trophy and a check for $7,500.
"That was pretty amazing especially to bowl four of my friends too," Lint said about his stepladder run. "It's so tough to win out here. Everybody is brutal."
Lint has been focused on setting goals for himself this year. The PBA50 Player of the Year frontrunner has one to check off his list.
"It's been a really good season, but I still have one more goal and that is to win another major," Lint said.
Three first-time PBA50 winners faced off in the first two matches. In the opening match, it was a battle of two lefties between Lint and Michael Haggitt. After two single-pin spares to start, Lint put together a five-bagger while Haggitt had just two strikes through seven frames. Lint went on to win 246-183.
Next up, Lint went head-to-head with Dan Knowlton. Knowlton missed two 10-pins in the first five frames and left a pocket 7-10 to fall behind Lint by 33 pins. After Lint's only open of the show in the seventh frame, he responded with four straight strikes for the 225-173 win.
Match three was another battle of the left-handers. Jason Couch and Lint were all even through four frames. A 4-7-10 split in the eighth frame proved costly for Couch. Lint threw three out of four final strikes for the 244-195 win.
Lint will get his chance at another major title starting Monday as the PBA50 Tour heads to Virginia for the Bud Moore PBA50 Players Championship. The winner of that event will receive $20,000.
MATCH SCORES:
Match 1: Lint def. Haggitt 246-183
Match 2: Lint def. Knowlton 225-173
Match 3: Lint def. Couch 244-195
Championship match: Lint def. Hess 269-227
2023 PBA50 MORGANTOWN CLASSIC FINAL STANDINGS:
Troy Lint $7,500
Tom Hess $4,000
Jason Couch $3,000
Dan Knowlton $2,500
Michael Haggitt $2,000
Full results are available here: PBA50 Morgantown Classic | PBA