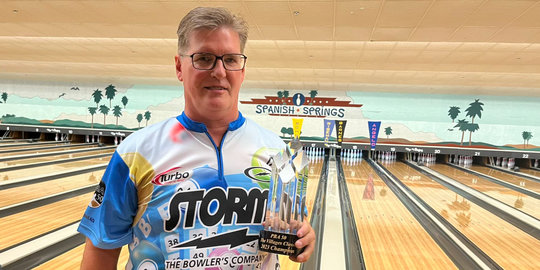 Tom Adcock Wins First PBA50 Title at The Villages Classic
August 18, 2023
Jill Winters
The Villages, Florida – A healthy, comfortable and confident Tom Adcock just added his name to the list of first-time PBA50 Tour winners this season.
"Validity," he said, about what winning the 2023 PBA50 The Villages Classic means to him. "It means that what I've done in the past was not just a walk in the park. Can I compete out here? I believe I can, and I just proved it."
After earning the No. 1 seed for the stepladder finals on Friday, Adcock faced one of his good friends, Brad Angelo, in the championship match.
Adcock came out firing with strikes in five out of his first six frames, while Angelo started off with a spare and an open in frame two. Angelo bounced back with a strike and a single-pin spare before he started striking again to tighten the match.
Back-to-back 2-8 conversions by Adcock on the right lane in the seventh and ninth frames gave Angelo his opening. But first, Adcock would step up in the 10th with his focus on making three quality shots.
"I obviously got a break on the second ball in the 10th and took a re-rack," he said. "I had to calm myself down and go through the process."
Adcock struck again, posting a 238 and he took a seat.
Angelo, struck on his first ball, which was his sixth straight strike. But on his next shot, he left the 3-6-10 and got one for a score of 232.
"I forced him to get them," the 61-year-old said. "When he didn't get the second one, I about lost it."
After leading numerous tournaments during his senior career, the Illinois native was thrilled he could finally walk through a door he just couldn't seem to get through before.
"The feeling is exhilarating," he said after winning $8,000.
Leading up to the title match, Adcock referred to it as a murderer's row for the senior circuit. The first match featured Chris Barnes, who had led throughout qualifying and the advancers round, before losing to Danny Wiseman in match play.
Barnes faced No. 4 seed Angelo in the opening match of the stepladder. They matched each other strike-for-strike through four frames before Barnes picked up four straight single-pins. Angelo struck in the fifth and missed a 10-pin in the seventh. Yet, he rebounded with four strikes to earn the 253-223 win.
Next up for Angelo was Danny Wiseman. Angelo started with an open after leaving the 4-10 split, while Wiseman struck on his first professional championship round shot in 14 years, he said.
After a nervous smile, Wiseman covered back-to-back spares then threw a double for an 11-pin lead halfway through. Angelo would then strike on four out of his final six shots for 206. Wiseman's first shot in the 10th resulted in the 2-4-5-8 which he covered followed by a strike for 202.
The semifinal match saw Angelo take on Parker Bohn III, a rematch of last year's PBA50 title match in The Villages. Angelo struck on six out of his first seven shots while a costly 6-8 split in the seventh hurt Bohn III. He would get a spare and throw the final four strikes for 214 but Angelo proved too much as he finished with a 257.
Championship Round Scores
Match 1: Angelo def. Barnes, 253-223
Match 2: Angelo def. Wiseman, 206-202
Match 3: Angelo def. Bohn III, 257-214
Championship: Adcock def. Angelo, 238-232
Final Standings
Tom Adcock, $8,000
Brad Angelo, $4,500
Parker Bohn III, $3,500
Danny Wiseman, $2,900
Chris Barnes, $2,400