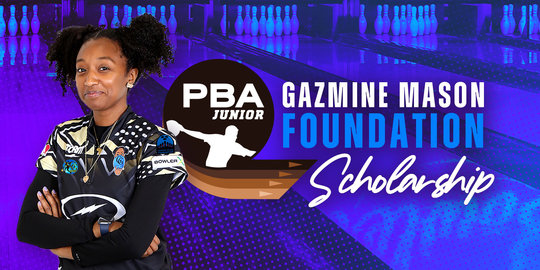 Third Annual PBA Jr. and Gazmine Mason Foundation Scholarship Recipients Announced
August 11, 2023
Nolan Hughes
Richmond, VA — The Professional Bowlers Association (PBA) in partnership with Gazmine "GG" Mason are excited to announce the third class of PBA Jr. and Gazmine Mason Foundation Scholarship recipients.
The PBA Jr. and Gazmine Mason Foundation Scholarship launched in 2021 to help increase representation in the sport of bowling.
"I am grateful to be able to partner with the PBA Jr. and extend this scholarship for another year," Mason said. "Creating opportunities for others who may not have easy access to them is why the Gazmine Mason Foundation exists, and with the help of PBA Jr., we are continuing to make that possible."
These BIPOC youth bowlers were selected based on their achievements in academics, creativity, and commitment to the sport of bowling.
• Tyshaun Baxter | Thomasville, NC
• Gabrielle Brown | Detroit, MI
• KC Campbell | Newark, NJ
• Mikalah Carter | Brick, NJ
• Kayden Curry | Memphis, TN
• Woodley Dangerfield | Orland Park, IL
• Christian Hernandez | St. Petersburg, FL
• Donald Holt | Lithonia, GA
• Quentin Morris | Roselle, NJ
• Noah Sye | Attleboro, MA
• Victor Williams | Clinton, MD
• Aubin Williams | Brown Deer, WI
• Tamia Yeager | Tacoma, WA
Each of those players have received a free entry into the PBA Jr. National Championship Regional Qualifier event of their choosing. The regional qualifiers will be held this weekend in five regions across the country.
The following bowlers were also selected as recipients, but are unable to compete this weekend.
Jalen Brown | Allen, TX
Justin Dirden | Bryan, TX
Michael Jones | Laurel, MD
Clinton Harris III | Warren, MI
Xavier Moore | Cuyahoga Falls, OH (deferred entry to 2024)
Braylen Thomas | St. Peters, MO
The top two boys and girls in each regional qualifier will advance to the PBA Jr. National Championship Finals. The full schedule for the PBA Jr. National Championships will be announced at a later date.
REGIONAL QUALIFIER SCHEDULE
East Region
Bowlero North Brunswick
North Brunswick, N.J.
More info
South Region
Bowlero Austell
Marietta, Ga.
More info
Midwest Region
AMF West Lanes
Milwaukee, Wis.
More info
Southwest Region
Northrock Lanes
Wichita, Kan.
More info
West Region
Forest Lanes
Lake Forest, Calif.
More info
Past Champions
2023 — Kaitlyn Stull and Jacob Robertson
2022 — Jillian Martin and Landin Jordan
2021 — Jillian Martin and Spencer Robarge
More information on the PBA Jr. program is available here.