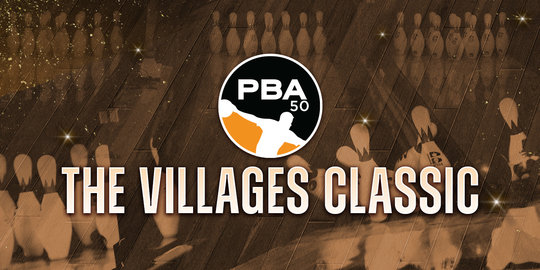 Chris Barnes Leading PBA50 The Villages Classic
August 15, 2023
Jill Winters
The Villages, Florida - Chris Barnes enjoys collecting data and that started as soon as he stepped on the new synthetic lanes and approaches at Spanish Springs Lanes during the 2023 PBA50 The Villages Classic.
Any of the notes he had from previous years and even dating back to bowling in The Villages in the early 2000s were now null and void, but on Tuesday, he seemed to figure things out rather quickly.
Barnes fired scores of 248, 279, 244, 263, 225 and 235 for 1,494, an average of 249. He sits in first place, 21 pins ahead of Parker Bohn III.
"Today was one of those odd days where I was on the moves, and it seemed like everything I tried worked at least for a while," Barnes said. "That is nice when that happens, but that doesn't come by very often."
"Really tomorrow morning will be super important," Barnes added. "I want to collect a lot of information and hopefully have a couple of combinations of things that work well right away. We will know where we are after that."
Bohn III is the last bowler to win a PBA50 tournament in The Villages. He also got off to a strong start with games of 245, 238, 247, 279, 217 and 247 for 1,473. He is followed by Walter Ray Williams Jr., Scott Greiner and Donald Hogue, all in the top five.
Williams Jr., who is one of the hometown favorites this week, admits he capitalized on his good carry during A-squad. He was able to play the outside part of the lane but found the 39-foot Del Ballard oil pattern was challenging.
"Going pair-to-pair was a little bit tricky," Williams Jr. said. "I think I am capable of doing better than I did, so hopefully that will happen, and the pins will continue to fall."
Day two of qualifying begins at 9 a.m. ET Wednesday with B-squad followed by C-squad at 1 p.m. Closing out the day will be A-squad set to start at 5 p.m.
You can watch all of the action on BowlTV.
Top 10 PBA50 The Villages Classic standings:
Chris Barnes, 1,494 (+294)
Parker Bohn III, 1,473 (+273)
Walter Ray Williams Jr., 1,397 (+197)
Scott Greiner, 1,391 (+191)
Donald Hogue, 1,386 (+186)
Brian LeClair, 1,384 (+184)
Michael Haggitt, 1,383 (+183)
Brad Angelo, 1,378 (+178)
Danny Battles, 1,377 (+177)
Russell Hunt, 1,375 (+175)