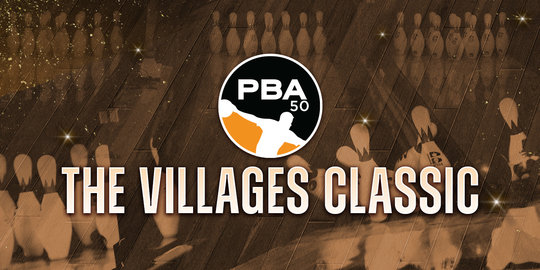 Chris Barnes Increases Lead at PBA50 The Villages Classic
August 16, 2023
Jill Winters
The Villages, Florida – Another day of gaining valuable information and another strong performance on the lanes has allowed Chris Barnes to go from a 21-pin lead over Parker Bohn III to a 154-pin advantage after 12 games of qualifying at the 2023 PBA50 The Villages Classic.
He came into Wednesday with the hopes of figuring out what he plans to do moving forward into the tournament and he was able to accomplish just that.
"I've got a decent idea of what I want the rotation of balls to be for the advancers round and match play," Barnes said. "I just have to survive tomorrow night and try to hold on to a top seed."
Barnes shot 254, 224, 290, 278, 218 and 225. He is sitting at +583 followed by Bohn III at +429.
Lennie Boresch Jr. climbed up the leaderboard on day two of qualifying. He went from 18th place to third after scores of 247, 299, 245, 190, 265 and 212. Walter Ray Williams Jr. is in fourth and Troy Lint is in fifth.
The biggest move of the day came from Tom Hess. He increased his block by just over 200 pins from Tuesday to Wednesday with games of 258, 255, 244, 227, 270 and 187 to rise from 62nd place to ninth. Tom Adcock was able to go from 26th to sixth.
During his second game of the day, Pete Weber hurt his back. PBA50 Tournament Director John Weber said his brother tried to finish his block but in Game 4 he withdrew.
The final day of qualifying begins at 9 a.m. ET Thursday with C-squad followed by A-squad at 1 p.m. Closing out the day will be B-squad set to start at 5 p.m.
After 18 games of qualifying, there will be a cut to the top 60 players. They will move on to Friday's advancer round. All pins will carry over.
You can watch all of the action on BowlTV.
Top 10 PBA50 The Villages Classic standings
Chris Barnes, 2,983 (+583)
Parker Bohn III, 2,829 (+429)
Lennie Boresch Jr., 2,782 (+382)
Walter Ray Williams Jr., 2,767 (+367)
Troy Lint, 2,754 (+354)
Tom Adcock, 2,752 (+352)
Michael Haggitt, 2,717 (+317)
Scott Greiner, 2,708 (+308)
Tom Hess, 2,673 (+273)
Brian LeClair, 2,667 (+267)