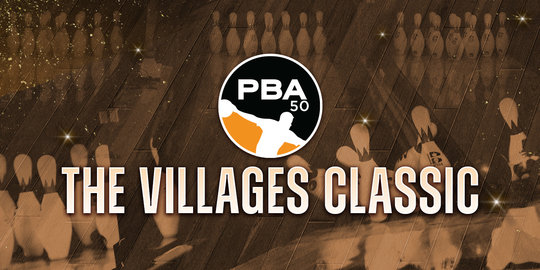 Barnes Holds Sizable Lead At PBA50 The Villages Classic
August 17, 2023
Jill Winters
The Villages, Florida – Chris Barnes nearly doubled his lead from day two of qualifying to day three at the 2023 PBA50 The Villages Classic.
Despite recording his lowest six-game block of the tournament on Thursday — averaging 240 — Barnes was still able to increase his lead, which now stands at 306 pins over left-hander Michael Haggitt. Barnes shot 1,440.
"Tonight, it was definitely harder than the last couple of days," Barnes said of bowling on the double burn. "Anytime they start out that hard it's an advantage to bowl later after more play. I was pretty fortunate to get what I got."
He focused on execution and stayed left away from the traffic that was causing issues for those around him. With a sizable lead, he did some experimenting and information gathering.
"It has been a while since I've had any kind of lead quite like this," he admitted. "The lanes were tricky, so you had to be on your game a little bit."
Tom Adcock had another solid day on the lanes Thursday to move into third place just ahead of Walter Ray Williams Jr., while Parker Bohn III is currently in fifth place. The field was cut to 60 players and the final person in was Mike Preston at +24.
All qualifying pins will carry over to the advancer round. They will bowl five games at 9 a.m. ET Friday. The lanes will be re-oiled, and all pins will be dropped as the top 24 bowlers will compete in bracket match play rounds with three-games sets. The player with the most total pins will advance.
The Round of 24 will feature qualifiers 9-24 starting at 12:30 p.m. ET followed by the winners of those matches and qualifiers 1-8 scheduled to bowl at 2:30 p.m.
After another re-oil, the Round of 8 will start at 5 p.m. Those match winners will qualify for the stepladder finals, as well as, the highest seeded losing player in the Round of 8.
The finals are scheduled to begin at 7:30 p.m. You can watch all of the action on BowlTV.
Top 10 PBA50 The Villages Classic standings
Chris Barnes, 4,423 (+823)
Michael Haggitt, 4,117 (+517)
Tom Adcock, 4,107 (+507)
Walter Ray Williams Jr., 4,101 (+501)
Parker Bohn III, 4,071 (+471)
Troy Lint, 4,027 (+427)
Lennie Boresch Jr., 3,960 (+360)
Scott Greiner, 3,925 (+325)
Danny Wiseman, 3,895 (+295)
Brad Angelo, 3,871 (+271)