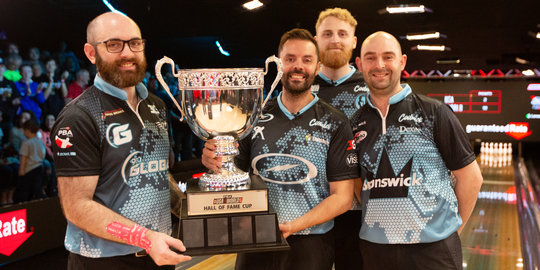 World Domination in Return of USA vs. The World Event
April 16, 2023
Nolan Hughes
After a three-year hiatus, the USA vs. The World event returned to the Guaranteed Rate World Series of Bowling XIV at Bowlero Wauwatosa outside of Milwaukee.
The World's Jason Belmonte, Jesper Svensson, Sam Cooley and Dom Barrett dominated the two-day match to seize the title on the Americans' home soil.
After sweeping Saturday's singles matches to take a 5-0 lead, Belmonte and Svensson prevailed in a baker doubles match against Anthony Simonsen and EJ Tackett. While Belmonte had a pair of open frames, Svensson struck on all seven of his attempts to clinch the match against the PBA's top two players of the 2023 season.
Belmonte & Svensson defeat Tackett & Simonsen to keep the world perfect here at USA vs. The World.

The USA must win both of the remaining matches to the force a roll off for the Hall of Fame Cup.

Coming up is Barrett & Cooley vs. Jones & Troup, live now on @FS1 pic.twitter.com/JTf0BZD7BD

— PBA Tour (@PBATour) April 16, 2023
"The three of these boys performed really well," Belmonte said. "I definitely underperformed, but that's one of the things that you can afford to do in a team environment. If one of the boys at any stage throughout the day isn't performing great, you can rally behind that person and lift them up. That's exactly what these guys did for me today."
U.S. captain Tommy Jones and Kyle Troup, with their backs against the wall, defeated Cooley and Barrett in the alternate-shot doubles match. The American duo doubled in the 10th frame to stave off elimination.
The U.S. needed to win the team baker match, which featured a Race To Two format, to force a roll-off. In Game 1, the teams were tied through eight frames.
Belmonte's strike followed by Simonsen's 2-pin conversion in the ninth frame gave the World the advantage. Though Tackett threw a double in the 10th, Svensson's strike clinched the game.
In the second game, Belmonte missed a 3-6-10 spare in the fifth frame, reducing the World's lead to just two pins at the halfway point.
"As soon as I missed it, we made a comment as a group that no matter how the beginning of the game went, whoever threw the best shots down the stretch was going to win," Belmonte said. "We knew with one good shot each, the game was over."
The World came out of the break firing on all cylinders. Svensson and Cooley struck, then Barrett converted a 4-pin. Meanwhile, the Americans opened twice: Tackett chopped a 6-10 and Jones failed to convert a 4-7-10 split.
Belmonte's strike in the ninth frame ostensibly sealed the win, then Svensson packed home yet another strike for good measure.
The World team defeats the USA, 12-2, in the USA vs. The World competition at WSOB XIV!

Jason Belmonte, Jesper Svensson, Dom Barrett, & Sam Cooley claim the first Hall of Fame Cup! pic.twitter.com/YAC458ZqkI

— PBA Tour (@PBATour) April 16, 2023
"The young guys and girls that bowl and come out on Tour, they're not scared of winning or mixing up with us," Barrett said. "They throw it so good and they bowl so well, and that really does go around the whole world now. It's fantastic to see and I'm very proud to represent them."
For two members of the World team, the victory had a more personal touch. Svensson continued his unassailable dominance over Troup, his Tour roommate and close friend.
"It's really nothing new that I have bragging rights," Svensson said. "I have that 52 weeks a year. He hasn't ever beat me."
When the World team discussed their lineup strategy, Cooley said he wanted to bowl someone he looked up to. That person was Jones, who Cooley defeated in Saturday's singles match and in today's doubles and baker matches.
"To share that moment with someone who essentially is the reason I'm sitting here, it's a very surreal feeling," Cooley said. "Not many people in any kind of sport can say that they've managed to beat someone they've looked up to their entire life."
Two moments before the event proved pivotal to the World team's victory: Belmonte's selection of Svensson and his Captains' Round win at the Holler House.
"When it's TV time, I want someone on the left side of the lane on my team," Belmonte said. "There's only one guy that I want on that team, and that's always gonna be this kid. He could have been sitting last in the rankings, legitimately last, I would have said to him, 'I need you to step up one more time on TV for the World Team.'"
Competing on the 44-foot Salvino pattern, Svensson excelled throughout the weekend.
"For me, especially now when I was only lefty on the team, my job is to just step on the gas and try to call it as many strikes as I can," Svensson said.
Jones said the World team not having to finish on the right lane proved to be an advantage for the World team in the singles matches. But when it came to the baker team matches this afternoon, where each team would bowl the entire game on their respective lane, the international stars saved the right lane for the deciding game.
"Straight out of the heat of the battle, we were ready to bowl on the right lane (first)," Barrett said. "Belmo slowed us down. He said, 'Let's bowl on the good lane that's gonna get worse and then the other lane will get better' and that's exactly what happened."
The World team clinched the Hall of Fame Cup, the inaugural trophy that will live at the International Bowling Museum and Hall of Fame in Arlington, Texas.
The victorious World team members each took home $10,000, while the Americans earned a $5,000 prize.
The WSOB continues with singles championships each of the next three nights. The PBA Cheetah Championship, featuring Tackett as the No. 2 seed, will take place Monday night at 7 p.m. ET on FS1.
Tackett, Simonsen and Svensson advanced to Tuesday night's PBA Scorpion Championship, while Cooley and Simonsen will compete on Wednesday's PBA Shark Championship finals as well.
The PBA World Championship finalists will be determined on Thursday as the 12 advancers compete in round-robin match play. The finals of the season's fourth major championship will be held next Sunday at noon ET on FOX.
Day 1 Scores
Match 1: Sam Cooley def. Tommy Jones, 214-200 (one point)
Match 2: Jesper Svensson def. Kyle Troup, 220-210 (one point)
Match 3: Jason Belmonte def. Anthony Simonsen, 255-244 (one point)
Match 4: Dom Barrett def. EJ Tackett, 239-202 (one point)
Total Pinfall: World def. USA, 928-856 (one point)
World led USA, 5-0
Championship Day Scores
Baker Doubles: Jason Belmonte and Jesper Svensson def. Anthony Simonsen and EJ Tackett, 215-205 (two points)
Alternate Shot Doubles: Kyle Troup and Tommy Jones def. Sam Cooley and Dom Barrett, 220-217 (two points)
Baker Team (Race to Two): World def. USA, 209-188; 212-175 (five points)
World def. USA, 12-2
WSOB XIV Schedule
All times listed in Eastern.
Monday, April 17
7 p.m. on FS1 — PBA Cheetah Championship Finals
Tickets are available here.
Tuesday, April 18
7 p.m. on FS1 — PBA Scorpion Championship Finals
Tickets are available here.
Wednesday, April 19
7 p.m. on FS1 — PBA Shark Championship Finals
Tickets are available here.
Thursday, April 20
10 a.m. — PBA World Championship Match Play Round 1 (six games)
2:30 p.m. — PBA World Championship Match Play Round 2 (six games)
Sunday, April 23
Noon on FOX — PBA World Championship Finals
Tickets are available here.