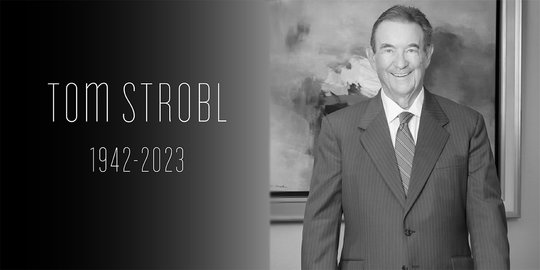 Thunderbowl's Tom Strobl Dies at 81
April 25, 2023
Nolan Hughes
Strobl, proprietor of Detroit's Thunderbowl Lanes, helped launch the inaugural World Series of Bowling and hosted this year's USBC Masters.
Tom Strobl, simply put, was a legend. The Detroit attorney, athlete and, of course, proprietor of the iconic Thunderbowl Lanes died last week at 81.
Strobl was instrumental in the launching of the inaugural World Series of Bowling in 2009.
"WSOB I, in 2009, was an experiment, a bet, a movement, to grow the game globally while saving the PBA during a national economic recession," wrote Tom Clark, PBA commissioner. "Because of Strobl, the WSOB went on to reach its goals. Bowling grew as a global sport at the highest level."
Over the years, Thunderbowl hosted the PBA Tour Finals twice, 2016 PBA Fall Swing, 2014 PBA Tournament of Champions, 2013 Earl Anthony PBA Players Championship and PBA League. Thunderbowl most recently hosted the USBC Masters earlier this month.
Strobl also brought the World Bowling Youth Championships, Teen Masters and Junior Gold Championships to his beloved Detroit and cemented Thunderbowl as the Mecca of Michigan high school bowling.
Strobl's contributions left a mark on the bowling world that will stand the test of time. Tributes for Strobl poured in from the bowling community.
"This is a giant loss to bowling and I lost a friend," wrote Tim Mack. "Tom Strobl was a great man and a giant in bowling in the Detroit area. His impact on the sport and the PBA will be forever."
"Great ambassadors for the game!" wrote Lynda Barnes. "Kathy and Tom were beyond kind to our family on and off the lanes! He will be missed and never forgotten!"
"He was an amazing man who did so much for our sport," wrote Sean Rash.
"Tom Strobl; always ready, willing and able to support our great sport of bowling at all levels of competition," wrote Kirk von Krueger, the PBA national tournament director from 1996-2020.
"When the PBA needed a friend, you were always there."
Funeral services will be held Wednesday, April 26 at 10 a.m. at Holy Name Catholic Church in Birmingham, Mich. More information is available here.