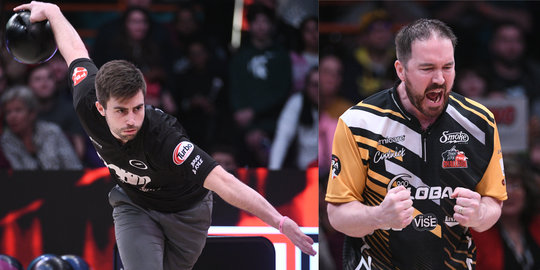 Simonsen, Martell, Rash, Sherman Advance to USBC Masters Championship Round
April 1, 2023
Nolan Hughes
Anthony Simonsen, the reigning USBC Masters champion, is one win away from defending his title. The 26-year-old went 6-0 in the 64-player, double-elimination bracket at Thunderbowl Lanes in Allen Park, Mich. to earn the No. 1 seed.
The Masters and its unique format seems to bring the best out of Simonsen.
In 2016, he became the youngest player in PBA history to win a major title; last year, he became the youngest player to win four majors at the Masters, having been the youngest to two (2019 PBA Players Championship) and three (2022 U.S. Open) major victories.
With a win on Sunday, the 26-year-old would become the youngest to win five majors.
In the final match of the winners bracket, Simonsen defeated Michael Martell to clinch the top seed. Simonsen started the match with a strike, then split on the right lane.
"That's not the right ball," Simonsen said to himself as he took a seat.
After changing balls on the right lane, he struck on 33 of his next 34 shots — firing 266, 279 and 300 to shoot 845 and defeat Martell's 690.
"I've blacked out a couple times, probably nothing like that," Simonsen said. "I pride myself on almost psyching myself out, as it's just another game of bowling. The lane doesn't change. The pins are still 60 feet away in the same spot. The only thing that changes is the environment. That's what makes it easier for me in the high pressure situations to make good shots."
Martell, a 25-year-old left hander from Brooklyn, N.Y., will make his television debut on Sunday. He won his first five matches — defeating Brandon Novak, Nick Pate, Zach Wilkins, Brandon Bonta and Patrick Dombrowski — before running into a freight train.
After learning he solidified a berth on TV, Martell said he could not believe it.
"A year ago at the Masters, I debated dropping my (PBA) card," Martell said. "I just didn't feel like I had enough tricks and mentally I wasn't strong enough. I felt like I kept falling into bad habits.
"I put my head down and got to work in the offseason. Even working through this season, I put in a lot of work the last two weeks coming into this tournament and it's on display."
The contenders bracket continued on Friday into the FS1 telecast in Thunderbowl's iconic arena bay. Sean Rash and Kyle Sherman emerged victorious and will join Simonsen and Martell in Sunday's championship round.
Rash, the 2007 Masters champion, defeated Parker Bohn III and Patrick Dombrowski to reach the Masters finals. His reaction to his match-clinching strike against Dombrowski said it all.
"I'M COMING FOR YOU SUNDAY, BOYS!"

Sean Rash takes down Patrick Dombrowski, 256-237, and advances to the USBC Masters championship round!

📺: Sunday, 1 p.m. on FOX pic.twitter.com/47WviEqj74

— PBA Tour (@PBATour) April 1, 2023
"It's pretty special, because you never know when it's gonna happen again. It might be the last show I ever make," said Rash, who has been battling a back injury known as degenerative disc disease.
"I shouldn't be bowling at all. I really should be rehabbing, but I felt like I owed it to my family, fans and sponsors to find a way to provide. Right now I'm just riding the wave this week, doing everything possible to continue to bowl."
Despite the injury, Rash felt confident bowling on this week's 46-foot pattern, which allows him to utilize his A-game. That conviction empowered him to switch from 14 pounds to 15 after the first round of qualifying.
"This is it — if the back goes out, it goes out," Rash said. "Everyone knows that I play straight and throw it hard. This is my A-game. I knew if I could get to match play I'd be a tough, tough guy to beat."
REDEMPTION, BABYYYY!

After Kyle Sherman opens in the 10th frame to tie Chris Via, he strikes on that same lane to win the roll-off!

Sherman advances to the USBC Masters championship round.

📺: FS1 | FOX Sports app pic.twitter.com/9AZmzokuur

— PBA Tour (@PBATour) April 1, 2023
Throughout the bracket, Sherman kept finding himself in close matches — and the 29-year-old kept finding ways to win.
He defeated Nathan Ruest-Lajoie by 10 pins in the first round and Chris Barnes by a single pin in the next. In the contenders bracket, he struck on his last four shots to shut out, and ultimately defeat, Brandon Bohn by a single pin.
"I'm not gonna sit here and say that I absolutely earned them all or there wasn't any luck," Sherman said. "But I've watched his tournament so many times and you just never know what's going to happen in bowling."
In his ultimate match on Friday night, Sherman opened in the 10th frame to tie Chris Via at 194, sending the match into a one-ball roll-off. The two exchanged strikes on the left lane, before switching back to the lane where Sherman had just split.
"(The split) might have been a blessing," Sherman said. "Obviously I wish I didn't split — if I get a spare, the game's over — but I knew there was a move. Things could have been different and I had to bowl that lane and I didn't know there was a move."
After Via left a 10-pin, Sherman faced a familiar opportunity. In the same building where made his first career singles telecast, Sherman struck to clinch the win and advance to his first championship round at a major.
"I love this place. I love bowling here," Sherman said. "I made my first singles show here. I had a great week, my first time having a really awesome week on Tour. And now I've got another one. Thunderbowl, I'll remember this place forever."
Sherman has battled his share of injuries as well. In October, he had surgery to repair a torn labrum in his left hip; he wasn't able to bowl until late January — missing the first three tournaments — and didn't practice much at all before making his season debut at the PBA Wichita Classic in late February.
Sherman and Rash will have a day to recuperate before the championship round, and they'll need every minute with Martell and Simonsen on deck.
The Masters finals begin at Sunday, April 2 at 1 p.m. ET on FOX.
Contenders Round Scores
Kyle Sherman def. Tom Smallwood, 279-209
Sean Rash def. Parker Bohn III, 264-169
Kyle Sherman def. Chris Via, 194-194 (10-10; 10-9)
Sean Rash def. Patrick Dombrowski, 256-237
Championship Round | Sunday, April 2 at 1 p.m. ET on FOX
Match 1: Sean Rash vs. Kyle Sherman
Winner vs. Michael Martell
Winner vs. Anthony Simonsen
Simonsen clinches the title with one victory and must be defeated twice to lose.