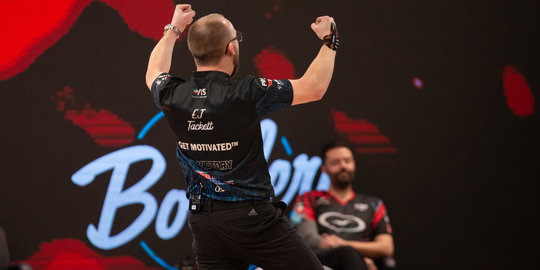 EJ Tackett Wins Fifth Title of Season at 2023 PBA World Championship presented by Pabst Blue Ribbon
April 23, 2023
Nolan Hughes
In a title match that bore a cursory resemblance to not one, but two 2023 major championships, EJ Tackett claimed the 2023 PBA World Championship presented by Pabst Blue Ribbon title.
Tackett stepped onto the approach of Bowlero Wauwatosa needing two strikes to win. Just as he did at the U.S. Open presented by Go Bowling! in February, he delivered.
The 30-year-old defeated Jason Belmonte, 254-247, to win his second major championship and fifth title of the season at the finale of the Guaranteed Rate PBA World Series of Bowling XIV.
"It feels really good to have the opportunity to have to get up to double in the 10th against the greatest of all time and get it done," Tackett said. "That is what dreams are made of. It's so rewarding because you know that all the hard work you've put in is actually worth it."
IT'S HIS TIME! THE YEAR OF EJ CONTINUES!@ejt300 claims his 2nd major title, and 5th overall title, of the 2023 PBA season winning the 2023 PBA World Championship Finals presented by @PabstBlueRibbon pic.twitter.com/wgXl6TnNn8

— PBA Tour (@PBATour) April 23, 2023
With the win, his fourth career major title, Tackett became the youngest player to win 21 PBA Tour titles, though he joked he would have rather been the first to 20.
"Twenty would have been a lot cooler because it's that nice, round number," Tackett said. "I feel like 20 is a number that puts you in very elite status in the history of the PBA Tour."
If not for the man opposite him in the title match, Tackett likely would have reached 20 titles long ago. Belmonte defeated Tackett in last month's Tournament of Champions title match, moving to 3-0 in major championship finals and 6-2 on television against Tackett.
Belmonte's ascent to the World Championship title match this week also eerily resembled his monumental comeback at the TOC.
After finishing 10th, 34th, and 14th, respectively, in the PBA Cheetah, Scorpion and Shark Championships, Belmonte entered the 12-game match play round in 12th place, more than 300 pins outside of the top five. He averaged 250 and compiled an 11-1 record to charge all the way to the No. 4 seed.
Boasting a career record of 32-18 and average of nearly 220 in televised major championship matches, Belmonte won three consecutive matches against players who made three of four championship rounds at the WSOB XIV.
In the opening match, Belmonte defeated reigning PBA Rookie of the Year Santtu Tahvanainen. The 26-year-old made two poor shots early that gave Belmonte the lead, but Tahvanainen said he remained confident.
"I was like, 'Now we're gonna look to strike out, shoot 250 and put pressure on Belmo,'" Tahvanainen said. "It was a good shot (in the fifth frame) but I left the 4-pin. I felt like 230 wouldn't be enough anymore."
Belmonte then took down Jakob Butturff, the 2019 and 2021 PBA World Championship runner-up. Butturff had an opportunity to shut out Belmonte with three strikes in the 10th frame, but the southpaw's errant shot allowed Belmonte to advance with a mark.
"Honestly, I was very inconsistent with my ball speed," Butturff said. "You've gotta get those breaks and you've gotta make better shots when you're bowling against the best bowlers on the planet."
Once again, the three finalists of a major championship were Belmonte, Tackett and No. 2 seed Anthony Simonsen. It marks the third time over the past two seasons all three have made a major championship round and the sixth time overall since 2016.
With Belmonte, Tackett and Anthony Simonsen all recording major titles earlier in the season, Butturff clinched a berth in May's PBA Super Slam Cup as the highest finisher without a major title this season.
Transition hit during the semifinal as Belmonte and Simonsen, who each started with urethane equipment, navigated the treacherous situation. On the high-scoring pattern, one error or poor decision could be detrimental.
Belmonte opted to move incrementally left and, later, loft the urethane ball over the front part of the lane; Simonsen switched to reactive on the right lane in the fifth frame, then on the left lane for the 10th.
After leaving a 10-pin on the left lane in the eight frame, Simonsen made the ball change needing a massive 10th frame to put pressure on Belmonte. Instead, he left a 2-8 and allowed Belmonte to continue climbing with a mere mark.
Belmonte, typically stoic until all is said and done, demonstrated a great deal of emotion after clinching wins over Butturff and Simonsen.
"A few days ago I was 400 pins behind fourth, and then here I am bowling for the title," Belmonte said. "I just felt like this story would have been pretty epic."
The person least surprised by Belmonte's assault on the stepladder: Tackett.
"When the show started, I told (my ball rep), 'I assume I'm gonna bowl Belmo today.' So I was mentally prepared better than maybe I have been in the past to bowl him," Tackett said. "Your preparation for him may be a little bit different than maybe for playing another player. Although it shouldn't be — it should be full focus all the time — you just know that little bit extra you have to do to be able to at least have a match with him."
The heavyweight battle exceeded all expectations: Belmonte fired a five-bagger mid-game to take the lead, while Tackett struck on six of seven shots heading into the 10th frame to keep pace.
The use of urethane throughout the show played into Tackett's hands, he said.
"I wanted those guys to throw urethane, that gave me the best chance," Tackett said. "I think it benefited me a little bit that Santtu lost early. Had he bowled more and beat Belmo, I don't know how the lanes would have played."
Belmonte stepped up in the ninth frame, needing strikes in the ninth and 10th frames to secure a 16th career major title and extend his record. Instead, his ball hooked early and left a 3-6-10.
"I knew it was going to hook, I was hoping it was going to last one more frame for me," Belmonte said. "The story was right there. One more shot on that right lane. If the pattern held up just one more shot, it would have been a pretty good story to tell later on."
After converting the spare — which Belmonte said he would die not knowing how to make after the USA vs. The World event last weekend — Belmonte threw all three strikes in the 10th frame.
If Tackett wanted to beat Belmonte for a major, he needed to double.
"I think there were a lot of things that happened today that benefited me," Tackett said. "The lanes got to where I thought they would and where I wanted them to be. At that point, it was just all about execution."
With his wife, dad, uncle, and cousin (all the way from Germany) sitting in the front row, the Indiana native delivered two strikes.
"It's my time!" he exclaimed, before hugging his father, Ed — just as he did after winning his first career major at the 2016 PBA World Championship.
With the win, Tackett's grasps the pole position of the Player of the Year race. He owns a Tour-high five titles and over $350,000 in earnings entering the final major of the season at the PBA Players Championship presented by Snickers.
Championship Round Scores
Match 1: No. 4 Jason Belmonte def. No. 4 Santtu Tahvanainen, 234-230
Match 2: No. 4 Jason Belmonte def. No. 3 Jakob Butturff, 223-204
Match 3: No. 4 Jason Belmonte def. No. 2 Anthony Simonsen, 236-204
Championship: No. 1 EJ Tackett def. No. 4 Jason Belmonte, 254-247
PBA World Championship Final Standings
EJ Tackett, $101,000
Jason Belmonte, $55,000
Anthony Simonsen, $40,000
Jakob Butturff, $30,000
Santtu Tahvanainen, $25,000
Full PBA World Championship presented by Pabst Blue Ribbon standings are available here.