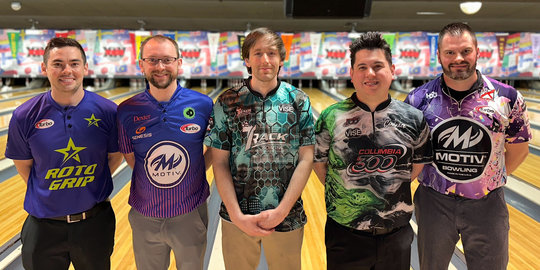 AJ Johnson Snags Final Spot, BJ Moore Earns Top Seed at PBA Cheetah Championship
April 10, 2023
Nolan Hughes
The first five finalists at the Guaranteed Rate PBA World Series of Bowling XIV needed more than 20 games to separate themselves, as qualifying at the PBA Cheetah Championship went into overtime at Bowlero Wauwatosa.
On April 10, BJ Moore, EJ Tackett, Joseph Grondin and Jakob Butturff clinched berths in the finals, but a roll-off was needed to determine the fifth finalist.
After Sweden's James Blomgren fired 269 in his final game, AJ Johnson needed all three strikes in the 10th frame to match Blomgren's 4,638 total.
In the roll-off, Johnson left a pair of weak 10-pins in the seventh and ninth frames, which gave Blomgren, working on a potential 290 game, the lead entering his final frames. However, Blomgren left a high pocket 6-8 split and a weak 7-pin in his ninth and 10th frames, giving Johnson an opportunity to win the roll-off with a double and eight pins.
Once again, Johnson delivered.
"I just kept telling myself to execute and keep throwing better shots because you never know what will happen," Johnson said. "That second one that I needed was pretty dang good."
The 30-year-old, still seeking his first career PBA Tour title, will have an opportunity to end that clause for good. The championship round will take place Monday, April 17 at 7 p.m. ET live on FS1.
Moore earned the top seed, achieving a 4,734 (+734) total pinfall for his 20 games. The part-time player has only competed in four events this season before the WSOB, but he said he remains in competitive shape.
"I've always thought it's more of mind over matter," Moore said. "You bowl so many games and you can practice so many shots that your body naturally has its own muscle memory. I feel like as long as you are remotely in time, then you can make yourself get to a point where you just have to be comfortable. You just have to see that right shape and then once you see the right shape, your body takes over.
Moore won his first PBA Tour title at the 2019 PBA Wilmington Open, but seeks to win his first televised event in Milwaukee. The Pennsylvania product averaged more than 236 to eclipse Tackett.
Tackett, making his sixth championship round appearance of the season, described his final five-game round as the quintessential roller coaster: "That was the craziest five games I've ever bowled in my life."
Grondin, who earned the No. 3 seed, will make his second championship round appearance of the season and of his career. This will mark his PBA Tour television debut.
Butturff sat in 76th place after Round 2 at +160, more than 210 pins behind fifth. He averaged north of 250 for the final 10 games of qualifying, which included a 300 game, to advance to the championship round.
"The first 10 games, I got frustrated and I kind of talked myself out. I let every single bad break get in my head," Butturff said. "Today, I went in with a strategy: Just go up and throw the shot. If you leave a split, if you leave a spare, just shoot the shot, and then come back and treat it like a new frame.
"I didn't have to shoot too many second second balls today."
The WSOB XIV continues on Tuesday with PBA Scorpion Championship qualifying, beginning at noon ET on BowlTV.
Combined scores from the Cheetah, Scorpion and Shark Championships make up the World Championship qualifying.
"We're only through 20 games out of 60," Tackett said. "I think that really helped me with my mental state, that we still have 40 more games to bowl. The ultimate goal is the World Championship, obviously making the show here is a great added bonus and a great start to the week."
More information is available on the PBA Cheetah Championship and WSOB XIV.
---
WSOB XIV Schedule
All times listed in Eastern.
Monday, April 17
7 p.m. on FS1 — PBA Cheetah Championship Finals
Tickets are available here.
Tuesday, April 18
7 p.m. on FS1 — PBA Scorpion Championship Finals
Tickets are available here.
Wednesday, April 19
7 p.m. on FS1 — PBA Shark Championship Finals
Tickets are available here.
Thursday, April 20
10 a.m. — PBA World Championship Match Play Round 1 (six games)
2:30 p.m. — PBA World Championship Match Play Round 2 (six games)
Sunday, April 23
Noon on FOX — PBA World Championship Finals
Tickets are available here.