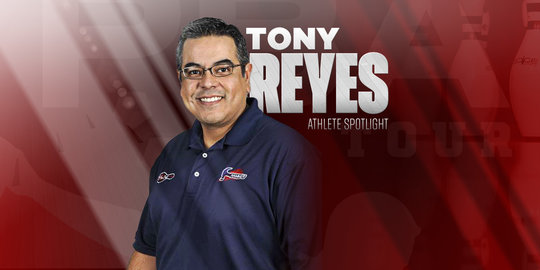 Remembering Tony Reyes and His Everlasting Smile
October 3, 2022
Nolan Hughes
Perhaps no smile shined brighter on the PBA Tour than that of Tony Reyes. His smile — that "everlasting, fun-loving smile" as Parker Bohn III described it — never illuminated the world more so than on Nov. 5, 2006.
Reyes made the show at the PBA Motor City Classic, seeking his first career title. He bowled a 299 in the position round to earn the No. 2 seed. 
The 33-year-old drew Bohn III in the semifinal. Bohn III's 30 titles dwarfed Reyes's zero, but a first-time viewer would've never known watching Reyes's glowing bravado. 
Prior to that season, his ninth on the tour, Reyes rededicated himself to his career after his father passed away in a tragic accident. Wearing his dad's lucky ring and a black Hammer jersey splattered with the Denny's logo, Reyes opened the teased the crowd with a slight grin. He meant business on that day.
He rolled a Hammer Hawg Zilla over the first arrow for an opening strike. He did the same in the 2nd frame. Then again in the 3rd, and the 4th, and the 5th, and all the way through the 9th frame.
Robert Smith was one of Reyes's closest friends on tour. He said they had competed against each other on the California junior circuit since they were 14 and became good friends by 16.
Smith said Reyes often sat in the TV production truck during telecasts. He said Reyes's job was to log the timestamps of potential replays and advise the producers on which replays to use. Smith said he filled in for Reyes on that show, and quickly learned how those on the truck felt about Reyes.
"Tony was the TV crew's favorite, hands down," Smith said. "The way they were treating it when Tony was going for 300, it was really awesome to see people high up in different professions really look to him as one of the guys."
As Reyes stepped up for his 10th frame, Smith will never forget the energy in the truck.
"I can remember, clear as day, (the director) pointing directions out to each of the camera guys on the lanes," Smith said before paraphrasing: "You do this, you do that — and everybody else shut the f--- up so Tony can shoot 300!"
Reyes went on to defeat Wes Malott for his first career title. After striking in the 10th to secure the win, he pointed to his dad's lucky ring and said "That's for Dad."
For the last decade, the PBA Tour has been a little dimmer without Reyes's smile. In September 2012, Tony Reyes died in a car accident near his hometown.
"It's been 10 years, but man it's crazy to think it's been that long," Smith said. "Mike Edwards, Brian Himmler, Jimmie Johnson and me, we still talk about him quite a bit. It's almost like he's still around a little bit."
Lindsey Wong grew up bowling in the San Jose area with Reyes. They met as junior bowlers and bowled at San Jose State University together before becoming business partners. More than anything, Wong remembers Reyes's willingness to help other people.
He runs an annual PBA regional in Reyes' name. He said Reyes launched the tournament several years earlier in honor of Don Johnson and held silent auctions and fundraising to fight against juvenile diabetes.
When Reyes passed away, Wong renamed the tournament in Reyes's honor. A few years later, they modified the tournament to a doubles format to honor Terry Leong as well.
"(Tony) always went out of his way to make everybody feel welcome at the event," Wong said. "I've tried to do the same."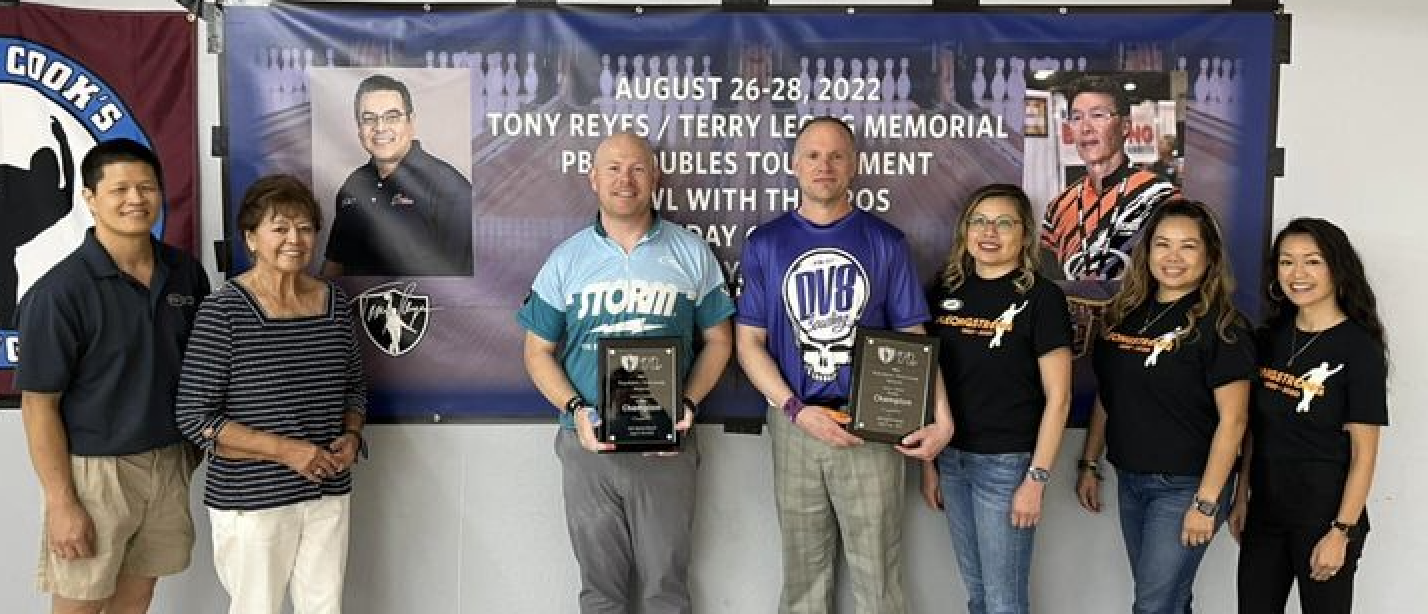 PJ Haggerty and Rich Corwin won the 2022 PBA Tony Reyes/Terry Leong Memorial Jr./Sr. Doubles. 
On the lanes, Reyes was a late bloomer. Wong and Smith agreed Reyes wasn't very good as a junior bowler. Wong said Reyes was a goofy kid who always ran out shots and didn't take the game super seriously.
The goofiness would never change, but Reyes did begin to take bowling more seriously at San Jose State.
"When he got to college, he got good — and he also got a little crazy," said Smith, who bowled at San Diego State for one season in 1993. "We wouldn't even give them high-fives because they were trying to break our hands."
In 1992, Reyes's freshman season, Wong said San Jose State qualified for ITC nationals for the first time in forever. For a team with a bunch of "no-name guys," Wong said, the Spartans stunned the field by making the stepladder finals.
He said Wichita State stars like Chris Barnes and David Garber took note of Reyes, even imitating his run-outs and fist pumps.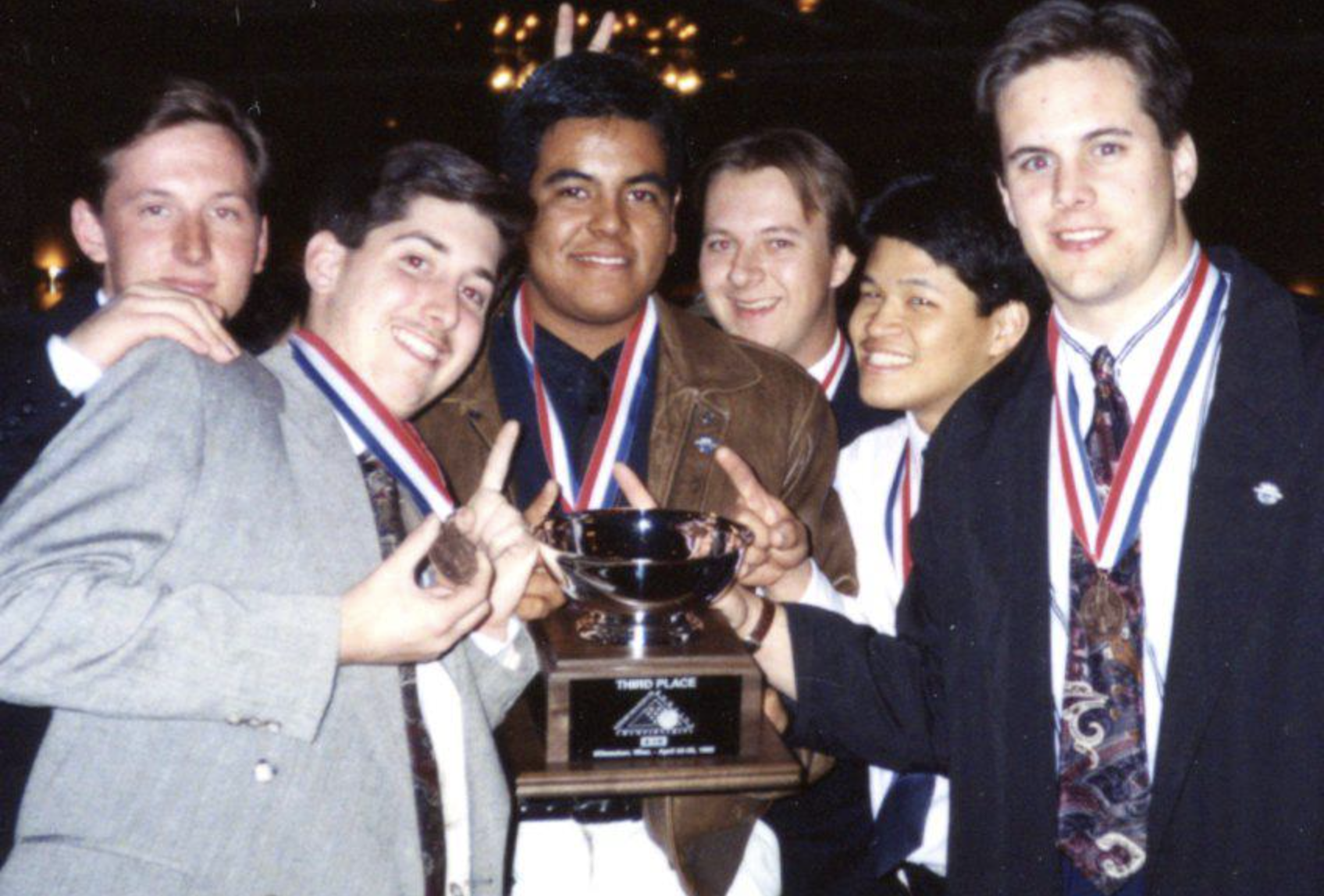 San Jose State finished third at ITC nationals in 1991-92. 
Wong said San Jose State returned to ITC nationals in 1993 with almost the same roster; the only change was Wong shifting to an assistant coaching role after graduating. Once again, the Spartans sat near the top of the standings. This time, few were surprised.
After the first day of the tournament, Wong said Reyes and one of the freshmen were goofing around in the hotel room, as college students often do.
"Tony was chasing after him and he jumped from one bed to the other, slipped and fell off and landed on his right ankle," Wong said. "We thought he sprained it, but as we later found out, he basically broke it."
He said the team loaded Reyes up with enough ibuprofen to put a hole in his stomach and the women's team coach wrapped his ankle as tight as possible. For the rest of the tournament, Reyes adjusted his approach by shortening his steps to minimize the pain.
Despite their best player battling a serious injury, the Spartans returned to the stepladder finals. They defeated William Paterson, the defending national champions, in the first match.
Though San Jose State fell to a Wichita State juggernaut in the championship, Reyes was named the tournament's Most Valuable Player.
"Everybody knew his situation, where he basically broke his ankle, bowled on one foot for the rest of the tournament, and led us to a second place finish at the national championship," Wong said.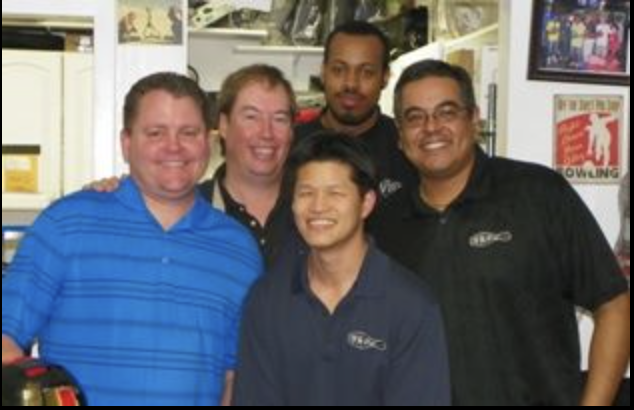 Jason Couch, Patrick Allen, Lindsey Wong, Greg Thompson II and Tony Reyes pose at the pro shop Reyes and Wong owned together.
Greg Thompson II worked with Reyes at Off the Sheet Pro Shop in San Jose's 4th Street Bowl. Thompson II said they met bowling on tour around the time of Reyes's win and they quickly became close friends. That was usually how it went with Reyes.
"He never met a stranger," Thompson II said. "You just immediately felt like your best friends with him."
Thompson II said Reyes meant "everything" to him, describing him as his big brother. When they first met, Thompson II lived in Ohio and worked at a pro shop. He said Reyes knew his boss — Reyes knew everybody — and soon made Thompson II an offer he couldn't refuse.
"He asked me if I wanted to move to California and run his pro shop," Thompson II said. "He wanted to keep going on tour, but he needed someone to manage the shop. He paid for me to move out to California. He gave me a place to live, gave me a job."
Thompson II said he worked at Off The Sheet from 2008 until 2014, including with Reyes on the night of his death.
He said Reyes proudly displayed the iconic Hawg Zilla in the shop. When customers asked about the ball or his pro career, Thompson II said Reyes had a favorite answer, which he always said while flashing his timeless smile: "I'm the most famous one-time titleist ever."
"It's not even a joke: It's the God's honest truth," Smith said. "He is the most famous one-time titleist in the history of the PBA. It didn't matter where we went, he was loved by everybody."
"Everybody knew who he was, even though he never had the titles to go along with it," Wong said. "What you saw was really who he was all the time."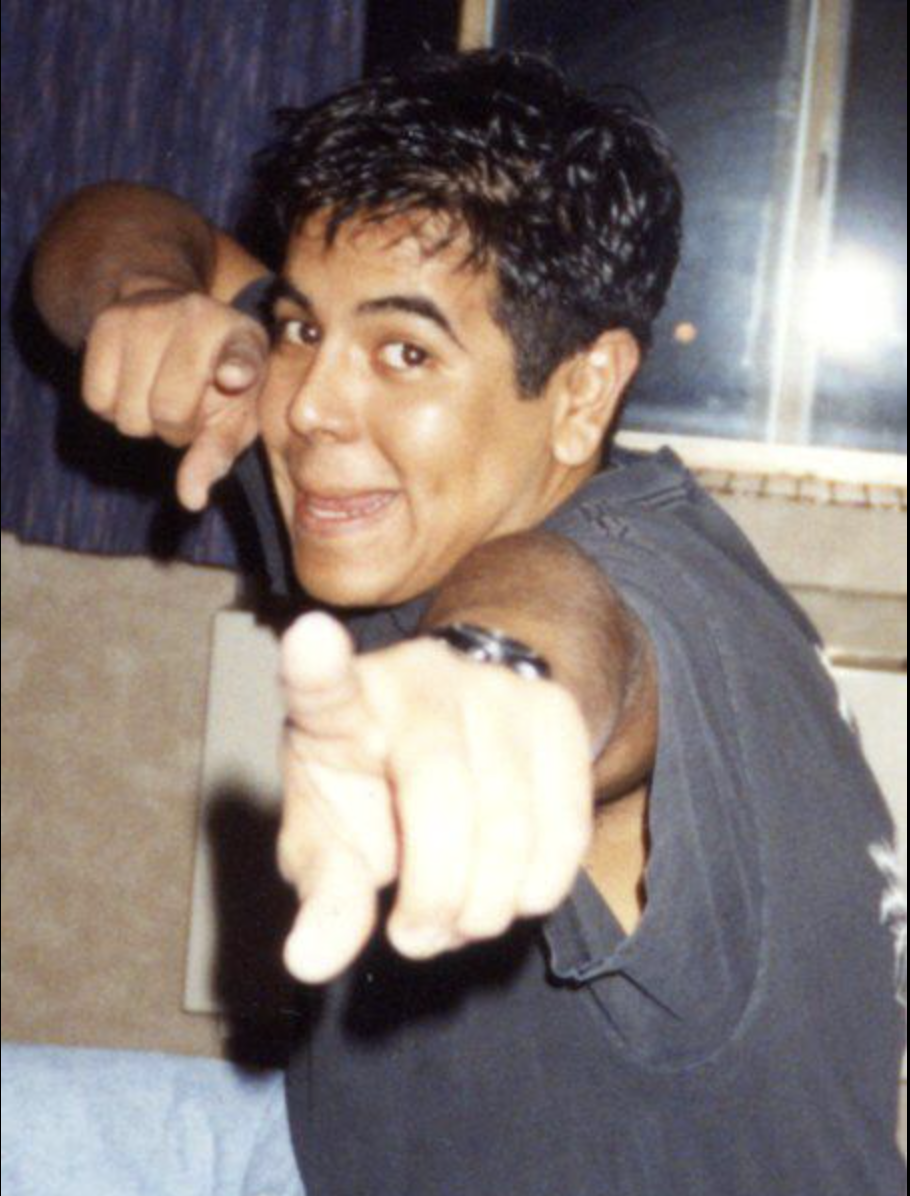 "What you saw was really who he was all the time," Wong said.
Though his pro career lasted just 14 years, Reyes left an indelible legacy on the PBA Tour. 
Bohn III said Reyes would've won more titles had the opportunity been available. It's easy to look at the years Reyes lost and wonder what could have been, but the "what if" questions only make his lone victory all the more meaningful. 
One moment to share his talent and charisma, his smile and laugh with the world. One memory to be shared with bowling fans for eternity. One win for his dad.
Every year on the anniversary of his death, Thompson II and many of Reyes's closest friends reconvene in a virtual "Toast to Tony." Carl Ong, another of Reyes's close friends, organized the event in 2013. Friends and family reminisce about Reyes, sharing stories of his extraordinary life.
Beyond anything Reyes achieved in bowling, he will be remembered for who he was off the lanes. From his brilliant smile, to his willingness to help, to his hippie roots, to his laugh. Oh, his laugh — the one so "ridiculously loud and obnoxious" Smith said it could wake the dead.
"He's bigger than life," Thompson II said, before correcting himself. "He was bigger than life. Whenever he walked into the room, everybody knew: Tony's here and we're about to have a good time."
---
To uphold the legacy of Reyes, the PBA created the Tony Reyes Community Service award in 2013. The honor annually recognizes a current PBA member who does extraordinary community service, charitable and/or educational contributions over the course of a PBA Tour season.
Past winners of the Tony Reyes Community Service award:
Parker Bohn III, 2013
Missy Parkin, 2014
Ed Godbout, 2015
Rhino Page, 2016
Del Ballard Jr., 2017
Chris Barnes, 2018
Chuck Gardner, 2019
Danny Wiseman, 2020
Warren Eales, 2021