Jimmie Allen is All In on Bowling and the PBA
October 12, 2022
Nolan Hughes
Jimmie Allen is one of the fastest rising names in country music. His first two singles "Best Shot" and "Make Me Want To" from his 2018 debut album Mercury Lane both topped the Billboard Country Airplay charts. He earned the New Artist of the Year award at the 2021 Country Music Awards and New Male Artist of the Year award at the 2021 Academy of Country Music Awards, and was nominated for Best New Artist at this year's GRAMMY Awards.
Over the past two years, Allen has expanded his ventures to the lanes. His obsession with bowling began in the early days of the pandemic. The Delaware native now lives near Nashville, where Mookie Betts and Cortland Finnegan introduced him to the sport. He's been hooked ever since.
"I fell in love with the sport — how fun yet difficult it is; how challenging yet competitive it is," Allen said. "The cool thing about bowling is you don't have to be a certain height. You don't have to be a certain age. You can pick it up at any age and get really good at it and can become a professional."
Allen connected with the PBA thanks to a few fortuitous connections. Chuck Wicks, a country singer Allen grew up with, knew Ronnie Russell. Last March, Allen happened to be in Milwaukee during the World Series of Bowling, where Russell introduced him to Sean Rash.
"I asked him to just come hang out with us in Milwaukee," Rash said. "I will never forget it, and history has put (the rest) together."
"The growth is great, not really because of me but because of how receptive the whole bowling community has been," Allen said. "Everyone from Tom Clark to Sean Rash, EJ Tackett, AJ Johnson and Ronnie Russell, they've been great welcoming me to the bowling community."
Two years after picking up a ball and seven months after meeting the pros, Allen's taking his obsession to the national stage: The Jimmie Allen PBA Challenge will air this Sunday, Oct. 16 on FOX.
The opening match will pit AJ Johnson and Terrell Owens, who won the PBA CP3 Celebrity Invitational last year, against Kyle Troup and Nelly. Rash and Allen will then take on Ronnie Russell and Hannibal Buress. Allen said Rash had "no other choice" than to be his partner.
"I've learned so much about the game from watching (Rash) and what he has told me," Allen said. "In my first event, every event, he has no choice but to bowl with me. He's stuck with me."
After the semifinal matches, a concert featuring Chris Young, Neon Union and Allen will kick-off a star-studded celebrity clash.
Allen, Owens, Nelly and Buress, PBA star EJ Tackett, Mr. 300 Bob Learn Jr., PBA Jr. ambassador Bella Love Castillo, former University of Michigan quarterback Devin Gardner among a host of other celebs will compete in a thrilling roll-off competition.
The title match of the Jimmie Allen PBA Challenge will take place following the celebrity clash.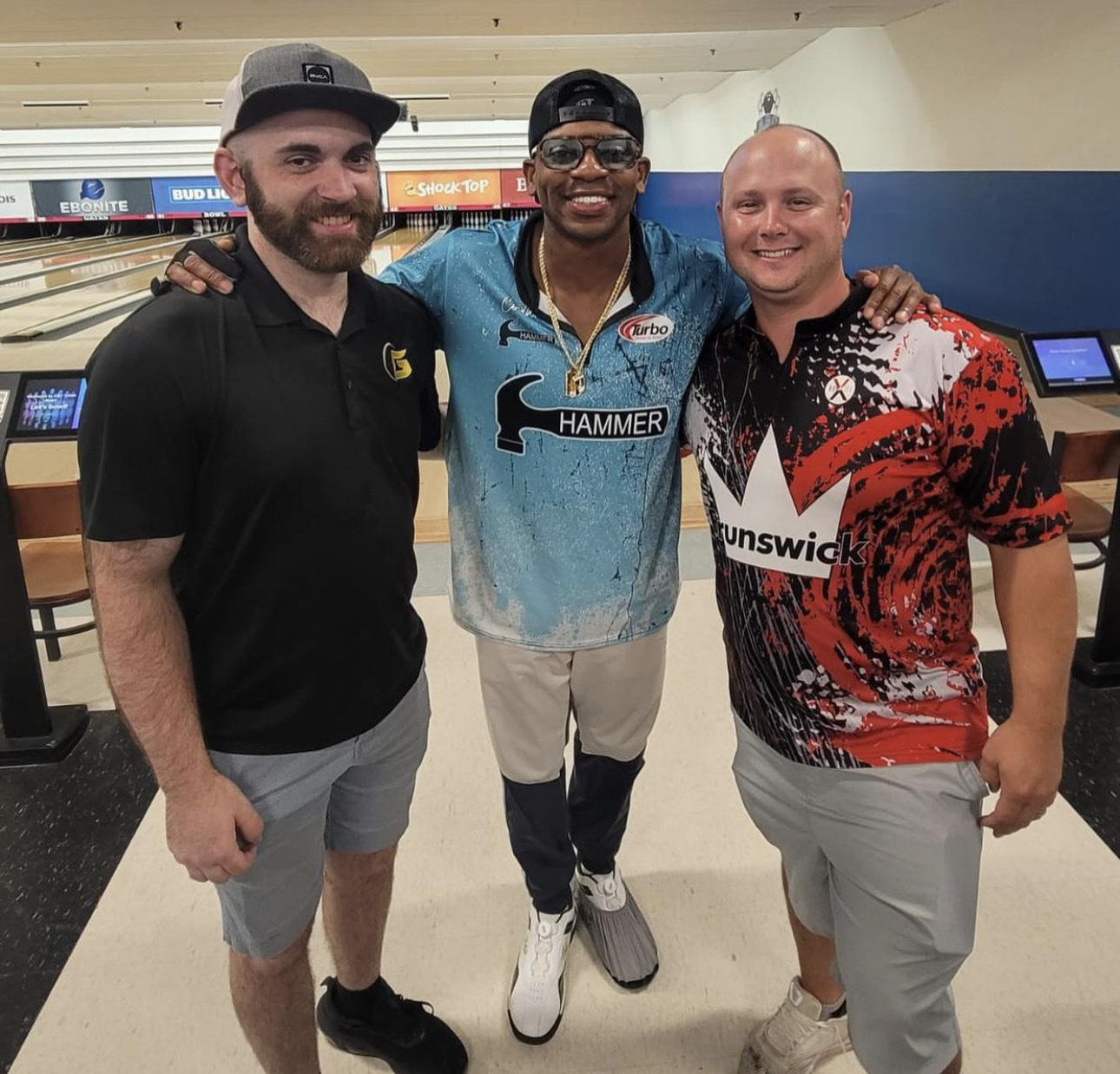 Jimmie Allen competed against Sam Cooley and Dan MacLelland at the Bud Light Challenge this summer.
If you ever doubted Allen's commitment to bowling, his pandemic pastime turned life obsession, consider this:
Back in August, Allen bowled the Bud Light Challenge in Rochester, N.Y. He competed against PBA athletes Sam Cooley, Dan MacLelland, Michael Martell and Tim Pfiefer, plus dozens of the Northeast's top talents.
After the tournament, he said he took a plane down to Chattanooga, Tenn. to perform at his show and attend a celebrity basketball game. From there, he said he flew to another bowling tournament in Pennsylvania before flying down to Florida for another show.
Allen's all-in. You can't pry him from the lanes. He said he was once late to a meet and greet because he was bowling: "We had this game going and I couldn't get away."
The demands of a cross-country music tour have forced him to cut back his practice schedule. The 40-hour weeks at the lanes will have to wait until after the upcoming 43-city THE DENIM & RHINESTONES TOUR with Carrie Underwood, on which he is special guest for all dates.
Like any true bowler, he's always got a stash of equipment stowed in the trunk. Allen said he has a dozen balls stashed on the tour bus and estimated there are about 62 more at home.
It's been a meteoric rise for Allen within bowling, but he's just getting started. Like any relative newcomer, he's still learning to post shots and how to read ball motion.
Allen paid his dues in the music industry. Years of fine-tuning his sound preceded his big break; he's willing to commit to the same grind in bowling.
"These first few events, I'm just looking forward to showing up, trying my best and learning and watching everyone around me," he said.
While Allen has a few PBA regional tournaments marked on his calendar, he isn't expecting to start racking up Ws right away. In fact, he has been pleasantly surprised at the camaraderie within bowling.
"Normally during competition, people don't help," he said. "But I've had so many people at these tournaments give me advice and help me out. I think it's just because they see the love I have for this game."
Allen said his songs "Best Shot," "Good Times Roll" and "Be Alright" best exemplify his relationship with bowling: "You might have one bad frame, let it go. It'll be alright."
Jimmie Allen wants to give the PBA Tour a chance — and he wants the next generation to do the same.
"I want bowling to be as popular and as respected as basketball, football and baseball," Allen said. "I want this to do something kids talk about in school about what they want to be when they grow up."
For more information on the Jimmie Allen PBA Challenge, visit here.
For press inquiries, contact [email protected].