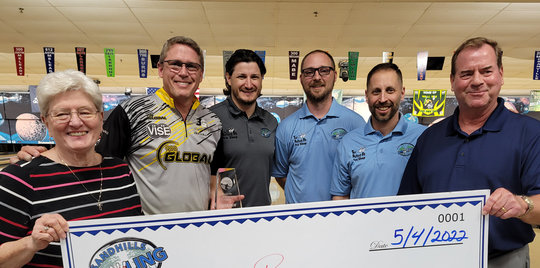 Weber leads at PBA50 Granville Financial Open
Aberdeen, North Carolina – Pete Weber is easing into the 2022 PBA50 season nicely. After finishing 14th and fifth, the righty powered his way to the top position Monday at the PBA50 Granville Financial Open.
The defending champion started and finished strong. He shot 257, 246, 268, 216, 220, 236, 268 and 257 for a total of 1,968, an average of 246. He received great equipment advice from new PBA50 Tour Manager Kelly Kulick.
She gave Weber a 900 Global Reality first thing in the morning to try and then in the fourth game suggested he go to a 900 Global Altered Reality.
"I only used two balls today and I saw everybody else use about 12," Weber said. "The lanes were changing fast, but these just gave me a really good look."
Weber feels like his ball roll seems to match up well with any oil pattern put out at Sandhills Bowling Center and he is looking for that to continue with the guidance he receives from Kulick.

"Last week she made a few suggestions to me, maybe I didn't like them right away, but they sure did work," he admitted. "I have a whole lot of trust in her."
Behind Weber by 47 pins is John Burkett who also had a huge block. He shot 236, 237, 279, 236, 247, 255, 216 and 215 for 1,921, averaging 240.13. Walter Ray Williams Jr. is in third followed by Steve Gagnon and Tom Adcock in fourth and fifth. The high bowlers on the B squad were Ryan Shafer and Chris Barnes tied at 1,821.
Freeport, Illinois native Jeff Johnson, who was in the A squad, rolled a 300 game to end day one.
The field will bowl eight more games of qualifying starting at 9 a.m. ET Tuesday for the B squad and 3:30 p.m. for the A squad, before the field is cut to the top 36. You can watch all PBA50 action exclusively on BowlTV.
Follow the PBA50 Granville Financial Open scoring at PBA50 Granville Financial Open | PBA
PBA50 GRANVILLE FINANCIAL OPEN TOP 10 THROUGH 8 GAMES
Pete Weber 1,968
John Burkett 1,921
Walter Ray Williams Jr. 1,829
Steve Gagnon 1,827
Tom Adcock 1,823
Ryan Shafer 1,821
Chris Barnes 1,821
Tom Hess 1,820
Michael Haugen Jr. 1,815
George Szczublewski 1,803