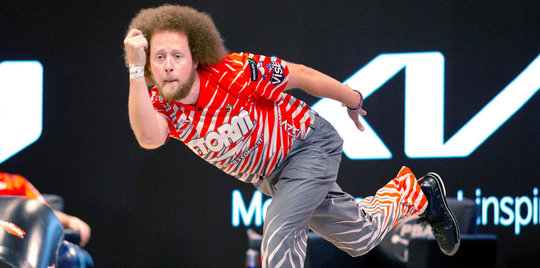 Troup and Jones set for 2022 Kia PBA Playoffs final
Jupiter, Florida - Kyle Troup has remained perfect through the first three rounds of the 2022 Kia PBA Playoffs.
As the tournament moved from the Kegel Training Center to Bowlero Jupiter, Troup relied on his experience inside the bowling center having won in this building last year. It would be a battle of PBA Playoff champions in his match against No. 5 seed Kris Prather.
"We both have won this tournament and know what it takes," Troup said. "Confidence plays a big role in the game right now. I think it all add ups."
Troup started with three solid strikes, while Prather's second strike on the right lane went way right and the headpin was the last to fall. Despite it being the same oil pattern as they bowled on at Kegel the look seemed completely different in this venue. Troup relied on urethane.
"It was kind of a safe play a little bit because I knew my opponent was going to be fishing a little bit," Troup said. "It was all about who could combat the right lane."
They each converted two spares before Prather doubled in the sixth and seventh to take the lead. However, Prather's shot in eighth frame again headed to the right on his trouble lane leaving the 1-2, which he converted. Troup then responded with a double in the eighth and ninth frame.
Prather, who was confused by his ball reaction throughout the match, stepped up in the 10th frame missing the headpin for a fourth time leaving the 1-2-8. In frustration he said, 'how does it not pick-up? That doesn't make any sense whatsoever."
Prather chopped it posting a 212 game. As for Troup, he got a spare and then switched to a Storm Trend 2 reactive ball for his final shot, yelling out 'I like that,' for 227.
In the Race to 2, Prather switched to his Dark Code on the right lane which had worked for him in his previous two match wins. He started with a four bagger to take a 19-pin lead. But Troup kept the pressure on his opponent answering with three strikes. Troup went with reactive on the left lane and urethane on the right.
Troup took his first lead in the seventh frame when Prather's shot on the right lane sailed away from the headpin leaving the 1-2-4, which he chopped for an open frame.
Troup doubled in the eighth and ninth frame to increase his lead. Needing nine to win, Troup flushed a strike. Just before his ball hit the pins Troup said, 'I love you, mom' followed by 'that's for you, mom' as he pointed toward his dad, Guppy in the audience, then came the tears. He won, 233-215.
"I told myself, 'make a good one for mom,'" he said, as a tribute to his late mom on Mother's Day. "That was probably the best one of the game on that right lane, because it was pretty tricky."
If Troup goes on to win the 2022 PBA Playoffs he will pass his dad, Guppy with nine career titles. Plus, Troup agreed they would each get their own WWE championship belt.
"We'll be tag team champs," Troup said after his win. "That will be a special moment. He will be here, and I am going to come home with the title belt."
The second match featured No. 6 Tommy Jones against No. 10 AJ Johnson. Jones come in with experience at Bowlero Jupiter having won the 2019 Bowlero Elite Series.
The lanes continued to confuse each bowler. Jones went with a Hammer Black Widow Ghost which was solid on the right lane as he struck every time but once. The left lane would present the biggest challenge for Jones who missed two spares during match one but won 215-193.
In game two, Johnson used a Motiv Jackal Ghost on the right lane and a Venom Shock on the left lane. Johnson started with a double before missing a 2-pin. Jones also missed a 2-pin on the left lane in the fourth frame.
"The left lane seemed to break down even more and I started five left on the left lane," Jones said. "I didn't think it was that bad the first game."
Jones was between balls on the left lane. He tried the Track Kinetic Black Ice and the DV8 Collision.
"Both balls that I tried were wrong, so we ended up back in the same ball that I used in the first game," Jones said. "It is just one of those things."
Johnson continued to lead until the ninth frame when he left the 3-6-10 and chopped it, however Jones had to finish on the left lane. He left the 2-4-8-10 split for a 172 game. Johnson stepped up in the 10th frame needing a mark to force a roll-off and delivered. He finished with 181.
As the higher seed, Jones chose to finish on the right lane. He delivered a clutch strike for the first time since game one on the left lane and sat down to let Johnson respond.
Johnson struck then left the 3-6-7-10 split on the left lane, which he missed to finish with 28. Jones struck and got nine to finish with 48 for the win. There were no emotions for Jones, just a sigh of relief the match was over, and he had advanced.
He was thankful it was just a two-game match and roll-off because "it was going south quickly. I was fortunate and I will have to be better next week."
Jones will now face Troup for the chance at winning another major title and the $100,000 top prize, in a Race to 3 points format.
"He (Troup) is always a bulldog when you give him a chance, so I have to get on him early and stay on him early," Jones said. "He likes this format and has proven he can win."
The 2022 Kia PBA Playoffs championship match will be at 2 p.m. ET Sunday live on FOX from Bowlero Jupiter.