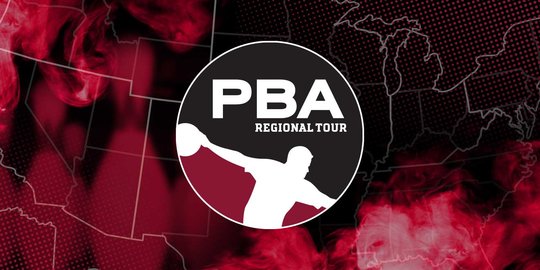 PBA Regional Tour Recap: Tom Daugherty Wins Title #20 in Myrtle Beach, Tackett Triumphs in Washington
May 19, 2022
Chase Kaufman
As more events wrap up, the regional standings start to take shape with plenty of big names atop the leaderboard. Eighty-four PBA bowlers and 48 PBA50 players qualify for the Regional Players Invitational at the end of the year to compete for a prize pool of $115,000. Six of the seven regions held at least one event over the past couple of weeks, so let's run through them now.
Northwest Region
PBA Fix Auto Open @ Daffodil Bowl
The 16-lane house hit capacity with four on a pair in Puyallup, Washington, making for a smaller field, but the tournament still pulled in some big names. One of those big names included Darren Tang, who averaged a whopping 258.2 for his eight qualifying games.
Typically going +466 for eight will put you in first by a wide margin, but EJ Tackett also slaughtered qualifying, shooting 2,092 to put him in the early lead. The top eight bowlers came back for match play the next day attempting to get into the top three for the mini stepladder, but Tackett and Tang continued to pace the field, taking the one and two seeds, respectively, leaving just one spot left.
The reigning champion of this event, Jakob Butturff found that final spot and took advantage of it, defeating Tang in the first match, 268-235. However in the final bout, Tackett continued his torrid run, taking down Butturff 282-228 for his 9th career regional title.
PBA Fix Auto Open @ Daffodil Bowl Final Standings
EJ Tackett, 2,500 points, $2,100
Jakob Butturff, 1,500, $1,250
Darren Tang, 1,150, $1,000
Payden Stumpf, 950, $900
PBA50 Fix Auto Open @ Daffodil Bowl
Same place, different time for the senior tour as they also tested the waters in Washington. Eight of the 33 bowlers advanced into match play, led by Darron Peters, one of three contestants to average over 230, but a tough day two dropped him to 4th place, right outside the stepladder.
Greg Thomas took hold of the one seed, while Rich Corwin and Robert Reed Sr. battled it out in the first match as the two and three seeds. Corwin narrowly slid by Reed 198-189 to advance to the finals, and there, a five-bagger by Corwin combined with the tough start from Thomas totaled for Corwin's first career regional title. Corwin took the win 223-175, 2,500 points and $1,600.
PBA Fix Auto Open @ Daffodil Bowl Final Standings
Rich Corwin, 2,500 points, $1,600
Greg Thomas, 1,500, $1,100
Robert Reed Sr. 1,150, $800
Darron Peters, 950, $700
PBA Women's Fix Auto Open @ Daffodil Bowl
Completing the trifecta, 19 participants competed in the women's regional held on the same weekend. Kristin Quah placed herself in perfect position for day two after going +190 for six games, 111 pins ahead of second place. Quah of Singapore maintained that lead through match play to put herself on the top rung of the stepladder and faced the winner of the Valentina Cruz/Kathy Ledford matchup. Cruz took the win by a couple of marks and moved on to face Quah for the title.
Back in Grants Pass, Oregon, these two were separated by just six pins and battled it out in position round, where Cruz eventually emerged triumphantly. Here in Washington, Cruz once again got the best of Quah, winning 212-180. And to make a good weekend great, not only did Cruz win her second title of the season, but on Friday, she received her ID card as an official U.S. citizen.
PBA Women's Fix Auto Open @ Daffodil Bowl Final Standings
Valentina Cruz, $1,200
Kristin Quah, $750
Kathy Ledford, $600
Adrianne Schock, $500
You can view the Northwest Region points leaders here.
South Region
PBA Brighton Construction Myrtle Beach Open
Three-thousand miles southwest of Puyallup, Washington, 149 bowlers gathered at Myrtle Beach Bowl for a two-squad regional event in South Carolina. One in every three bowlers moved onto the advancers round for another four games to attempt to move into match play. After 12 games, the cut line sat at just +95 for a 207 average. After seven games of match play and with just position round to go, Ryan Ciminelli built a 17-pin lead over second-place Sean Connolly and a 36-pin lead over 3rd place Tom Daugherty. In the 1-2 matchup, Connolly won with a 199 over Ciminelli's 171, but in the 3-4 matchup, Daugherty bested both Connolly and Ciminelli's sub-200 games with a 236 and a win over Colin Champion. Daugherty vaulted to first place to take home his 20th career regional title.
PBA Brighton Construction Myrtle Beach Open Final Standings
Tom Daugherty, 2,500 points, $2,500
Sean Connolly, 1,500, $1,800
Ryan Ciminelli, 1,150, $1,400
Kristijonas Sergejevas, 950, $1,200
Colin Champion, 850, $1,000
You can view the South Region points leaders here.
Southwest Region
PBA San Antonio Southwest Open
On a warm Saturday morning, the Lone Star State hosted a Southwest Region event to just under 120 bowlers split into two squads, with the top 39 moving onto the advancers round. Five more games and the best 16 headed into match play for eight more games. Through said thirteen games, Sean Lavery-Spahr, Ildemaro Ruiz Jr., and Jonathan Norman all found themselves above +300, with everyone else in the rearview mirror under the +200 mark. Of the three, Ildemaro Ruiz was the one to break through during match play. After delivering a 276 in his final game before the position round, Ruiz virtually ended the tournament with a game left. Ruiz grabbed regional title number two along with $3,500.
PBA San Antonio Southwest Open Final Standings
Ildemaro Ruiz Jr., 2,500 points, $3,500
Sean Lavery-Spahr, 1,500, $2,500
Nathan Bohr, 1,150, $1,900
Shawn Maldonado, 950, $1,450
Jonathan Norman, 850, $1,225
You can view the Southwest Region points leaders here.
West Region
PBA Earl Anthony Open
After three events in the Northwest, the West region followed suit and held a standard, 50, and women's event in California as well. Earl Anthony's Dublin Bowl hosted all three tournaments over the weekend, a popular stop for regional and national contests for the past 30 years. In the under-50 event, PJ Haggerty led qualifying at +282, a bowler with numerous second-place finishes at the host center. This time however, second place was not an option. Even after a subpar advancer's round, Haggerty's experience prevailed as the 2021 RPI quarterfinalist remained on top. A 5-3 match play record kept Haggerty in the driver's seat to the finish line, giving him his second regional title of the season, and his 16th overall.
PBA Earl Anthony Open Final Standings
PJ Haggerty, 2,500 points, $2,700
Tyler Betz, $1,800
Jim Pratt, 1,150, $1,400
Travis Hewitt, $1,250
Anthony Schanen, 850, $1,150
PBA Women's Earl Anthony Open
After an extended period, the women's event finally reappeared at this historic center, much to the delight of the wives of Earl Anthony and Ted Hoffman. Fifteen bowlers came to compete and after 15 games, a champion had yet to be determined. 16-year-old Ashtyn Woods, 14-year-old Avery Domaguin, and Karen Rosprim all sat within 35 pins of one another, a minuscule amount when factoring in a possible 30 bonus pins. Domaguin, a PBA Junior National finalist from last season, won her final match with a 227 against Woods who delivered a 200. Rosprim couldn't find enough pins in her game, leaving Domaguin on top, who earned a $900 scholarship.
PBA Women's Earl Anthony Open Final Standings
Avery Domaguin, $900 scholarship
Ashtyn Woods, $700
Karen Rosprim, $600
Kimberly Power-Defer, $500
Brittany Hillman, $400
PBA50 Earl Anthony Open
Fifty-seven bowlers contributed to an exciting 50 event, simultaneous with the standard and women's divisions. Of course, the Earl Anthony pattern hit the lanes, where bowlers responded fairly well. The top eight players in the cut after twelve games all sat within 103 pins of each other and gave way for an intriguing round-robin match play. With just one game remaining, Troy Kendrick jumped from eighth to first, but the tournament was nowhere near over. Seventh place remained just 110 pins behind first place, giving a chance to anyone in between. In the end, Rick Meneley settled into first place, thanks to a 237 in his final match. Meneley snagged his second regional title of the season and 7th of his career.
PBA50 Earl Anthony Open Final Standings
Rick Meneley, 2,500 points, $2,100
Troy Kendrick, 1,500, $1,400
Darren Wong, 1,150, $1,100
Mike Cyphers, $1,000
Steven Smith, 850, $900
You can view the West Region points leaders here.
Central Region
PBA Mahoning County Convention & Visitors Bureau/Boardman Printing Central Open
Graham Fach leads the Central in points this year with two titles in his first three events, but after Fach missed the cut in Canfield, bowlers had a chance to shorten the deficit behind first place.
Chris Colella led qualifying at +280, but only 95 pins separated him and the cut line, making for an exciting Sunday finish with the title still up for grabs. Plenty of movement transpired through seven games of match play as Tim Pfeifer moved from eighth place to first, 68 pins ahead of second-place Zac Tackett with just a game to go. Tackett needed a 39-pin victory to snag the title, but Pfeifer's foot never hit the brakes. He seized his first career title with a 254 game over Tackett's 178.
PBA Mahoning County Convention & Visitors Bureau/Boardman Printing Central Open Final Standings
Tim Pfeifer, 2,500 points, $2,800
Chandler Stevens, 1,500, $1,650
Zac Tackett, 1,150, $1,375
Kyle Cook, 950, $1,125
Bailey Mavrick, 850, $1,050
You can view the Central Region points leaders here.
PBA Illinois Valley Super Bowl Midwest/Central Open
For the final event of the weekend, the Bear pattern tested the 59 players to the max, but David Northouse was able to tame the bear during qualifying. Northouse led at +171 with a 289 in game two. After winning in a one-game rolloff, Nick Pate grabbed the final spot at +39 and made impressive use of it from there on out. Thanks to a pair of 260 games, Pate jumped to the one-seed for the stepladder finals.
In the opening match, Nathan Michalowski struggled to get anything going on the left lane, while Nick Kruml, opened with a three-bagger and a split, but promptly came back with a four-bagger to win 230-183. The qualifying leader Northouse came up next as the two-seed, but it was a different bowler, same story. Like Michalowski, the left lane troubled the Michigan native, while Kruml seemed to have figured it out quite easily, striking four of five times on the left lane for a dominating victory 236-152.
For the final match, the tides seemed to turn. Pate voyaged through the left lane cleanly while Kruml struggled to put together a double, sparing in his first three frames on the left lane. Kruml eventually figured out the left side, but it was too late. Pate clinched his second career regional title, taking home the win, 255-226.
PBA Illinois Valley Super Bowl Midwest/Central Open
Nicholas Pate, 2,500 points, $2,400
Nick Kruml, 1,500, $1,600
David Northouse, 1,150, $1,200
Nathan Michalowski, 950, $1,000
Benjamin Martinez, 850, $900