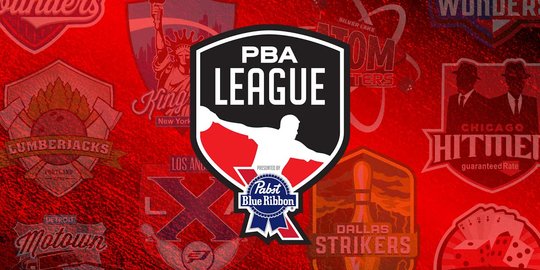 Kyle Sherman is first pick of 2022 PBA League Draft
Kyle Sherman, who won his first Guaranteed Rate PBA Tour singles title earlier this season in the PBA Cheetah Championship, was chosen by the NYC KingPins as the first overall selection in the 2022 PBA League presented by Pabst Blue Ribbon draft, which was streamed live to the PBA's Facebook page. Manager Carolyn Dorin-Ballard was able to bring back Sherman, whom she left unprotected in January's Manager Saves event, for his third season with the KingPins.
Jason Sterner went second to the Snickers Waco Wonders (formerly Brooklyn Styles). Silver Lake Atom Splitters manager Mark Baker traded his third and 18th overall picks to the two-time defending champion Portland Lumberjacks for their 10th and 11th overall picks. Lumberjacks manager Tim Mack selected Packy Hanrahan, who also bowled with the Lumberjacks last season, third.
Andrew Cain chose Chris Barnes with the fourth overall pick, moving Barnes to the L.A. X. It will be the first time in the history of the PBA League that Barnes has not competed for the Atom Splitters, with whom he'd bowled since 2013 and won the Mark Roth PBA League MVP Award twice.
Brad Miller (Motown), Nick Pate (Chicago), AJ Chapman (Milwaukee), Santtu Tahvanainen (Dallas), Matthew Russo (Las Vegas) and DJ Archer (Silver Lake) filled out the first round.
In the snake draft, the second-round selections were Brandon Novak (Silver Lake), Ildemaro Ruiz (Las Vegas), Matt Ogle (Dallas), Anthony Lavery-Spahr (Milwaukee), Jake Peters (Chicago), Mitch Hupé (Motown), Martin Larsen (L.A.), Arturo Quintero (Portland), Parker Bohn III (Waco) and Michael Tang (NYC).
The lone selection in the third round was made by manager Del Ballard for the Motown Muscle, selecting Keven Williams.
Williams is one of six players who will make their PBA League debuts along with Tahvanainen, Russo, Novak, Quintero and Michael Tang.
The 2022 PBA League presented by Pabst Blue Ribbon will be held July 6-10 at Bayside Bowl in Portland, Maine.
PBA League presented by Pabst Blue Ribbon TV Schedule
Bayside Bowl – Portland, Maine
July 6 at 8 p.m. ET on FS1 – Anthony Division Finals
July 7 at 8 p.m. ET on FS1 – Carter Division Finals
July 10 at 1 p.m. ET on FS1 – Elias Cup Finals
PBA League Draft Summary
NYC - Kyle Sherman
Waco - Jason Sterner
Portland (from Silver Lake) - Packy Hanrahan
L.A. - Chris Barnes
Motown - Brad Miller
Chicago - Nick Pate
Milwaukee - AJ Chapman
Dallas - Santtu Tahvanainen
Las Vegas - Matthew Russo
Silver Lake (from Portland) - DJ Archer
Silver Lake (from Portland) - Brandon Novak
Las Vegas - Ildemaro Ruiz
Dallas - Matt Ogle
Milwaukee - Anthony Lavery-Spahr
Chicago - Jake Peters
Motown - Mitch Hupé
L.A. - Martin Larsen
Portland (from Silver Lake) - Arturo Quintero
Waco - Parker Bohn III
NYC - Michael Tang
Motown - Keven Williams
View the full PBA League rosters
About the PBA
The Professional Bowlers Association (PBA) is the world's preeminent organization dedicated to the sport of bowling and its professional competition, with thousands of members and millions of fans throughout the world. The PBA plays host to bowling's biggest tournaments from the PBA Tour, PBA Regional Tour, and PBA50 Tour. In 2020, the PBA launched PBA Jr., a club for elite youth bowlers under the age of 17 and the PBA Pinsiders, a membership for fans of the sport. For more information, please visit PBA.com.