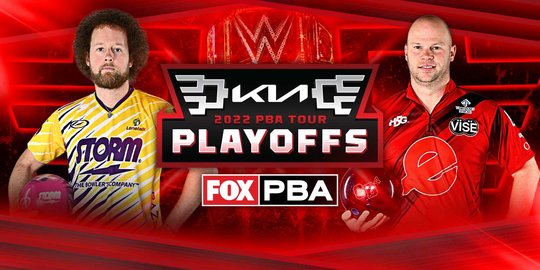 Jones and Troup Contend for Kia PBA Playoffs Championship Sunday at 2 p.m. ET Live on FOX
A Guaranteed Rate PBA Tour title, $100,000 and a custom WWE championship title belt await the winner
After three rounds of bracket competition, the last two players will battle for the Kia PBA Playoffs championship Sunday at 2 p.m. ET, live on FOX broadcast channel. Defending champion Kyle Troup emerged from the left side of the bracket with a semifinal victory over Kris Prather on Sunday and will meet Tommy Jones, who conquered the right side of the bracket after eliminating AJ Johnson in the semifinals.
The championship match will be a Race to 3 Points contest. If the players are tied at two apiece after four games, a 9th/10th-frame roll-off will determine the final point and decide the champion.
No. 6 Tommy Jones vs. No. 9 Kyle Troup
PBA Hall of Famer Tommy Jones will be the higher seed for the championship match after eliminating AJ Johnson in a roll-off in the semifinals. It was the second straight roll-off win for Jones, who defeated Jesper Svensson in the quarterfinals after a sweep of Kyle Sherman in the opening round.
The Playoffs are the eighth top-10 finish—four of those were majors—for Jones in 2022. A win would be his 21st PBA Tour title and first since the 2020 PBA Hall of Fame Classic.
Jones faces ninth-seeded Kyle Troup, who has a lot going for him: he's the defending champion, he's eliminated two former champions (Bill O'Neill in the quarterfinals and Kris Prather in the semifinals) and he's yet to lose a game. Troup hasn't needed a roll-off yet, winning all six games he's bowled on his way to the championship match.
Troup defeated Sam Cooley, 3-1, in last year's Race to 3 and hopes to claim back-to-back Playoffs championships and his ninth career title, which would put him one ahead of the total his father, Guppy, amassed during his career.
The winner of the Kia PBA Playoffs will earn $100,000, a Guaranteed Rate PBA Tour title and a custom WWE championship title belt.
Purchase tickets to attend the Kia PBA Playoffs championship in person.
Kia PBA Playoffs Remaining Television Schedule
Sunday, May 15 at 2 p.m. ET on FOX – Championship
No. 6 Tommy Jones vs. No. 9 Kyle Troup
Kia PBA Playoffs Champions Since 2019
2019 – Kris Prather
2020 – Bill O'Neill
2021 – Kyle Troup
About the PBA
The Professional Bowlers Association (PBA) is the world's preeminent organization dedicated to the sport of bowling and its professional competition, with thousands of members and millions of fans throughout the world. The PBA plays host to bowling's biggest tournaments from the PBA Tour, PBA Regional Tour, and PBA50 Tour. In 2020, the PBA launched PBA Jr., a club for elite youth bowlers under the age of 17 and the PBA Pinsiders, a membership for fans of the sport. For more information, please visit PBA.com.