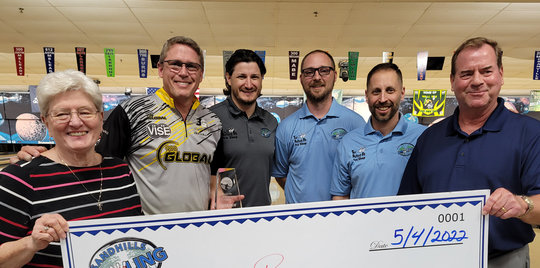 Haggitt takes over the lead at PBA50 Granville Financial Open
Aberdeen, North Carolina – Last year when it came to match play day at the PBA50 Granville Financial Open, Michael Haggitt was playing golf. This time around he is glad he will be on the lanes inside Sandhills Bowling Center.
The tall left-hander posted scores of 228, 249, 230, 256, 235, 257, 235 and 279 for a two-day total pinfall of 3,748 to take over the lead at the 2022 PBA50 Granville Financial Open, averaging 234.25.
The Springfield, Ohio native was looking for a ball that would get through the fronts and read the backends, so he relied on a Hammer Web Pearl and Columbia 300 Speed.
"I was hoping the lanes would stay the same as yesterday and they did," he said after averaging 246 on the day. "The more the pattern is laid out the flatter they get. As long as I can still control the backend with the fronts, I should be good."
His best finish in a PBA50 tournament came at the 2021 Johnny Petraglia BVL Open in Clearwater, Florida. He finished in fifth place.
There were two perfect games on Tuesday. Walla Walla, Washington resident Russ Hunt rolled a 300 in the first game of the day and Tom Hess shot one in game six.
Hess had a memorable final six games to end qualifying. He had 235, 279, 247, 300, 247 and 247.
"The first game I don't think it was the ball it was more me pressing," Hess said. "I switched to a (Roto Grip) Gem game two, which I should have started with today. Then I switched to an (900 Global) Altered Reality. That is when the strikes just started piling on."
Hess went +355 over six games, averaging 259.16, to move into second place.
He admits his "achilles heel" has been trying to get comfortable but if he can do that early on Wednesday, he likes his ability to repeat shots and put up more big scores.
Hess also credits PBA50 Tour Manager Kelly Kulick with being a huge asset to him over the first three events on the schedule.
"Having a Hall of Fame set of eyes behind you, talking you off the ledge when you need talked off the ledge, and working you through what is going on pair-to-pair is absolutely unmeasurable," he said. "Kelly has been unbelievable."
The final bowler to make the cut is new USBC Hall of Fame inductee Bob Learn Jr. with 3,418.
The top 36 will bowl five games in the advancers round starting at 8 a.m. ET Wednesday. The top 24 will then advance to three-game total-pins bracket match play rounds until the top five are determined. The stepladder finals will start at 7 p.m. ET and you can watch it all exclusively on BowlTV.
Follow the PBA50 Granville Financial Open scoring at PBA50 Granville Financial Open | PBA
PBA50 GRANVILLE FINANCIAL OPEN TOP 10 THROUGH 16 GAMES
Michael Haggitt 3,748
Tom Hess 3,745
Pete Weber 3,741
Parker Bohn III 3,722
Dino Castillo 3,690
Chris Barnes 3,654
Steve Gagnon 3,628
Christopher Keane 3,613
Jeff Johnson 3,580
Tom Adcock 3,575