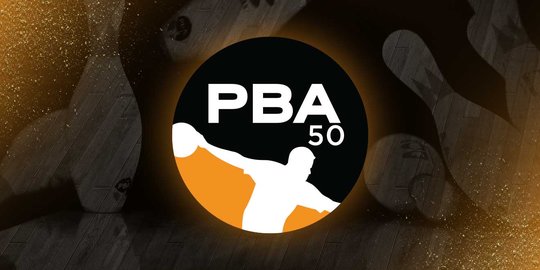 Dave Johnson fulfills dream with 1st PBA50 title at Bud Moore Classic
May 16, 2022
Jill Winters
Clifton, Virginia – Four decades ago, Dave Johnson won a regional title. After the stepladder finals Monday at the PBA50 Bud Moore Classic, he was "on cloud 15" when he earned his first PBA50 Tour title.
Life got in the way of pursuing a professional bowling career in his younger days, but after retiring in Dec. 2020, he decided to cross something off his bucket list.
"I wanted to go back on tour," the Ohio native said.
He made his first-ever stepladder finals appearance as the No. 1 seed drawing a championship match-up with 2021 PBA Player of the Year and Rookie of the Year Tom Hess. For the second straight year the finals were held inside the home of tournament sponsor, Bill Moore.
Hess, who had won his first two matches with scores of 268 and 245, started off with three single-pin spares. Johnson looked slightly nervous on his first shot but covered the 7-pin. He then doubled for the early lead.
Hess changed to a Zen Soul in the fourth frame putting together a double. In the sixth frame, Hess converted the 3-6-9-10 but was still down by 25-pins. Johnson looked confident and comfortable in the intimate setting as he responded with a four-bagger between the fifth and eighth frame.
In the ninth, Johnson eased up on his shot and watched his 900 Global Reality go through the nose leaving the 3-6-10, which he had seen too much of the past couple of days.
"On this shot, I have chopped it probably five times in this tournament," he said, after again missing the spare. "It's been horrendous shooting at that spare and I thought it was over."
Johnson had 204 with his open in the foundation frame with Hess down by just 2-pins. Johnson struck on his first shot in the 10th then missed another 7-count combination for 223.
"I figured for sure he was going to throw the first one," Johnson said. "No doubt in my mind the way he has been bowling."
Hess pulled his shot leaving the 3-6, picked it up and struck to lose by one-pin, 223-222.
"It was a moment of realization that I had won it," Johnson said after his initial shock. "This has been my life's dream to be out here and to be a champion."
Johnson who was noticeably cheering for his opponents throughout the week is enjoying the experience.
"I root for everybody because I feel in my heart, I have a job to do when I am bowling and that is to knock 10-pins down," the 60-year-old said. "I want my opponent to bowl the best he can bowl because if I do my job then I've bowled better than him."
He feels like everyone on the PBA50 Tour is part of a family and credits Storm staffer Mitch Beasley for offering to surface his ball three times on Monday, even though Johnson isn't on a professional staff.
In the opening match, Michael Haugen Jr. started with the front-five against Pete Weber. Weber missed the 4-9 split in the first frame and followed that up with nine out of 11 strikes for a 246. Haugen Jr. left back-to-back 10-pins and closed the match out with a five-bagger for 268.
Haugen Jr.'s carry went away in match two while Hess started hot with the front-7 as he cruised to a 268-208 win. The third match featured Hess against Stoney Baker, who was making his second straight top-five appearance. Hess had seven out of eight strikes to start, and Baker had five out of eight strikes. Hess finished with back-to-back single-pin spares and 8 for 245. Baker got a spare in the ninth and a double and nine for 236.
View the full PBA50 Bud Moore Classic final standings at PBA50 Bud Moore Classic | PBA
2022 PBA50 BUD MOORE CLASSIC FINAL STANDINGS:
1. Dave Johnson $7,500
2. Tom Hess $4,000
3. Stoney Baker $3,000
4. Michael Haugen Jr. $2,500
5. Pete Weber $2,000
MATCH SCORES
Match 1 – Haugen Jr. def. Weber 268-246
Match 2 – Hess def. Haugen Jr. 268-208
Match 3 – Hess def. Baker 245-236
Championship match – Johnson def. Hess 223-222