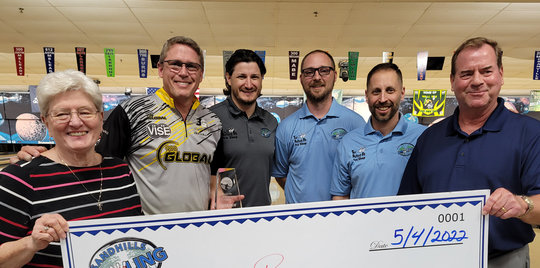 Barnes wins PBA50 Granville Financial Open
Aberdeen, North Carolina – In the championship match at the 2022 PBA50 Granville Financial Open, Chris Barnes once again found himself going head-to-head with Tom Hess.
As the top seed, Hess elected to finish on the left lane, which seemed to be the trickier of the two lanes, while having Barnes finish on the right lane where he had only failed to strike twice in his previous match.
Hess, who had led after the advancers round and won his bracket match plays on Wednesday, started out with a strike followed by back-to-back 10-pins. He left the 2-4-8-10 split in the fourth frame, just getting two to put himself in an early hole against Barnes, who started with five out of six strikes.
Barnes chose to play farther left than anyone else on the TV pair and used his rev rate to his advantage.
"That's bowling 101," Barnes said about his strategy to play left. "It is more fun when you have oil left and hook right. The problem for everyone was there was a lot of friction in the front. I threw it about as slow as I could throw it and got a little left with a ball that was a little bit cleaner that didn't want to change directions as much in the front."
After his split in the fourth, Hess put together five straight strikes before leaving the 3-6-9-10, also on the left lane, in the 10th frame. He picked it up and got nine to finish with 218.
Using his Roto Grip UFO Alert, Barnes threw one strike over the last three frames, but needed just six pins to win in the 10th frame.
"I thought I got one really good to the right and it was a 9-pin," the 52-year-old said. "Adrenaline might have carried it through."
Barnes finished with 238 to win his second PBA50 title. This was a big victory on several levels for Barnes against another strong field of bowlers.
"Hess has bowled great out here," Barnes said. "He is one of the top players and it doesn't seem like that is going to change anytime soon. So, if you are going to win some titles you are going to have to beat guys like him, Angelo, Parker, Couch, Pete and Tom Adcock now too."
Coming into this week, Barnes felt like he has struggled with how to get his ball through the pins, but he has been working around with some strategy. Thanks to help from PBA50 Tour Manager Kelly Kulick, he feels like the pieces are coming together.
"We are closer than we have been in a long time," he said about his game. "Feeling like my spare game is sharp which is always a tale of where you are at. I am getting closer to where I would really like to play all the time."
Barnes got to the title match after defeating Adcock 258-214 in match three. Barnes rolled 10 strikes, while Adcock struggled to carry. In Adcock's previous match against defending champion Pete Weber, Adcock had four single-pin spares and five strikes, while Weber picked up six single-pin spares. Adcock won 212-204.
In the opening match, Adcock and Chris Warren each started with four straight strikes. Warren left a pocket 7-10 in the fifth and a 4-9 split in the ninth. Warren needed to double in the 10th, and he left a stone-9 on his first shot to lose, 225-217. This is Adcock's third top-10 finish this season.
View the full PBA50 Granville Financial Open standings at: PBA50 Granville Financial Open | PBA
2022 PBA50 GRANVILLE FINANCIAL OPEN FINAL STANDINGS:
1. Chris Barnes $7,500
2. Tom Hess $4,000
3. Tom Adcock $3,000
4. Pete Weber $2,500
5. Chris Warren $2,000
MATCH SCORES
Match 1 – Adcock def. Warren 225-217
Match 2 – Adcock def. Weber 212-204
Match 3 – Barnes def. Adcock 258-214
Championship match – Barnes def. Hess 238-218