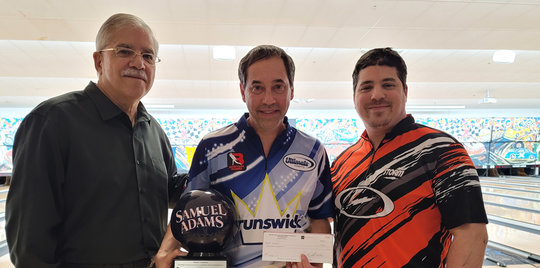 Barnes still in the lead at PBA50 Mooresville Open
Mooresville, North Carolina – Chris Barnes is another step closer to winning back-to-back events on the PBA50 Tour.
During his final eight-game qualifying block, he averaged 230.63 for a two-day total of 3,808 at the PBA50 Mooresville Open.
Barnes felt like there was a little more friction on the pairs in the Monday afternoon squad at Victory Lanes Family Entertainment Center compared to what he bowled on Sunday morning. Just behind him is Jason Couch who jumped from sixth place into second. The lefty rolled 1,964 over eight-games, averaging 245.5.
"Couch has been bowling well," Barnes said. "It will be tough to hold him off but that will be the goal. I have five games to try to be the top seed."
Barnes plans to come into Tuesday with a couple of different plans of attack in the morning and hopes his strategies will also carry forward into an afternoon of matches.
Brian LeClair rolled a 300 in game 15 to get to third place. He is followed by Tom Hess and Bill Rowe to round out the top-five.
Hess ended his qualifying round on Monday with 279, 238, 237 and 256.
"I came into today feeling like I knew what to do on the fresh and then I couldn't do it," Hess said, after starting with 213, 219 and 213. "I just kept working and all of a sudden I bowled 279."
Hess wasn't happy with his execution on the day but was able to string some strikes together during the final four games with his Zen Master. He aims to come in Tuesday and keep himself in the top eight to earn a first-round bye.
The final player to make the cut was John Burkett at 3,405. The 38-players will bowl five games in the advancers round starting at 9 am. ET Tuesday.
The top 24 will move on to three-game total pins bracket match play rounds with all pins being dropped. The cuts will continue until five remaining players are determined for the stepladders finals, which is scheduled to start at 7 p.m. ET Tuesday live on BowlTV.
Follow the PBA50 Mooresville Open scoring at PBA50 Mooresville Open | PBA
Top 10 PBA50 MOORESVILLE OPEN
Chris Barnes 3,808
Jason Couch 3,778
Brian LeClair 3,703
Tom Hess 3,659
Bill Rowe 3,650
Steve Gagnon 3,644
Greg McMahan 3,638
Parker Bohn III 3,626
Lennie Boresch Jr. 3,623
Brad Angelo 3,613