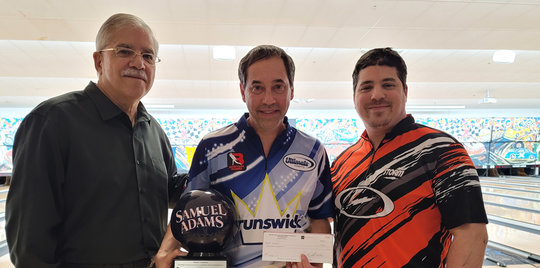 Barnes leading at PBA50 Mooresville Open
Mooresville, North Carolina – Last week after winning the PBA50 Granville Financial Open, Chris Barnes felt like his game was really coming together. That momentum has already carried over into the PBA50 Mooresville Open.
He got his eight-game block going right away with a 300 followed by 237, 207, 268, 238, 237, 196 and 280 to lead the day with 1,963.
In Saturday's practice session, Barnes felt the lanes were tricky and pretty flat. He thought if he could get to +120 Sunday, he would be pretty happy. He decided to reevaluate what he was seeing and admits he definitely didn't see himself putting up a 300 in the first game.
"Once I saw the picture then things really got rolling," he said. "The execution is really close to where I would like it to be. When there are a lot of shots online that certainly makes things comfortable and you feel like you can put up a big score at any point."
Inside Victory Lanes Family Entertainment Center, Greg McMahan, of Dandridge, Tennessee, posted the highest score for the B squad with 1,928 to move into second place.
Three more perfect games were shot on day one of qualifying. John DiSantis and Dino Castillo in the A squad, while Parker Bohn III rolled a 300 in game one on the B squad.
The B squad will begin the final eight games of qualifying starting at 9 a.m. ET Monday, while the A squad will get underway at 3:30 p.m. The top 38 will advance and all pins will carry forward into Tuesday. Catch all PBA50 action exclusively on BowlTV.
Follow the PBA50 Mooresville Open scoring at PBA50 Mooresville Open | PBA
Top 10 PBA50 MOORESVILLE OPEN
Chris Barnes 1,963
Greg McMahan 1,928
John DiSantis 1,863
Steve Gagnon 1,842
Dino Castillo 1,828
Jason Couch 1,814
John Marsala 1,797
Joel Carlson 1,794
Greg Wilson 1,793
Parker Bohn III 1,792